You want your café to be a "third place" where people can be comfortable spending time outside of work and home.  Your shop looks great—a nice seating area, plenty of space, and just the right lighting. But to actually become that familiar neighborhood stomping ground, you need to build a strong connection with your neighbors and maintain a presence in your community. How can you make that happen?
To connect with your community, you need to become an active participant in events and activities within your local area. Get out and meet people, work with other local businesses, and volunteer with some community organizations. The best way to establish roots within your community is to be an involved member of that community.
Community engagement, without question, will improve your business in the immediate future. And, that, in turn, will bring you loyal customers, well beyond the here and now. What are some things you can do to ensure that you become a familiar neighborhood fixture?
Be a Sponsor of Local Sports Teams
A great way to get your name out there and become an active, valued member of your community is to sponsor a local sports team. Little league, soccer, youth football, adult softball—these are just some of your options. With your name on the team jersey, you'll gain valuable advertising. And these athletes, as well as their friends and families, will appreciate your support and head to your café when they need that delicious caffeinated pick-me-up. 
You can give this sporty relationship a nice boost by including some child-friendly drinks and treats on your menu—and maybe a game-day discount—for these hungry and thirsty athletes and fans. 
Work With Your Local School District
Not only is helping your neighborhood schools a good thing to do, but schools are full of people. Parents, teachers, high school and college students—a lot of these folks would love to get to know you and be a part of your coffee shop community. And, working with schools will give you opportunities to connect year-round.
A teacher appreciation event is one way to get your café involved. A special deal for teachers gives you a nice opportunity to show off some of your new specialties too. And you can take advantage of band concerts, school plays, and athletic events to provide concessions and meet area residents. 
Wherever you find a school, you'll also find a need for raising money—a great chance not only to give back but to gain new customers as well. Maybe you'd like to pass out coupons and donate those proceeds to the school district. Or, you can name a drink after the school mascot and dedicate those sales instead. Whatever direction you choose, these acts will reap far more benefits than your initial cost.
Beyond fundraising, schools offer you so many opportunities to meet folks and build those personal connections. You can share some space in your coffee shop for school-related events, like a start-of-the-year parent meet-and-greet. Or, do something fun like sponsoring a summer reading program for students and let them earn a prize from your café when they're done.
Pros and Cons of a Coffee Shop Open Mic Night
Your Coffee Shop can Support Other Community Fundraisers
The schools in your community are by no means your only fundraising opportunity. Giving back is important. And, consumers feel good about supporting companies that do so. Supporting a charity in any manner is great but by including your customers in your efforts, you'll be able to do some good while also building your community connections.
A holiday gift or clothing drive is an easy way to involve your customers. You can also expand on this concept with a back-to-school drive for school supplies, or you can set up a nonperishable food donation box. And what a great time to thank your customers for their donation by giving a coupon to use at your café.
You can use your voice to amplify the fundraising efforts of other community organizations as well, by both sharing their information and also volunteering. Partner with organizations like animal shelters, retirement homes, and libraries and spread the word about their events and campaigns. 
Donate Your Day-Old Pastries
What can you do with day-old pastries? Sure, you can sell them at a discount—or, you can donate them. Spread some goodwill along with a free serving of your delicious goodies and your neighbors will be sure to come back to your coffee shop for more.
Doctors, nurses, firefighters, and police officers all put in long days to serve their community. What better way to thank them than with a platter of your beautiful treats?
Don't forget your local food bank or homeless shelter either. Many times, you can donate food that may be too old to sell, but still perfectly good. In fact, these groups may be able to make use of other food and drink items, like your leftover milk.
Form a Partnership with Other Area Businesses
Community means a lot of things and it goes beyond just connecting with your customers. Reach out to other mom-and-pop stores in the area and join forces to create a small business community network. In addition to the support, this network can expand your client base as well.
A business network is helpful for problem-solving advice or finding creative ideas. It will also help you build your brand and strengthen your company's image. And, your business community offers even more opportunities to meet your neighbors. 
With this community network, you can:
Work with a local bookstore. Dedicate a shelf in your café for some of their books. And, send some of your packaged coffee, French presses, and bean grinders over to their place. 
You can bring in new customers by offering products like honey and homemade soaps that are sold by other local vendors.
You can offer a reciprocal discount with a specialty grocery store or restaurant. A receipt from your coffee shop serves as a coupon in theirs, and vice versa.
Pros and Cons of Opening a Coffee Shop Franchise
Take Part in Local Events
The best way to connect with your community members is to get out and spend some time with them. Actively participate in local events. Take the time to introduce yourself and get to know people.
Does your community have a farmer's market? Does your area celebrate with a mid-summer festival or holiday market? These are perfect opportunities to connect and establish your roots as well as showcase your delicious drinks and tasty snacks. Participating in a local event can set your coffee shop apart from a larger chain-store competitor and show your neighbors that you are one of them.
Make Your Coffee Shop a Comfortable Place to Spend Some Time
Connecting with your community can be as simple as providing a welcoming place for visitors to hang out. Comfortable seating, soft music, and a cozy atmosphere—these will all encourage your guests to stay awhile. And, while they are there, take a moment to get to know them. Learning someone's name or remembering their special drink request goes a long way toward building a personal relationship.
Anticipate their needs before they come in. Provide enough power outlets and charging stations. And, if space allows, add a family area with some toys or crafts while keeping some quiet space for those who have work to do.
You opened your café because you wanted to share your delicious coffee with your customers. By connecting with your community, you will develop a solid relationship with your neighbors. Not only will you have the pleasure of getting to know them, but you'll also be growing your business and building loyal clientele for years to come.
Self-Service Restaurant Kiosk: A Guide To The Pros and Cons
Frequently Asked Questions
What are some fun activities I can offer to draw customers to my coffee shop?
Hosting a social event is a great way to attract new customers. You could arrange a board game night or a book club. A coffee-tasting event is another popular choice. Or, what about a "Coffee and Canvas" painting class? And, if you have the space available, you can even rent a room out for small private events.
What
words or phrases
attract more customers?
Effective marketing reaches potential consumers on a personal level. Words like "you" and "we" will reach people. Time is of the essence for so many of us and using the word "easy" will really hit home for a stressed customer. And, using the word "because" will explain why your deal is the best. Speaking of best, just go ahead and tell everyone that your coffee is the "best." They'll appreciate the clarity.
What words or phrases should I
avoid
in marketing?
You'll want to avoid words that sound unsure—usually, probably, etc. You really don't want to leave potential customers with any doubt about the quality of your beverages!  Also, overused cliché words and phrases like "never before" or "epic" don't have much impact. And, it's better to be clear on what the deal is and how long it will last rather than telling folks to "hurry in" for your "exciting" special.
To learn more on how to start your own coffee shop checkout my startup documents here
Please note: This blog post is for educational purposes only and does not constitute legal advice. Please consult a legal expert to address your specific needs.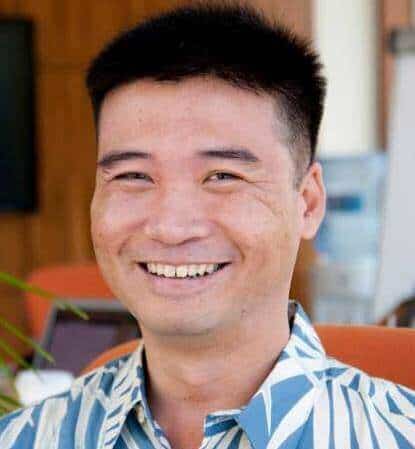 Hi! I'm Shawn Chun
My adventure in coffee began when I first launched my first coffee shop back in the early 2000s. I had to figure out so many things on my own and to make it worse within 2 years of opening two large corporate coffee chains moved in just blocks away from me!
As I saw smaller and even some larger coffee shops in the neighborhood slowly lose customers to these giant coffee chains and slowly close up shop, I knew that I had to start getting creative…or go out of business.
I (like you may be) knew the coffee industry well. I could make the best latte art around and the foam on my caps was the fluffiest you have ever seen. I even had the best state-of-the-art 2 group digital Nuova Simonelli machine money could buy. But I knew that these things alone would not be enough to lure customers away from the name brand established coffee shops.
Eventually, through lots of trial and error as well as perseverance and creativity I did find a way to not only survive but also thrive in the coffee/espresso industry even while those corporate coffee chains stayed put. During those years I learned to adapt and always faced new challenges. It was not always easy, however, in the end, I was the sole survivor independent coffee shop within a 10-mile radius of my location. Just two corporate coffee chains and I were left after that year. All told the corporate coffee chains took down over 15 small independent coffee shops and kiosks and I was the last one standing and thriving.
Along the years I meet others with the same passion for coffee and I quickly learned that it is not only "how good a barista is" that makes a coffee shop successful, but the business side of coffee as well.
Hence why I started this website you are on now. To provide the tools and resources for up and coming coffee shop owners to gain that vital insight and knowledge on how to start a coffee shop successfully.
Stick around, browse through my helpful blog and resources and enjoy your stay! With lots of LATTE LOVE!
Shawn