In the United States alone, over 400 million cups of coffee are consumed every day. More than half of all Americans start their day with a cup of coffee.  That number rises to two-thirds if you include occasional coffee drinkers. And that's just one country. With over a billion coffee drinkers worldwide, you might be thinking this is a good time to start your wholesale coffee business.
But how do you turn this thought into a reality?
A coffee wholesale business begins with a dream but quickly follows through with a formal business plan and a marketing strategy designed with your specific vision in mind. The coffee market may be competitive, but it is also highly profitable. With proper preparation and a little attention to detail, you'll soon be up and running and well on your way to owning a successful and rewarding company.
It's so easy to get lost in the excitement of a new project. But careful planning is key. And, by following a few easy steps, your company will begin on solid grounds—errr, solid footing.
Determine Who You Want to Sell To 
Before you can know where to begin, you need to decide what type of business you want. What, exactly, is your vision? 
The easy answer is that you want to sell coffee. But, who do you want to sell it to? That may be a simple question but it comes with a lot of answers. But the answer you choose will determine which path you need to take. A coffee wholesaler can market to many different consumers; these are just a few possibilities:
Brick and mortar coffee shops
Grocery stores
Large businesses (commercial office buildings, hospitals, car dealerships)
Restaurants
E-commerce
Each of these markets has unique needs. And, once you determine your market, you'll need to establish what it is that you want to sell.  Is it simply bulk coffee? Will you offer both ground and whole bean varieties? Do you have a signature roast that you want to market exclusively? Or will you offer seasonal and specialty blends too?
Once you know your target market and have plans for the product you want to provide, you can move on to laying the foundation of your business.
Pros and Cons of a Coffee Shop Open Mic Night
Create a Business Plan
A formal business plan is a necessary step before opening any company. A business plan helps you develop your company's financial goals and how to achieve them. It also provides a basic template to build your business on, along with strategies to handle both growth and struggles. Most business plans have a similar format and include these seven parts:
Executive Summary
Company Description
Products and Services
Market Analysis
Strategy and Implementation
Organization and Management Team
Financial Plan and Contingency Protections
Writing a business plan can feel like a challenge. There are plenty of online templates that can get you started. And, if you want more help, you can always employ the services of a consultant or business plan writer. 
Pros and Cons of Opening a Coffee Shop Franchise
Know Your Area's Licensing Requirements
Before you can open your business you'll need to get a business license. In fact, depending on your location, you may need more than one. Licensing requirements differ from state to state, and your local municipality may have additional requirements as well. 
You can check online with the small business administration (SBA) to see where to begin. They can give you information about both federal and state licensing requirements. And, don't forget to check with your city or town's regulatory board. Ignorance of the law is no excuse and failure to comply can lead to fines or even the loss of your business.
Establish a Strong Online Presence
Few businesses can succeed these days without a strong online presence. This goes beyond creating a website. Social media has become the new word of mouth, and, as a result, a valuable marketing tool.
First things first, though. You need a great website—one that clearly portrays your company's philosophy. And, it must be eye-catching and informative. And, of course, it must be user-friendly. And no successful business is complete without an easy-to-navigate mobile app. But, like the business plan, don't let this overwhelm you. You can find the help you need online.
And now that your website is complete, how do you get people to talk about you? The simple answer is social media. Get a LinkedIn profile and a Facebook page. Post often, give folks helpful information, and keep your communications interactive. As your company name appears more online, it will get noticed more often by search engines. Search engines bring visitors to your webpage. And, visitors become customers.
Self-Service Restaurant Kiosk: A Guide To The Pros and Cons
Introduce Yourself with Branding and Marketing Strategies
The coffee market is highly competitive and it is easy for a new company to go unnoticed. Defining your brand will help you stand out and rise above your competition. But branding and marketing involve so much more than just advertising. 
Branding starts with simple things like your company's name and logo. These may be the first impression a potential customer has with your business. And, we know that first impressions are usually lasting impressions. So, be sure your business name and logo are eye-catching and memorable and that they convey all of the value your company has to offer.
We talked about the importance of an online presence. But traditional marketing matters too. These strategies are as varied as the customers you serve. Wholesale marketing is different from marketing directly to a consumer. And, marketing to a large grocery chain is much different than marketing to a small café in your neighborhood.
The key to a marketing strategy is to make your presence, and your product, known. Reach out to company buyers. Get a booth at a local trade show. Send samples of your coffee. Let your product speak for itself while you make connections with your target customers.
Find a Coffee Distributor
Before you can sell a product, you'll need the product to sell. Finding a trusted distributor and establishing a relationship with them is a vital step before you can open your doors. The quality of their coffee is very important, but it isn't the only consideration. You will need to discuss the supplier's minimum purchase requirements, their payment plans—and price— as well as how quickly they can get the beans to you when you need them. 
And, remember to look into their customer service record. The best coffee beans in the world are worthless if your roasters are empty and your supplier is unresponsive. You need a distributor who will work with you to meet the needs of your company every step along the way, from your earliest beginning through your company's growth and evolution.
Have Fun and Enjoy Your Business
The nuts and bolts of opening a business have frustrated many an optimistic entrepreneur. But, in taking the time to do these things at the beginning, you give your company a solid foundation and a wide safety net should you need it. You'll be running a smooth, efficient wholesale coffee enterprise and turning a profit before you know it. Sit back, pour yourself a cup of your signature brew, and enjoy the business-at-hand of running your dream company, now a reality.
Should Your Coffee Shop Offer Reading Material
Frequently Asked Questions
Can I Run a Wholesale Business From my Home?
In many situations, starting your wholesale business from home is a viable option to keep overhead low and get your business off the ground. It is very important to check the licensing requirements in your area though. Not all municipalities will allow a wholesale enterprise to be run from a private home. And, as your company grows, you will most likely need to consider finding a separate, larger facility to keep things running smoothly.
Is coffee wholesaling profitable?
The coffee industry in the United States brings in over $70 billion per year. It is a highly profitable market with a lot of promise for both wholesale and online retail. An owner of one small coffee shop typically runs a profit of $60,000-$100,000 per year and the projections are higher for coffee wholesalers. 
Coffee tends to have higher profit margins than many other goods and services. It also seems to be a treat few are willing to cut back on, even during times of recession. Those companies that run both wholesale and retail businesses have the highest profit margins.
Unfortunately, the biggest deterrent to a successful coffee business is the initial startup cost. It is not uncommon for these costs to run upward of $100,000.
Would it help my business if I sell more than just coffee?
If your has the capacity to sell more than just coffee, it can definitely help your bottom line. You could branch out with other drinks like tea or hot chocolate. High-profit items like cookies, muffins, or cakes are helpful too. Selling nonfood merchandise like clothing or coffee mugs with your company logo can increase profit as well as improve your brand recognition.
To learn more on how to start your own coffee shop checkout my startup documents here
Please note: This blog post is for educational purposes only and does not constitute legal advice. Please consult a legal expert to address your specific needs.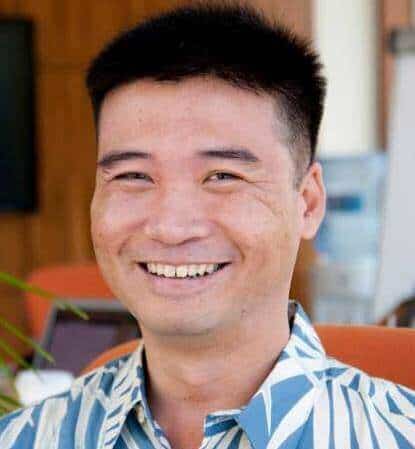 Hi! I'm Shawn Chun
My adventure in coffee began when I first launched my first coffee shop back in the early 2000s. I had to figure out so many things on my own and to make it worse within 2 years of opening two large corporate coffee chains moved in just blocks away from me!
As I saw smaller and even some larger coffee shops in the neighborhood slowly lose customers to these giant coffee chains and slowly close up shop, I knew that I had to start getting creative…or go out of business.
I (like you may be) knew the coffee industry well. I could make the best latte art around and the foam on my caps was the fluffiest you have ever seen. I even had the best state-of-the-art 2 group digital Nuova Simonelli machine money could buy. But I knew that these things alone would not be enough to lure customers away from the name brand established coffee shops.
Eventually, through lots of trial and error as well as perseverance and creativity I did find a way to not only survive but also thrive in the coffee/espresso industry even while those corporate coffee chains stayed put. During those years I learned to adapt and always faced new challenges. It was not always easy, however, in the end, I was the sole survivor independent coffee shop within a 10-mile radius of my location. Just two corporate coffee chains and I were left after that year. All told the corporate coffee chains took down over 15 small independent coffee shops and kiosks and I was the last one standing and thriving.
Along the years I meet others with the same passion for coffee and I quickly learned that it is not only "how good a barista is" that makes a coffee shop successful, but the business side of coffee as well.
Hence why I started this website you are on now. To provide the tools and resources for up and coming coffee shop owners to gain that vital insight and knowledge on how to start a coffee shop successfully.
Stick around, browse through my helpful blog and resources and enjoy your stay! With lots of LATTE LOVE!
Shawn