Coffee shops have become much more than a place to get coffee. They have become a place for people to gather and catch up with each other. One sure-fire way to increase your profits as a coffee shop owner is to offer your customers a selection of food for them to snack on while they are sipping on their espressos, cappuccinos, and lattes. You can also take advantage of the morning and noon coffee rush by offering different types of fresh and convenient food for your customers. So, what are some of the best types of food that your coffee shop can offer to its customers? Let's find out…
The five best types of food coffee shops or cafes can offer to their customers are:
Sandwiches

Soup

Salads

Pastries and Desserts

Breakfast Items
Sandwiches
While most coffee shops aren't typically a place you would think of where you would spend your lunch break, by offering lunch items like sandwiches, your coffee shop can be the most successful in town. Besides, by offering sandwiches and other food items, your coffee shop can become a preferred hangout spot for friends looking to hang out.
An article in Quora recently stated that most friends spend time together on an average of once every two weeks. When friends meet up, they usually like to find a spot where they can relax and talk, possibly while grabbing a bite to eat. If you are not offering at least a small, simple sandwich menu, you may be missing out on being that popular hangout spot that friends love to flock to when they are catching up.
When you are looking for sandwiches to serve at your coffee shop, you should think of which sandwiches are relatively simple and inexpensive to prepare. Sticking to sandwiches that are simpler and less expensive to prepare will not only affect your purchasing costs but will also affect your labor costs. If you are unsure as to which sandwiches your coffee shop should offer, the website Waka Coffee has compiled a list of these sandwiches that pair best with coffee. Some of these simple, unique, and delicious pairings include:
Tuna salad toast
Panini grilled cheese
Avocado and eggs toast
Shrimp and eggs sandwich
Avocado and eggs pita
I have already covered the importance of adding breakfast items to get a piece of the morning rush. By offering sandwiches and other lunch-related items, you will see your coffee shop's profits grow by now obtaining a piece of the lunchtime rush. When you see your coffee shop's profit margins drastically increase, you can thank me by inviting me over for some coffee and a sandwich!
Soups
Nothing goes better with a freshly-made sandwich and a hot cup of coffee than a nice, steaming bowl of soup. On a cold day, I find that nothing warms my body and soul better than a hot bowl of soup, and I'm sure that there are many of you out there that feel the same way. So, why not offer soup at your coffee shop?
Many different soups can complement just about any type of sandwich, or they can be a standalone meal. A few different types of soup that you can serve at your coffee shop can be bisques, chowders, gumbos, curries, and soups with lighter broth. Of course, some of these soups are harder and take a bit more time to prepare than others.
The popularity of soup has seen an increase over the last few years. While the soup was once seen as an appetizer or a side dish, many different soups are now hearty enough to be eaten as a meal. According to Restaurant Business Magazine, some of the most popular types of soup include:
Chowder, which is the most popular type of soup. Chowder can be found on 15% of all restaurant menus.
Vegetable soup is the second most popular type of soup, appearing on 14% of all restaurant menus.
Chicken noodle, tortilla, and french onion soup are tied for the third most popular type of soup. They appear on 10% of all restaurant menus.
A few other simple soups can be served at coffee shops because they are inexpensive to make and easy to prepare our tomato soup, Italian wedding soup, minestrone, and matzo ball soup. By serving soup at your coffee shop, you can attract business from those looking for a place to warm up during those cold winter months when business is usually slow.
Check out our list of unique things to offer HERE.
Salads
People are becoming much more aware of the food they are putting into their bodies
not only in the United States but also around the world. I think it only makes sense to offer healthier options if you are going to have a food menu in your coffee shop. One of those options should be salad. A recent survey conducted by YouGov America indicated that over 60 percent of Millennials admitted to liking salad, while a whopping 90% of people over the age of 55 state that they eat salad regularly.
I think it goes without saying that if your coffee shop offers salads on its menu, you are not only telling your customers that you care about their health, but you are also providing them with another option that may lead to them eating at your establishment more frequently.
Salads have evolved throughout the years, originally starting with just leafy greens and tomatoes and now being topped with just about anything imaginable, including fish, chicken, beef, and nuts. However, salads remain quite simple to make.
Another benefit to offering salad on your coffee shop menu is the sheer variety that salads are available. There is a plethora of different fruits, vegetables, meat, and nuts that can go into a salad. If you think about it, the possibilities are practically endless when it comes to making different types of salads. You can get as creative as your heart desires. If your coffee shop offers salad to your customers, they will thank you with their hearts and with their wallets.
Pastries and Desserts
If you would decide to take an informal poll of what people like to eat while drinking their coffee, I firmly believe that most people would say that they prefer something sweet to eat while sipping on a hot cup of joe. This is where offering your customers something like pastries or dessert items can dramatically increase your coffee shop's profit margin.
Having a clear, simple, and concise menu, used in conjunction with a glass case located near the register, is one of the most effective ways to boost your coffee shop's profit margin. By doing this, you will see increased sales in no time, per the website Coffee Business. Besides, I know that I have personally fallen for impulse purchases from time to time. This is a prime example of how it can be effective.
If you want to see how sweets and coffee are offered in the same place can benefit your shop, look no further than Dunkin Donuts. Dunkin Donuts was founded in 1948 as a donut and coffee restaurant called "Open Kettle" in Quincy, Massachusetts, per the Dunkin Donuts website. They got their start by serving donuts for five cents and premium cups of coffee for ten cents.
These days, Dunkin Donuts is a coffee and donut empire with over 11 300 locations worldwide. I do not promise you that your coffee shop will be an overnight success, but I certainly think that by following the Dunkin business model, you will see increased profits and be a much happier coffee shop owner.
Breakfast Items
Offering breakfast items should be a no-brainer for your coffee shop. I'm sure that you already serve the freshest, most delicious coffee around. Why not offer breakfast foods such as biscuits and breakfast sandwiches as well? If you stop to think about it, people are usually going to take the option that is most convenient for them.
This means that they might skip the fantastic coffee you brew for something they generally prefer less in the name of convenience because the other places offer breakfast foods. Make no mistake. When it comes to the morning rush, time is everything, and convenience is king. Besides, aside perk of offering breakfast foods may be acquiring repeat customers.
I know that I prefer to make as few stops as possible on my morning runs, but I also much prefer the coffee offered at my local CC's Coffee House. This is how I usually ended up with the substandard coffee served at the fast-food drive-through. Once CC's started offering hot breakfast sandwiches, bagels, and breakfast croissants, it was "game over" for those other fast food places.
If I can get a freshly made breakfast sandwich along with my favorite coffee, I certainly don't mind paying a little extra for quality. As a coffee shop owner, you don't have to offer an incredibly large variety of breakfast items. However, having a decent selection never hurts. If you want an increased business, trust me when I say that offering breakfast foods is the way to go.
Conclusion
With the average profit margin for a small coffee shop hovering around 2.5 percent, coffee shop owners are always looking for a way to increase their bottom lines. One of the most effective ways to accomplish this is perhaps the simplest answer.
By offering your customers different food options such as sandwiches, soups, salads, pastries and desserts, and breakfast items, you can keep your customers happy while they are frequenting your establishment. Perhaps just as important, you will keep those customers spending money on the delightful treats your coffee shop offers. Besides, this is a highly effective way to capitalize on the morning coffee rush, as well as offering your customers an exciting alternative for their lunch break.
Frequently Asked Questions
How much money does it cost to start a coffee shop?
To start a brick-and-mortar coffee shop, your startup expenses are going to be between $25,000 and $300,000. However, smaller coffee business ventures such as mobile coffee carts cost approximately $16,000 to $25,000 to start, according to How To Start An LLC. Smaller kiosks cost around $75,000 to start. Buying into a coffee franchise can be much less expensive, with average franchise fees ranging from $50,000 to $60,000 per Cost Owl. However, buying into more established franchises can be much more expensive.
How much profit does a coffee shop make in a year?
When you open a coffee shop, you can either choose to open an independent, standalone coffee shop, or you can buy into a coffee franchise. Depending on factors such as your location and your overhead expenses, coffee shops see an average profit of between $66,000 and $160,000 per year. Of course, larger coffee shops that do more business are going to see bigger profits than smaller startups. The average profit margin for a small coffee shop is 2.5 percent.
To learn more on how to start your own coffee shop checkout my startup documents here
Please note: This blog post is for educational purposes only and does not constitute legal advice. Please consult a legal expert to address your specific needs.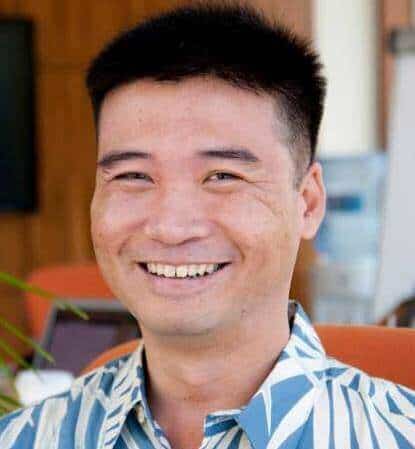 Hi! I'm Shawn Chun
My adventure in coffee began when I first launched my first coffee shop back in the early 2000s. I had to figure out so many things on my own and to make it worse within 2 years of opening two large corporate coffee chains moved in just blocks away from me!
As I saw smaller and even some larger coffee shops in the neighborhood slowly lose customers to these giant coffee chains and slowly close up shop, I knew that I had to start getting creative…or go out of business.
I (like you may be) knew the coffee industry well. I could make the best latte art around and the foam on my caps was the fluffiest you have ever seen. I even had the best state-of-the-art 2 group digital Nuova Simonelli machine money could buy. But I knew that these things alone would not be enough to lure customers away from the name brand established coffee shops.
Eventually, through lots of trial and error as well as perseverance and creativity I did find a way to not only survive but also thrive in the coffee/espresso industry even while those corporate coffee chains stayed put. During those years I learned to adapt and always faced new challenges. It was not always easy, however, in the end, I was the sole survivor independent coffee shop within a 10-mile radius of my location. Just two corporate coffee chains and I were left after that year. All told the corporate coffee chains took down over 15 small independent coffee shops and kiosks and I was the last one standing and thriving.
Along the years I meet others with the same passion for coffee and I quickly learned that it is not only "how good a barista is" that makes a coffee shop successful, but the business side of coffee as well.
Hence why I started this website you are on now. To provide the tools and resources for up and coming coffee shop owners to gain that vital insight and knowledge on how to start a coffee shop successfully.
Stick around, browse through my helpful blog and resources and enjoy your stay! With lots of LATTE LOVE!
Shawn