Coffee shops can be an extremely competitive business to get into. You have to make sure yours is unique compared to others. This helps you stand out and get noticed by customers and allows you to pop up faster on search results. Many shop owners don't realize the importance their company name plays in their image and brand.
A good name for a coffee shop represents your brand and what you want to be seen as. A name is part of your image and plays a huge factor in the type of customers you will receive and stay loyal to you. For example, if you have a coffee shop that plays metal music, you may think of something like "Devil's Coffee."
Your company name is something you can brand that is easy for your customers to remember. On top of that, it helps narrow down your target customer to get a loyal following. There are many fun exercises you can do to find the perfectly fitting name for your company.
How To Choose a Name For Your Shop
There are several ways for you to come up with a business name. It is actually one of the first things you should consider when starting a business. If you can come up with one to two themes you want throughout your coffee shop it will help you choose a name based on those themes.
For example:
If you want your coffee shop to play jazz music every day and host live jazz music once a month you can name your coffee shop something like King Jazz Cafe. Or perhaps something like Funky Fusion Coffee.
Try out something like The Nutcracker Cafe if you want to focus on ballet themes and classical music. Every year you can showcase a version of the Nutcracker playing on a TV or projector. There are many amazing names for coffee shops. We highly recommend you think about the themes you want your coffee shop to show off and stick to one or two ideas. You can use those two themes to help narrow down a creative name.
Note On Names:
You may want to add every theme into your name, but it is important to narrow it down to something short and catchy. Anything more than five words can seem too long and too hard to remember. Keeping it short, simple, to the point, but hard to forget is what you should aim for.
Fun Activities You Can Do to Come Up With a Name
If you haven't yet figured out your company name, that's okay. Sometimes it takes a while to find one that is fitting. You may feel stuck and if you do, try out these fun activities to get the ideas flowing.
Draw a Picture
Sounds childish, right? It's not! Draw out what your dream coffee shop would look like and find something that stands out. Maybe you have bean bags by windows, or only bean bags to sit on. You could name it The Beanz Bag. Whatever is in your picture can kickstart some new ideas you might fall in love with.
Ask a Friend to Play The Questions Game
A fun way to spark some ideas is by playing the questions game. Have your friend ask you questions they want to know about your coffee shop. This will help you narrow down your themes, what you truly vision about your coffee shop.
Images and Descriptions
With your friend, you can play another game together. Have them say one word related to coffee, and you come up with the first feeling related to the word. This can help you narrow down how you feel about coffee and how you want to portray that feeling.
Mood Boards
Whenever you feel stuck, and you really have no idea what kind of theme you want, create a mood board! This can be one of the best ways to visually see your dreams and spark something inside you that may help you create a name for your company. Sometimes seeing it helps you feel accomplished.
There are so many fun and creative ways you can create your business name. If you want something long, but you think it may not stick well with customers, use each word's first letter to make something shorter. Use a mashup of two words you find that represents your place. You have so many options for names, and it is one of the best parts of creating your own business.
Is Your Business Name Important?
Most of the time your business name is the first impression for many people and gives them an idea of what they can expect. It can help attract or detract customers to your place and that can be an essential part of a successful business. Your business name will also help you narrow down your target customer. Here are some examples of what names might attract which customers.
The Cozy Coffee Hut
Imagine this, a small space with a few lounging sofas with a fireplace and large windows to watch the snowfall out of. Sounds sweet, warm, cozy, romantic even. You may attract an older crown that wants to sit by a warm fire and drink coffee during winter days.
Books Cooks and Coffee
Imagine having a place where you can trade books with your customers and feed them some amazing food with a decent cup of coffee? You may attract a quiet crowd that loves to sit and read.
Quirky Coffee
Imagine a shop full of unique colorful art that helps showcase local artists? You fill your walls with art and fun places to sit. This will draw in a young artistic crowd that loves coffee and art as much as you do.
Kirkland Coffee
Take a peek at your competition and look at your names. If no one in your town has this name you can create something unique by using the city you're in. You can use the city and add a spin like "Kirkland Coffee" or maybe "The Dover Grind." You have so many names to choose from when you use the city's name. This will draw in all sorts of people and allow you to showcase some of the histories of your area.
Frosty Coffee
Maybe you live in a hot place that thrives off of a cold cup of coffee. Well, make it fun you can create a "cool" vibe with icy tones throughout the shop and have a focus on cold coffee. This might help you draw in a younger crowd on hot days.
Your business name is a meaningful part of your company and you should choose something that reflects what you want and who you want to draw in. It is how people remember you and part of your brand image. It is a big decision!
What You Should Avoid When Choosing A Name
There are a few things you need to keep in mind when choosing a new name. This can help you make a decision faster. Avoid these mistakes if you are new to choosing a business name.
Involving Everyone
You can have fun games with your friends to help get the ideas flowing. However, don't take too much advice from too many people. This can lead you down a slippery slope of confusion and indecision.
Using Too Many Adjectives
Yes, you want something fun and catchy, but nothing screams terrible, like too many adjectives squished together. Focus on one or two words that say exactly what you want.
Without Meaning
Choosing a word that no one knows will not entice your customers. If it is too hard to pronounce or no one knows precisely what it means because it is so obscure, it may leave you with fewer customers.
Remember, if you think your business needs to be rebranded, you can always change your name later and do a relaunch! This happens throughout a business life cycle, and it is okay to allow it to happen naturally.
Check out these name generators to help you find the perfect name HERE!
Final Thoughts
Coming up with a name can seem like a daunting task, but it can easily be one of the most exciting tasks. Sometimes it can take some time, several mood boards, and a lot of outside help. No one expects you to have it all figured out in one day; you can take your time to figure things out. Deciding to own a coffee shop is a huge decision, and many other pieces need to come together before opening your doors.
Frequently Asked Questions
How can I come up with a name quickly?
If you are strapped on time and cannot take the time to find a name, you can use your first name to register the business and create a brand. You can choose to do symbols or acronyms instead.
How do I know if my company name is chosen?
For most states, there will be a website that you can search through. If your company name pops up, it means that name is already taken, and you should choose something else or slightly change your version.
Can I use a business name that already exists?
If a company has a trademarked name, you will not be able to use it. This is also a bad idea because it is already known for something outside of what you want to be known for. You should always opt for something uniquely yours.
To learn more on how to start your own coffee shop checkout my startup documents here
Please note: This blog post is for educational purposes only and does not constitute legal advice. Please consult a legal expert to address your specific needs.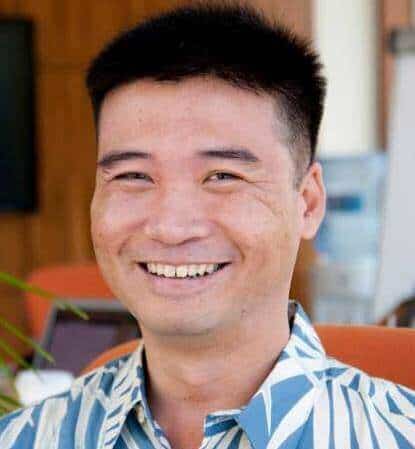 Hi! I'm Shawn Chun
My adventure in coffee began when I first launched my first coffee shop back in the early 2000s. I had to figure out so many things on my own and to make it worse within 2 years of opening two large corporate coffee chains moved in just blocks away from me!
As I saw smaller and even some larger coffee shops in the neighborhood slowly lose customers to these giant coffee chains and slowly close up shop, I knew that I had to start getting creative…or go out of business.
I (like you may be) knew the coffee industry well. I could make the best latte art around and the foam on my caps was the fluffiest you have ever seen. I even had the best state-of-the-art 2 group digital Nuova Simonelli machine money could buy. But I knew that these things alone would not be enough to lure customers away from the name brand established coffee shops.
Eventually, through lots of trial and error as well as perseverance and creativity I did find a way to not only survive but also thrive in the coffee/espresso industry even while those corporate coffee chains stayed put. During those years I learned to adapt and always faced new challenges. It was not always easy, however, in the end, I was the sole survivor independent coffee shop within a 10-mile radius of my location. Just two corporate coffee chains and I were left after that year. All told the corporate coffee chains took down over 15 small independent coffee shops and kiosks and I was the last one standing and thriving.
Along the years I meet others with the same passion for coffee and I quickly learned that it is not only "how good a barista is" that makes a coffee shop successful, but the business side of coffee as well.
Hence why I started this website you are on now. To provide the tools and resources for up and coming coffee shop owners to gain that vital insight and knowledge on how to start a coffee shop successfully.
Stick around, browse through my helpful blog and resources and enjoy your stay! With lots of LATTE LOVE!
Shawn