Figuring out if your qualities match those required for a potential position is important to do before starting. Without considering this, you can end up feeling stuck at a job you don't love – or even completely overlooking a position you'd be a perfect match for.
If you're interested in becoming a barista, you may be having some of these thoughts. What characteristics make a good barista, and do you have these characteristics or the ability to develop them?
By answering these questions, you can establish a strong understanding of how your personality matches with what is expected for working in a café.
A few of the qualities that make a good barista include being outgoing, having a positive attitude, being able to multitask efficiently, and having passion! Read on to learn everything you need to know about what these qualities mean and what they can look like in the barista position.
How Outgoing Are You?
As a barista, you are required to talk to people for the majority of the day – so a great quality to have in a position like this is an outgoing personality. Being outgoing can be described and demonstrated in many different ways depending on the person. A few common terms used to represent an outgoing person include friendly, talkative, approachable, extroverted, or a "people-person."
The below examples illustrate a few scenarios where having an outgoing personality can be advantageous in the barista role:
Example 1:
A new customer has just come into your coffee shop. You can tell that it may be their first time there, as they appear unsure about what they will order. To help them out, you utilize your
outgoing personality by stepping in to introduce yourself and offer assistance with choosing a beverage and/or explaining the menu. This will encourage the customer to feel comfortable with you, appreciate the welcoming atmosphere, and get a great first impression.
Example 2:
A customer who frequents your coffee shop has just walked in. The customer typically just politely orders their coffee and continues about their day. This time, you decide to engage in casual conversation with them, maybe noting that you appreciate their support or mentioning that the coffee they get is one of your favorites as well. Using your outgoing qualities to develop a friendly relationship with your customers is a great way to show that you care and help maintain business.
Example 3:
A new barista has just been hired. You can tell that they are feeling a little shy, as they don't know anyone yet and are still learning their tasks. After noticing how quiet and reserved they are, you decide to introduce yourself and chat about the job, where they are from, and anything else the conversation takes you to. This will allow the recent hire to feel welcomed and more comfortable in their new environment, and it can also encourage them to show their outgoing qualities as well.
If you want to become more outgoing, there are a few methods that can be used to practice this quality. The best way is to just jump in headfirst! Make it a point to say hello to people. If someone is wearing shoes that you love, tell them that. If you are checking out at a store, ask the cashier how their day is going. You'll find that a lot of times the conversation just flows naturally. The hardest part is pushing yourself out of your comfort zone in the first place – but the more often you do this, the easier it will become!
Demonstrating a Positive Attitude
Having a positive attitude is another important quality of a barista. Let's face it – things can get a little crazy in this role sometimes. Exuding positivity will not only be beneficial to yourself but also to the coworkers and customers around you.
The below scenarios demonstrate how it can be beneficial to have a positive attitude as a barista:
Example 1:
You show up to work and your boss lets you know that your coworker is sick and will not be coming in. You are immediately disappointed by this, as you are working a busy shift and now you will have to do it understaffed. Instead of letting the negative feelings take over, you accept that you are going to do the absolute best that you can and continue to maintain positive relationships with your customers despite any difficulties that may come along with being understaffed.
Example 2:
We all have bad days sometimes – and it's happening to you. Nothing seems to be going right. You spilled a coffee, gave someone the wrong order, and the espresso machine is acting finicky. Instead of being discouraged, you concentrate on the positive things, like seeing your favorite customer or looking forward to relaxing after work. Accepting your feelings, but still taking things lightly and making the best of what you can, is a great way to demonstrate a positive attitude as a barista.
Example 3:
Your manager pulls you aside to let you know that a customer has offered them some feedback regarding your performance. They let you know that the woman you served earlier was so impressed by your welcoming and friendly persona, even with a full café, that they wanted to let the person in charge know how much they appreciate the great customer service.
If you'd like to form a more positive attitude, a few things you can do to achieve this include surrounding yourself with positive people, practicing positive self-talk through exercises like affirmations, and making it a priority to smile or laugh frequently.
Multitasking Efficiently
When it comes to being a barista, one of the most important qualities to have is the ability to multitask efficiently. Multitasking is the ability to do more than one task at a time – but realistically, you may have to do more than two, three, or even more tasks at a time as a barista. There can be a lot of things happening at once in a coffee shop, and you'll be expected to keep up with all of them.
Scenarios in which a barista would be expected to demonstrate the ability to multitask efficiently include:
Example 1:
You're serving a customer who orders your shop's signature roast. When you go to fill their cup, you notice that you are completely out of this roast and will need to brew a new pot. After you put
the new pot on and let the customer know there will be a short wait, you continue to take the orders of customers who are waiting in line. The next two customers have complicated drinks, and so you need to work on creating those orders while still keeping an eye on the brewing coffee for the previous customer's order.
Example 2:
After a customer orders their favorite espresso drink, you notice that the espresso machine looks like it needs to be cleaned. Before making their drink, you decide to go ahead and clean it to ensure a safe and quality beverage – but you also have a line full of other customers waiting to order. In this case, you need to figure out the best way to multitask to balance taking new orders, quickly cleaning the espresso machine, and making the espresso drink that your customer is waiting on. This can mean asking for assistance from a coworker or finding an efficient way to do it all yourself.
Example 3:
How exciting! Your café has just debuted an updated menu, which now includes some breakfast sandwich options. If a customer orders a breakfast sandwich, you are required to make both their beverage and their meal. Although you're not used to this, you use your strong multitasking skills to prioritize. You put the food in the oven, and while it's warming up, you go ahead and craft their coffee. Now both items are complete, and you can give them to your happy customer.
Learning how to do everything required for the barista role will take time if you're brand-new. Luckily, no matter what your experience level is, there are ways to practice your ability to multitask efficiently. If you would like to further develop your skills in this area, working on prioritization and delegation can both be beneficial talents.
More Barista tips HERE
What's Your Passion?
Having a passion for what you do is extremely important when thinking about a long-term position. Whether your passion is for coffee, customer service, or another piece of what you do as a barista, you must channel this feeling every single day.
Demonstrating passion in the workplace can look different for everyone, but one of the most common attributes of someone who has a passion for their job is happiness. If you ever start to lose that feeling, try to remember what got you excited in the first place. Focusing your energy here is a great way to demonstrate your passion and encourage the same thing in others.
When it comes down to it, you will have great success in your role if you are passionate about it. Below are a few examples of what passion in the workplace can look like:
Example 1:
Another customer has ordered a caramel cappuccino. You've already made about 10 of these today – but you're not annoyed. You're taking the opportunity to perfect this drink by fine-tuning your skills and delivering the most delicious and high-quality beverage possible.
Example 2:
Your boss has let you know that there will be three new drinks added to the menu next week. Instead of waiting until these drinks are on the menu to learn them, your passion inspires you to be proactive and take a few minutes at the end of your shift to read the recipes and practice making them. Your coworkers are curious as well, and so you all enjoy the excitement of these new beverages together.
Example 3:
You're fortunate enough to have weekends off at the café, and Sunday evening has rolled around once again. Instead of feeling that pre-Monday dread, you're excited to go into work the next day and connect the customers you care about with the delicious coffee you work so hard to make!
So, there you have it! You now have access to everything you need to know about four main qualities that help make a good barista. Being outgoing, having a positive attitude, being able to multitask efficiently, and having passion are all traits that will give you a head start. Don't forget that there will always be ways to develop and improve these characteristics, whether you are already skilled in these areas or are looking to establish them for the first time.
Frequently Asked Questions
How can I become a better barista?
The best way to improve upon anything, including your barista skills, is to practice. You won't be an expert at first, and the only way to get to that point is to continue practicing. Start by focusing on the areas you want to improve upon the most. Asking a boss, coworker, friend, or family member who is skilled in the field for help can be an excellent resource for becoming a better barista.
What is a barista responsible for?
The barista has many responsibilities at work. Tasks may vary depending on a specific location, but some of the most common responsibilities include making coffee beverages, memorizing various recipes, using coffee equipment, providing high-quality customer service, training new employees, and maintaining a clean and safe work environment.
How long will it take me to become an expert barista?
It can take a significant amount of time to become an expert barista. The barista role requires constant change due to the nature of the industry, which means no matter how long you've been in the role, there will always be more to learn. For beginners, it can take anywhere from a few months to a full year to feel completely comfortable in the position.
To learn more on how to start your own coffee shop checkout my startup documents here
Please note: This blog post is for educational purposes only and does not constitute legal advice. Please consult a legal expert to address your specific needs.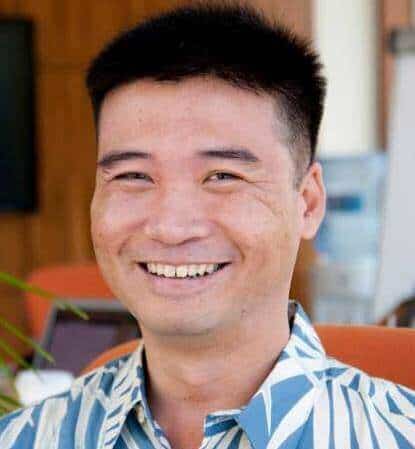 Hi! I'm Shawn Chun
My adventure in coffee began when I first launched my first coffee shop back in the early 2000s. I had to figure out so many things on my own and to make it worse within 2 years of opening two large corporate coffee chains moved in just blocks away from me!
As I saw smaller and even some larger coffee shops in the neighborhood slowly lose customers to these giant coffee chains and slowly close up shop, I knew that I had to start getting creative…or go out of business.
I (like you may be) knew the coffee industry well. I could make the best latte art around and the foam on my caps was the fluffiest you have ever seen. I even had the best state-of-the-art 2 group digital Nuova Simonelli machine money could buy. But I knew that these things alone would not be enough to lure customers away from the name brand established coffee shops.
Eventually, through lots of trial and error as well as perseverance and creativity I did find a way to not only survive but also thrive in the coffee/espresso industry even while those corporate coffee chains stayed put. During those years I learned to adapt and always faced new challenges. It was not always easy, however, in the end, I was the sole survivor independent coffee shop within a 10-mile radius of my location. Just two corporate coffee chains and I were left after that year. All told the corporate coffee chains took down over 15 small independent coffee shops and kiosks and I was the last one standing and thriving.
Along the years I meet others with the same passion for coffee and I quickly learned that it is not only "how good a barista is" that makes a coffee shop successful, but the business side of coffee as well.
Hence why I started this website you are on now. To provide the tools and resources for up and coming coffee shop owners to gain that vital insight and knowledge on how to start a coffee shop successfully.
Stick around, browse through my helpful blog and resources and enjoy your stay! With lots of LATTE LOVE!
Shawn