According to recent statistics, 50% of the total U.S. population drinks espresso-based coffee daily. In other words, roughly 150 million Americans drink an espresso, latte, or cappuccino, or mochaccino every day. Thus, if you are thinking of opening a coffee shop, you must invest in a good and high-quality espresso machine.
As a coffee shop owner, myself, I know how hard it can be to choose the right espresso machine to fit your business — especially when you are just starting. Every espresso machine has its pros and cons. Below are six factors to consider when choosing your commercial espresso machine.
There are six main factors to consider when buying your first coffee shop espresso machine:
Type of machine (e.g. Lever Piston, Semi-Automatic, Fully-Automatic, Super-Automatic)
Usage & Output Capacity 
Grinding & Frothing Capabilities 
Aesthetics
Cleaning 
Budget 
Today, we will go over each of these factors to help you choose the best commercial espresso coffee machine for your coffee shop:
Type of machine
As you might know, making good espresso entails pushing heated water under pressure through delicately grounded, compacted coffee. There are various ways of creating this pressure— hence the wide variety of espresso machines available. However, there are four major commercial espresso machine types, including:
Lever Piston Espresso Machines
Lever Piston machines are the most traditional machines and are often also referred to as "manual espresso machines." Here, the barista is literally the machine's pump, and while the temperature is usually controlled automatically, the barista must pull the lever to pressurize the water.
If you are looking to have total control over your machine, a Lever Piston would be the best way to go! They do take a little longer to pull each shot, so these level piston espresso machines will be good for more specialized coffee shops.
Semi-Automatic Espresso Machines
Semi-Automatic espresso machines have a pump to automate pressurization. The user (or in our case, the barista) must turn on/off the pump with a switch or button.
Standard features include programmable buttons, temperature control, pre-infusion, pre-grinding, and digital displays.
Fully Automatic Espresso Machines
As you might have guessed by the name, fully Automatic machines include both automatic pumps and volume. To operate this type of machine, you must first pre-set the volume; once that is done, you only need to press a single button to pull an espresso shot.
These machines are recommended for businesses looking for consistency among users.
Ultra or Super-Automatic Espresso Machines
Super-Automatic machines are also known as ultra-espresso machines or "bean-to-cup" machines as they have a built-in grinder and can also handle the milk and frothing. These machines eliminate human error and deliver consistent espresso with minimum effort.
As a result, they are great if you have less experienced personnel or looking to save time. Nonetheless, it is essential to note that this machine type is usually very costly and leaves you no control over the extraction.
Consequently, it all comes down to how much control you want (or don't need) over your machine and how much money you are willing to spend.
Usage & Output Capacity 
When opening a coffee shop, you must know that most of your customers' favorite beverages will be espresso-based. Therefore, one of the biggest things to consider when buying an espresso machine for your shop is your unit's workload.
Do you envision yourself serving 100, 300, or 500 espressos per day? Depending on your business's scope, you will need a two-group machine or a three-group machine.
Depending on your answer, you will also have to check the number of beans that the espresso machine can store and its water capacity. Knowing this will allow you to determine how many cups of espresso the unit can make in one sitting to see if it meets your shop's demands.
Grinding & Frothing Capabilities
There are two versions of espresso machines. The first version hosts the whole coffee beans within a canister, so all you have to do is choose how much coffee you want to use to make an espresso. And a second version that grounds the coffee using an external machine.
I usually recommend buying an espresso machine that has an external system as opposed to a built-in system. These machines can be a little less complicated and take a little more skill, but they are also less prone to breaking.
Additionally, you need to consider the espresso machine's milk frothing capabilities. This feature is defined by the type of specialty coffee you are looking to brew. Meaning that if you are making cappuccinos and macchiatos, then frothing is an essential feature to consider. For the lovers of black or traditional coffee, on the other hand, this may not be a critical feature to consider.
Aesthetics
Aesthetics are very important, even more so if you are building a coffee shop brand from scratch. So, think about where is your espresso machine going to go. Is it going to be highly visible in the center of the room? Or is it going to be situated in a more discrete or withdrawn area?
If you want your espresso machine to be your business's focal point, you should think about your brand's look and feel in your process of selection. For instance, vibrant colored machines can be a nice touch if you want to call attention to your espresso unit.
But remember, you don't want to bring in an appliance that will make the operations in the shop difficult – the essence of bringing in a machine is to enhance your operations.
For items you should never buy for your coffee shop, click here!
Cleaning 
It might seem odd, but you should also evaluate how easy it is to clean your commercial espresso machine. Cleaning your unit regularly is very important in terms of operation and hygiene and extending the lifespan of your machine.
Plus, as these machines are constantly exposed to moisture, having a very hard unit to disassemble/reassemble can quickly develop internal faults.
Budget 
Your budget is also a definitive factor when deciding what commercial espresso machine to buy. Deciding how much of your total budget can go toward a unit will help you narrow your options.
Usually, espresso machines vary significantly in price —ranging from a few thousand to tens-of-thousands of dollars. Know that most of these price differences are based on output capacity, material, and build quality. But, some of the top-end pricing is also related to increased performance consistency and aesthetics when going pro.
Wrapping it up!
These are the key features to consider when buying your first coffee shop espresso machine. Thus, before committing to a particular machine, make sure you do your homework and determine if the unit's aesthetics, price, capabilities, type of machine, and capacities fit your business's needs.
Remember, you want a machine that aligns with your brand, enhances your operations and is worth the money you will invest in it!
I recommend that before taking the plunge, you come up with a simple checklist outlining your business demands to help you choose the right espresso machine before you even decide to set foot in a store.
Frequently Asked Questions
What are the best commercial espresso machines?
As we mentioned before, depending on your needs, wants, and budget, an espresso machine will be more or less fitting for your business. Nonetheless, there are a few models that have been consistently highly rated, including:
● La-Pavoni Bar T 2 Group
● Nuova Simonelli Aurelia II
● Bezzera Magica E61
● Rocket Espresso BOXER One
● Breville Barista Expresso Espresso Machine
● La Marzocco Linea 1 Group AV
● Victoria Arduino Black Eagle
● Elektra Sixties Deliziosa Commercial Espresso Machine
● Jura 13752 Automatic Impressa Z9
● La Spaziale Mini Vivaldi II

There are many other equally capable machines and brands available in the market. The ones mentioned above are the ones I recommend the most! But, again, it all comes down to the needs and demands of your shop.
How much money do you need to open a coffee shop?
Depending on the size, services, location, equipment, and other specific considerations, you might need more or less money to open your coffee shop. Nonetheless, recent statistics reveal that a sit-down coffee shop generally costs between $200,000 and $375,000 to set up, while a franchise can amount to $673,700 (depending on the brand.)

But, there are other less pricey options available such as a drive-through shop or a kiosk. If you decide to open a large to medium-sized drive-through shop, it can cost between $80,000 and $200,000. And if you are looking to open a small kiosk, it probably will end up costing you between $25,000 and $75,000.
Is owning a coffee shop profitable?
In short, yes. Coffee shops can be very profitable businesses if you manage them well. The average profit margin for regular coffee drinks is 15-20%, while the average profit margin for specialty coffee drinks is 12-18%. As a result, most coffee shop owners make roughly $60,000 to $160,000 a year.
More so, for many shops, sales often double within three to five years, meaning that you could make even more money depending on how well you run your company.

To learn more on how to start your own coffee shop checkout my startup documents here
Please note: This blog post is for educational purposes only and does not constitute legal advice. Please consult a legal expert to address your specific needs.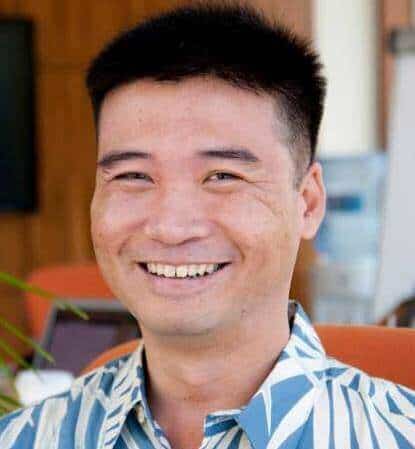 Hi! I'm Shawn Chun
My adventure in coffee began when I first launched my first coffee shop back in the early 2000s. I had to figure out so many things on my own and to make it worse within 2 years of opening two large corporate coffee chains moved in just blocks away from me!
As I saw smaller and even some larger coffee shops in the neighborhood slowly lose customers to these giant coffee chains and slowly close up shop, I knew that I had to start getting creative…or go out of business.
I (like you may be) knew the coffee industry well. I could make the best latte art around and the foam on my caps was the fluffiest you have ever seen. I even had the best state-of-the-art 2 group digital Nuova Simonelli machine money could buy. But I knew that these things alone would not be enough to lure customers away from the name brand established coffee shops.
Eventually, through lots of trial and error as well as perseverance and creativity I did find a way to not only survive but also thrive in the coffee/espresso industry even while those corporate coffee chains stayed put. During those years I learned to adapt and always faced new challenges. It was not always easy, however, in the end, I was the sole survivor independent coffee shop within a 10-mile radius of my location. Just two corporate coffee chains and I were left after that year. All told the corporate coffee chains took down over 15 small independent coffee shops and kiosks and I was the last one standing and thriving.
Along the years I meet others with the same passion for coffee and I quickly learned that it is not only "how good a barista is" that makes a coffee shop successful, but the business side of coffee as well.
Hence why I started this website you are on now. To provide the tools and resources for up and coming coffee shop owners to gain that vital insight and knowledge on how to start a coffee shop successfully.
Stick around, browse through my helpful blog and resources and enjoy your stay! With lots of LATTE LOVE!
Shawn