So you decided to get in the coffee shop business, you rented the commercial space, and now you're not exactly sure to do with all of that space, we've all been there too much space and your brain is overwhelmed by the idea of having to decorate such a large space. Decorating can be either one of the most exciting steps to starting a business, or it can very intimidating, it all depends on your vision. Believe it or not, there are many ways to decorate a coffee shop, and there are many resources for you to purchase your decor, and also brainstorm on what you want.
So where can you buy the best coffee shop decor? You will first need to do is work on the budget, then find inspiration so that you can have an idea of what to look for, then its time for you to go shopping, and bring your vision to life. 
Although it will require hours of research, and budget estimations, the tips that will be provided in this article will bring you one step closer to bringing your vision to life. Although almost every step in starting a business is extremely important, the decorating part is extremely crucial because it can make or break your business.
Crunch Some Numbers  
This step may have already been done when you were writing out your business plan. However, if you have not done so already it is highly recommended that you plan out your budget for decor. During the decoration process, every detail matters, and it will be a shame if you cannot get a gorgeous accent piece because it will bring you over the budget. Therefore before you decide to look at furniture and do research you should sit down for a few hours and fully plan out your budget for decorating. It is also important to know that if you have a smaller coffee shop space to work with then your budget will be much smaller than if you had a larger space, so it is important to take the size of the space into consideration.
What is Your Vision?
 This step may take a while but it is a very crucial step to make sure that you have a successful coffee shop. Think about what theme you want for your coffee shop is it Parisian, minimalistic, industrial, hipster, modern, or rustic? Ask yourself this question and once you find your answer you can begin researching ideas. For this step you will need to take out a few hours even a few days to just browse online and look at photos of different coffee shops, you can even look in magazines, and visit your favorite coffee shop in person and look around. Once you look at a few photos you will get a sense of what it is that you want.
A great online source for looking for inspiration is Pinterest. Pinterest is a visual search engine and is considered a mecca to find decor inspiration. A great thing about Pinterest is that you can click on the pins and they lead you to websites where the items are possibly listed, you can also save the link as a source, and come back to them later. Another cool thing about Pinterest is that it allows you to create a vision board so although the images on Pinterest are not technically yours, your ideas will slowly come to life when the vision board is complete. Overall if you are just about to begin your decorating then Pinterest is a great first step.
If Pinterest is not your thing then you can simply go on Google and search for images of cool coffee shops. If you are really invested then go down to your local coffee shop and check out their decor, you can even be brave enough to ask them where they got their decorations from, by asking this simple question and getting an answer it may actually end up saving a lot of time when shopping for furniture because now you have an idea of where to go.
The Furniture Is The Foundation
The most important thing to know when starting the decorating process is the furniture will be the foundation to your decorating plans. Buying the actual furniture is actually a time-consuming step the reason being that you want to have attractive furniture, but you also want it to be comfortable for your guests. Usually finding furniture that is pleasing to the eye and comfortable is very difficult to find, and can result in your search taking longer than you would like. The key here is to know what you want and where to find it.
There are a few online stores that can be recommended for you to shop for your furniture, one of them is Wayfair. Wayfair is known for having beautiful pieces of furniture for a fair price, so if you are on a budget it is highly recommended that you check out their site first, they may also offer you a discount for shopping in bulk. Another good source for online shoppers is WebstaurantStore, this is great if your budget is slightly larger, and if you are looking for a wider variety of items.
Although shopping online may seem great and seems like less of a hassle, it not highly recommended, because you cannot really test out your furniture if you are shopping online. This is why it is recommended that you do your shopping in-store so that you can get a feel for the furniture before you pay for it. There are many local stores and showrooms that you can check out, this will just require a bit more research on your end since stores vary from state to state.
Now Its Time For The Cute Things
Yes, furniture is great and all, but now its time to really have fun and buy the items that will really bring your vision to life. You've laid down the foundation by buying the furniture, but the small decorations that will make your shop pop will make all the difference. These miscellaneous items include artwork, light fixtures, table decorations, and even signage; these items will be the true identity of your shop.
Luckily for you these items can be found in so many places, and it does not require too much research, you just need to search for "the one". Some great sources for you look at when shopping, are Amazon, Wayfair, Overstock, Etsy, and more. Being that these items are small and only require a good eye to determine whether they are worthy or not, you will not be required to do too much instore shopping, and you can do all your shopping for these items online. The items that you buy may be very inexpensive and will be a large blow to your budget.
For the artwork, I do highly suggest that you go to a local art gallery, because not only can you negotiate the price, but you will also be supporting a local artist, and it may be their biggest honor to have their artwork on your coffeeshop. Some artists may even be willing to negotiate the price because they know that if their work is hanging in your coffeeshop then its instant free publicity.
Keep Calm and Start Decorating
As you can see this part of your planning process is not so bad, and buying decor can be so much easier when you plan things out and you know what you want. This step is all about planning and its okay to take all the time you need when planning out your decorations because bringing your vision to life is the end goal here. The key points to take away from this are to find your vision, budget, do your research, and go shopping. I can guarantee you that if you follow these steps then you will have a coffee shop that will stand out from the rest of your competition it just takes a lot of planning. So when you start to think that the planning is just too much and it's too time-consuming, just remember this; appearances matter!
For tips on what not to buy for your coffee shop, click here!
Frequently Asked Questions
What kind of tables should I get?
This depends on the size of your coffee shop. It is highly recommended that your shop includes small high top tables so that people who go to coffee shops to work on laptops can do so comfortably without feeling awkward.
What is the cheapest decor type that I get?
The minimalistic approach is best if you are on a budget, the furniture is much simpler and you are will not need to spend too much money on accent furniture. For this approach, you may want to go for neutral colors.
Should I have colorful furniture?
This depends on what kind of theme you are looking to have, many coffee shops have neutral tones with pops of color everywhere. It's easy on the eye, but it also has some hints of color to bring the space to life.
To learn more on how to start your own coffee shop checkout my startup documents here
Please note: This blog post is for educational purposes only and does not constitute legal advice. Please consult a legal expert to address your specific needs.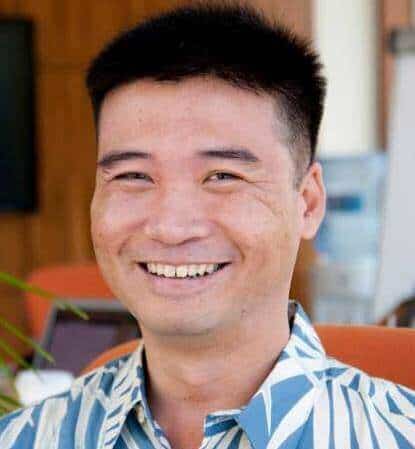 Hi! I'm Shawn Chun
My adventure in coffee began when I first launched my first coffee shop back in the early 2000s. I had to figure out so many things on my own and to make it worse within 2 years of opening two large corporate coffee chains moved in just blocks away from me!
As I saw smaller and even some larger coffee shops in the neighborhood slowly lose customers to these giant coffee chains and slowly close up shop, I knew that I had to start getting creative…or go out of business.
I (like you may be) knew the coffee industry well. I could make the best latte art around and the foam on my caps was the fluffiest you have ever seen. I even had the best state-of-the-art 2 group digital Nuova Simonelli machine money could buy. But I knew that these things alone would not be enough to lure customers away from the name brand established coffee shops.
Eventually, through lots of trial and error as well as perseverance and creativity I did find a way to not only survive but also thrive in the coffee/espresso industry even while those corporate coffee chains stayed put. During those years I learned to adapt and always faced new challenges. It was not always easy, however, in the end, I was the sole survivor independent coffee shop within a 10-mile radius of my location. Just two corporate coffee chains and I were left after that year. All told the corporate coffee chains took down over 15 small independent coffee shops and kiosks and I was the last one standing and thriving.
Along the years I meet others with the same passion for coffee and I quickly learned that it is not only "how good a barista is" that makes a coffee shop successful, but the business side of coffee as well.
Hence why I started this website you are on now. To provide the tools and resources for up and coming coffee shop owners to gain that vital insight and knowledge on how to start a coffee shop successfully.
Stick around, browse through my helpful blog and resources and enjoy your stay! With lots of LATTE LOVE!
Shawn