Starting a coffee shop does take some time, but you just have to take it step by step to achieve the outcome.
The 12 steps to start a coffee shop (including a startup cost breakdown) are:
Decide the type of coffee shop you want to run.
Perfect your product quality.
Make your coffee shop customers feel at home.
Train your coffee shop's Baristas and Management.
Calculate the cost breakdown of starting your coffee shop.
Start a coffee shop loyalty program.
Promote your coffee shop on social media.
Get creative with your coffee shop's promotions.
Engage and serve customers as the Owner.
Create a Google profile.
Start small with the initial menu.
Host a free coffee opening day.
1. Decide the Type of Coffee Shop You Want to Run
The cost of your coffee shop will depend on the type of business that you want to open.
You could either:
Purchase an existing small business coffee shop.
Start a new coffee shop.
Or open a franchise location.
Let's get into the similarities and differences of all of your options.
Purchase an Existing Small Business Coffee Shop
If you decide to purchase an existing small business coffee shop in your area, it will depend on the value of the coffee shop that the owner calculates.
The owner will calculate the coffee shop's worth via:
How much net income the coffee shop brings in yearly.
The worth (after depreciation calculations) of the:

Coffee shop equipment.
Customer seating and lounge areas.
Entertainment equipment such as television.
Current food and packaging inventory on hand.
You as the new owner and the first owner can negotiate a purchase price based on the total value of everything physical in the coffee shop. You may purchase the coffee shop for a higher cost if the prior owner provides you thorough training you and the same crew stays with you. A well-trained crew will make the value of the coffee shop higher because they will perform better and bring in more sales over time with great customer service.
Start a New Coffee Shop
Investopedia breaks down the costs of starting a new coffee shop based on the type that you decide to open. A sit-down coffee shop will run you from $200,000 to $375,000 in startup costs. The higher cost is due to
funding for tables, chairs, and lounge sofas, and more equipment to accommodate larger customer traffic with brewing coffee and preparing food.
If you want to start an exclusive drive-thru coffee shop, startup costs will be about $80,000 to $200,000. This could be because you do not have to put out costs for tables, chairs, and lounge equipment for customers since they will be serviced via the drive-thru.
If you serve coffee from a small kiosk in a mall or plaza, you will spend about $25,000 to $75,000 in startup costs. This lower cost would be because you have a smaller area to serve your coffee and less equipment and a smaller menu to accommodate your limited workspace.
Open a Franchise Location
According to Franchise Direct, the top coffee shop franchises listed on the page costs anywhere from as low as $60,000 to $200,000.
Franchises such as Hard Bean Coffee and Ziggi's Coffee have a minimum cash requirement of $60,000 to start the franchise. All the franchises listed say that they offer financing assistance for the franchise through a third party. As long as you have the minimum cash required to start the franchise, then you will receive said third-party assistance.
If you want to open more popular name-brand sit-down coffee franchises, you are looking at startup costs of up to $673,700, according to Investopedia. It could cost more to start a franchise depending on the specific name brand you choose to open.
A Dunkin Donuts franchise costs anywhere from $97,500 to $1,717,103 of the original investment. This could be because it holds the second-largest market share in the coffee industry of 26% behind Starbucks who has a 39.3% share in the market.
Which Option Should You Do?
Your desired option depends on the route in which you wish to go for running your coffee shop business.
Opening a franchise location will make it easier with already learning the mainstream coffee brewing and food preparation procedures. However, funding a franchise location can be more costly than the other options.
Starting a new coffee shop will generally cost more than purchasing an existing small business coffee shop because with a new coffee shop you will have to purchase new equipment. With an existing coffee shop, the equipment has depreciated which will make the purchase cost a little less than starting a whole new entity.
If you want more control over your coffee shop's operations, start your shop. If you want to have procedures mainstreamed and taught to you, purchase an existing coffee shop or a franchise location depending on your startup budget.
2. Perfect Your Product Quality
Perfecting your product quality will increase your credibility as a local coffee shop, maintain customer loyalty, and encourage more quantity of products ordered per customer order due to the awesome taste of your product.
To perfect your product quality:
Purchase only from high-quality vendors.
Perfect your pastry recipes.
Bring in an experienced chef for meal preparation.
Purchase Only From High-Quality Vendors
Purchasing only from high-quality vendors may mean spending a little more per unit for a better taste of the final product. Don't spend an arm and a leg on supply costs, but do take care to read reviews from other coffee shop owners related to the vendors in which you are interested.
For coffee beans and grounds, research the brands for taste quality for each brew. Look at videos that show coffee tastings of different brands and what is the most popular brand out of the lineup.
For coffee cups, lids, and other packaging supplies, look for reviews on how they hold up with housing coffee and other food. Do the lids tightly seal the coffee cups? Do the containers tightly seal in food that could leak if tipped to the side?
Perfect Your Pastry Recipes
While you can go by your favorite cookbook for pastry recipes such as croissants, cake pops, cupcakes, brownies, and danishes, make sure to put your spin on it.
To make cupcakes and cake pops moister, you can add sour cream. Make sure not to overmix or overbake. Use cake flour to increase the moistness of your cupcakes.
To learn more about how you can perfect your pastry recipes, watch Food Network or Cooking Channel baking series to learn more about it. Research online how you can increase the quality of your pastry just by a few ingredient additions or quantity changes in the recipe.
Bring in an Experienced Chef for Meal Preparation
Now you don't have to find the next Bobby Flay or Guy Fieri to make your coffee shop's meals. The experienced chef should have:
At least 3-5 years of cooking experience.
At least graduated from a 2-year technical cooking school.
A personal portfolio of creating and perfecting their meals and pastries.
While selling prepackaged meals would be easier, there's nothing compared to a quality fresh prepared meal with your coffee. You can have the chef cook coffee shop meals such as paninis, salads, soup, and breakfast sandwiches. An available Barista could be a sous chef, if needed, especially during busy breakfast and lunch periods.
More tips HERE.
3. Make Your Coffee Shop Customers Feel at Home
Making your coffee shop customers feel at home will maintain customer trust and loyalty to your coffee shop. Think of the environment you would like to have when you cozy up with a cup of coffee at home: comfy seating, entertainment amenities, and delicious coffee, pastries, and/or meals.
The top 3 ways that you can make your customers feel at home when they visit your coffee shop include:
Offer free wifi.
Have comfortable seating.
Free coffee refills for first responders.
Offer Free Wifi
When you purchase Internet for your coffee shop, be sure that you have a Wifi router where your customers can connect to free Internet with a code. Post the code near the cash register and the seating and lounge areas. Your customers will appreciate the free wifi amenity as they drink coffee and tea.
Some people may not have Internet at home and rely on public Wifi to get school or college work done on a laptop. According to Mashable, only 66% of Americans in the lowest income bracket can access the Internet from home. Only 50% of those low-income Americans only have access to the Internet via a mobile phone or smartphone with a connected service.
Depending on the type of service these individuals have, it could be very slow speeds with limited functionality with what you can do online. You can't type fast on a smartphone to get an essay done for school. Watching videos online could be more difficult with a slower speed on a smartphone. Connecting with loved ones a video chat will make the videos lag without a strong Wifi connection.
Hence, make sure you have free high-speed Wifi to serve your community and help those who need an Internet connection for whatever reason as they enjoy a meal from your coffee shop.
Have Comfortable Seating
Comfortable seating will make your customers feel at home. Have comfy lounge couches with side tables and coasters where customers can place their drinks on the side tables while getting work done on a laptop.
You could place cushions on chairs that are for customer tables to make it a better seating position for customers. Have at least 2-3 couches in your lounge area and four chairs at each table. To go above and beyond, don't get any tables and chairs, and consider booths to seat your customers, so they are even more comfortable during their time at your coffee shop.
Free Coffee Refills for First Responders
First responders are always on the run protecting our community. This means long hours and exhausting work performed to keep people alive. From police fighting crime against suspects to nurses caring for many patients in a hospital, coffee helps to keep their energy levels up because of the caffeine.
Offer free coffee refills to first responders. This includes nurses, police officers, other law enforcement personnel, EMTs, and firefighters. Have them show their ID at the cash register so that they can get free refills the entire time they are on their coffee break.
You could even have a free coffee day each month for local hospitals, fire stations, and police stations where they do not have to pay for their first cup of coffee at all.
4. Train Your Coffee Shop's Baristas and Management
Whether you are training a whole new staff for your new coffee shop or training current staff from a coffee shop in which you purchased, training Baristas and Management is always needed.
Training doesn't stop after the initial orientation. Refresher training helps everyone to remember how to make certain coffee drinks and the order in which to expedite the food and drinks. For example, one
Barista may not have made a caramel macchiato in a very long while another Barista is an expert at making the drink.
Customer Service
Providing quality customer service will have your customers desiring to always come back to your coffee shop. If your Baristas are standoffish and rude, customers will not want to come back. Help your Baristas to realize that quality customer service comes with a smile and help to rectify any problem a customer may have during their visit.
Brewing Coffee Drinks
Have a "power hour" training session once every quarter where you (or a member of Management) train your Baristas on how to brew all the coffee drinks on your menu.
You should also know how to brew all the coffee drinks in case you have to take over for a member of Management one day if they cannot show up to work.
Teach the Proper Order of Expediting Food
In your "power hour" training sessions, don't forget to remind Baristas and Management of the order in which to expedite the food and drinks.
First, start with brewing and preparing the drink. As the drink is in the brewing stage, grab the pastries from the baking shelf and heat them if the customer desires them. Meanwhile, have the chef quickly prepare any meals for the orders that have just been put in.
Of course, not every order will have a coffee, pastry, and meal all on one order. However, following this procedure, if there are all 3 on the order will help the customers to receive their order as fast as possible.
5. Calculate the Cost Breakdown of Starting Your Coffee Shop
For this section, we will do a cost breakdown of starting your sit-down coffee shop. Recall from earlier that starting a sit-down coffee shop could cost anywhere between $200,000 to $375,000. You can get funding resources to help you with startup costs such as:
Donations from family and friends.
Crowdfunding.
Business grants.
Business loans.
Business credit cards.
Let's break down each category of costs for a coffee shop startup.
Business Licensing & Registration
How to Start an LLC details that business registration costs about $50 and the business licensing for a coffee shop will depend on the state in which you are opening your coffee shop. Let's say that licensing your coffee shop will cost about $500.
Rent
The rent you have to pay per month will depend on the state's real estate cost in which you are opening your coffee shop. Let's say that you will pay about $1,300 in rent for the building in which you will operate your coffee shop. That's $15,600 in rent payments per year.
Equipment Costs
How to Start an LLC details the main cost ranges of popular coffee shop equipment systems that you will need including a water filtration system, drip coffee machine, espresso machine, refrigerators, and espresso grinders. On the low end of the cost ranges, it will be about $21,400 for basic equipment costs.
Obtain your equipment by comparing and contrasting prices from different vendors such as Amazon, Seattle Coffee, and whatever other vendors in which you are interested. Do not try to go for the lowest price piece of equipment because that could compromise operational quality.
Food & Drink Supplies
For food and drink supplies you will need:
Coffee grounds and coffee beans.
Milk.
Non-dairy creamers.
Sugar.
Alternative sweeteners.
Flavor syrups.
Meal ingredients.

Salads.
Meats.
Cheeses.
Eggs.
Bacon.
Canadian bacon.
Ham.
Bagels.
Pastry ingredients.
All-purpose flour.
Cake flour.
Eggs.
Vegetable oil.
Fruit spreads (for danishes).
Baking soda.
Baking powder.
Vinegar.
Sour cream.
Estimate that for a whole month of food and drink supplies that you will spend about $1,700 on the low end. Considering coffee will account for the bulk of your food and drink supplies, you will have to put aside about $1,000 per month for coffee.
This means that you are spending about $20,400 per year on food and drink supplies.
Packaging Supplies
Packaging supplies would include:
Coffee cups.
Coffee lids.
Coffee straws.
Paper sleeves for pastries and paninis.
Containers for salads.
Sandwich wrappers for breakfast sandwiches.
Account for about $2,100 in packaging supplies per month which is about $25,200 per month.
Hiring & Training
Hiring and training will also include labor costs for the entire year. Labor costs for Management and Barista may include:
Head Manager: $40,000
Assistant Manager: $30,000
Lead Barista: $25,000
Full-Time Barista: $22,000
Full-Time Barista: $22,000
Part-Time Barista: $15,000
Part-Time Barista: $15,000
Total Labor Costs: $169,000
Utilities
Utilities to keep your coffee shop in functioning order include:
Electricity ($300 per month).
Gas ($100 per month).
Internet ($50 per month).
Water ($25 per month).
Sewage ($30 per month).
Account for about $500 to $600 per month for utilities. Let's say your monthly cost will be $550. That's $6,600 per year for utilities.
Final Cost Breakdown
Business licensing and registration: $550
Rent: $15,600
Equipment costs: $21,400
Food & drink supplies: $20,400
Packaging supplies: $25,200
Hiring & training: $169,000
Utilities: $6,600
Total Startup Costs: $258,750
Hence, in this example of a coffee shop startup cost breakdown, it will cost about $258,750 in startup costs for the entire first year to begin your coffee shop. This lies within the range of $200,000 to $375,000 for startup costs for a sit-down coffee shop.
6. Start a Coffee Shop Loyalty Program
Start a coffee shop loyalty program to encourage your most loyal customers to keep frequenting your coffee shop rather than going to chain locations.
Punch Card
Give every customer a punch card. For every purchase, a cashier can put a hole punch in the punch card to keep track of the number of purchases before the next reward. When the customer reaches 10 purchases, he or she can get a free standard coffee or pastry of their choice.
Earn Points on Purchases to Redeem for Rewards
Create a customer profile for every customer willing to have one in your system. For every purchase, they can earn 2% to 5% back on their purchases in the form of points. For example, if you offer 3% back in points and a customer spends $10, they will earn 30 cents back. Once a customer hits $5, it can be redeemed for a gift certificate to your coffee shop.
Another alternative would be to have a set of points that customers can earn per purchase of specific products on your menus such as 25 points for drip coffee, 5 points for a pastry, and etcetera. Once the customer hits a threshold point of your choice, he or she can get a free coffee or pastry when they decide to redeem points.
Loyalty Program Member Exclusive Coupon Offers
When you build your loyalty program, take down customer emails. You can send them emails that contain coupons and other member-exclusive offers that will bring them back to your coffee shop multiple times per month.
7. Promote Your Coffee Shop on Social Media
Facebook and Instagram are the best social media platforms to use to promote your coffee shop. Use the
same pictures and text for when you make your posts on social media. Whether it's a new promotion or sale at your coffee shop or if you are hosting a poll, post at the same time on both platforms so all your followers are updated on your current coffee shop happenings.
8. Get Creative With Your Coffee Shop's Promotions
You can get creative with your coffee shop's promotions by rotating them every so often to promote something different. For example, have one sale for each type of food category per month and rotate them out at the beginning of the next month.
Run sales in groups such as:
B1G1 free pastries; B1G1 50% off select coffee products; $2 off breakfast or lunch meals.
Free coffee or pastry with the purchase of a meal (one per customer per day).
9. Engage and Serve Customers as the Owner
As we discussed earlier with training yourself how to make the coffee drinks, you should also be behind the counter at least a few times a week. Help to take orders and provide customer service to your visitors. Customers appreciate an owner of their favorite coffee shop taking responsibility and accountability as they are behind the counter and not just stuck in the office doing administrative tasks.
10. Create a Google Profile
Create a Google profile that includes:
Your business name.
Business address.
Phone number.
Website.
Google reviews.
People will first visit Google when looking out for a new business to try. As you grow a customer base, encourage your customers to put up a review for your coffee shop. You can enter customers that put up a review for you into a monthly raffle for free coffee shop swag such as a tote bag or T-shirt. The raffle could also be for a free meal (coffee, pastry, and meal).
11. Start Small With the Initial Menu
While you may want to go big with your initial menu, it is best to start small. Serve maybe 10-12 popular coffee drinks, about 8 pastries, and a selection of 5-8 types of meals. Starting small will help your coffee shop to find its niche and specialty in the local coffee market.
12. Host a Free Coffee Grand Opening Day
What's more exciting than something free that you can offer on grand opening day? Offer free 8 ounce cups of drip coffee to all customers that come to your coffee shop in the first 1-2 days of your grand opening. You could decide to host a grand opening weekend where there are select free products that you offer for Saturday and Sunday of the first two days of opening.
Frequently Asked Questions
1. How can I encourage customers to post reviews, besides entering them into a monthly raffle?
Encourage your customers to post Google reviews for you by:
Telling them how important it is for the success of your business.
Have a small business pact with another owner that you review their business while they review your business.
2. How do I know how many Baristas and Managers I need for my coffee shop?
If you do not want to have a Head Manager, you can make yourself the Owner and Head Manager to save on labor costs. You need at least one full-time Assistant Manager. Try to at least have 1-2 full-time Baristas and 2-3 part-time Baristas based on the customer traffic at your coffee shop.
To learn more on how to start your own coffee shop checkout my startup documents here
Please note: This blog post is for educational purposes only and does not constitute legal advice. Please consult a legal expert to address your specific needs.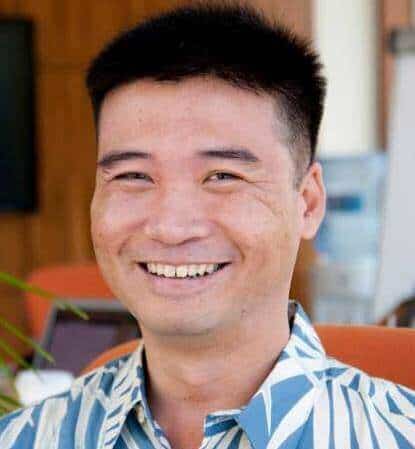 Hi! I'm Shawn Chun
My adventure in coffee began when I first launched my first coffee shop back in the early 2000s. I had to figure out so many things on my own and to make it worse within 2 years of opening two large corporate coffee chains moved in just blocks away from me!
As I saw smaller and even some larger coffee shops in the neighborhood slowly lose customers to these giant coffee chains and slowly close up shop, I knew that I had to start getting creative…or go out of business.
I (like you may be) knew the coffee industry well. I could make the best latte art around and the foam on my caps was the fluffiest you have ever seen. I even had the best state-of-the-art 2 group digital Nuova Simonelli machine money could buy. But I knew that these things alone would not be enough to lure customers away from the name brand established coffee shops.
Eventually, through lots of trial and error as well as perseverance and creativity I did find a way to not only survive but also thrive in the coffee/espresso industry even while those corporate coffee chains stayed put. During those years I learned to adapt and always faced new challenges. It was not always easy, however, in the end, I was the sole survivor independent coffee shop within a 10-mile radius of my location. Just two corporate coffee chains and I were left after that year. All told the corporate coffee chains took down over 15 small independent coffee shops and kiosks and I was the last one standing and thriving.
Along the years I meet others with the same passion for coffee and I quickly learned that it is not only "how good a barista is" that makes a coffee shop successful, but the business side of coffee as well.
Hence why I started this website you are on now. To provide the tools and resources for up and coming coffee shop owners to gain that vital insight and knowledge on how to start a coffee shop successfully.
Stick around, browse through my helpful blog and resources and enjoy your stay! With lots of LATTE LOVE!
Shawn