You have a wonderful dream of becoming a business owner. You love coffee, you see the cultural and health benefits it serves people, and you are motivated to open a coffee shop in your local community. Here's the problem you must be facing: you have no money to fund your dream coffee shop.
We understand the problem you are having!
Here are the 4 paths to opening a coffee shop with no money.
Calculate your coffee shop's startup cost and make goals for funding sources.
Get a business savings account as a funding source for your coffee shop.
Fund your coffee shop via Patreon.
Ask for donations from family and friends.
Don't let your dream of owning a coffee shop fall by the wayside just because you do not have the funds to make it happen. There are many resources for a business owner to procure funding to make his or her dream come true. You just have to be determined and persistent enough to chase it.
1. Calculate Your Coffee Shop's Startup Cost and Make Goals for Funding Sources
Ultimately, you must first figure out your roundabout coffee shop's startup cost and factor in goal amounts from each funding source in which you will be using. Consider funding sources such as:
Business grants.
Business loans.
Crowdfunding.
Donations.
Personal savings.
Side hustle product selling.
Consider that the startup costs for your coffee shop will amount to $85,000. Specific monetary goals that could help you reach your goal of funding your coffee shop may include:
$5,000 in business grants.
$20,000 in business loans.
$15,000 in crowdfunding.
$10,000 in donations.
$12,000 in personal savings.
$23,000 from side hustle product selling.
While these numbers sound like high-stakes goals, they can be achieved through time, persistence, and strategic thinking to increase your monetary output much quicker.
Now while you may set funding goals to receive from each source, that will not mean that you reach all of them. Press on with fervor to make those goals happen, but if for whatever reason the goal cannot be reached, see if another funding source can pick up the slack, especially if it's a more opportune goal to receive support from potential loyal customers.
Speaking of increasing monetary output, let's discuss how you can open business savings account with compound interest to increase your savings faster and more efficiently than other lower yield savings accounts.
More information on start up costs HERE.
2. Get a Business Savings Account as a Funding Source for Your Coffee Shop
What makes the thought of signing up for business savings account even more interesting and fun is having one that offers high-interest rates and/or cash bonuses for the first month after signing up.
Citibank
Citibank has a cash bonus promotion for new business checking account holders based on the amount of money that you deposit into your account. The lowest cash bonus that you can receive is $200 if you deposit $5,000 within a one-month. The next threshold to reach would be a deposit of $15,000 within one month to earn a $500 cash bonus.
To take advantage of this cash bonus, start your business savings in your personal savings account and then transfer it in a lump sum into this new Citibank account to capitalize on the cash bonus.
Visit Citibank to find out how much more of a cash bonus that you can earn with a higher deposit threshold.
Marcus by Goldman Sachs
According to DepositAccounts by Lending Tree, the national average savings account interest rate is 0.14%. You can open an online savings account with Marcus by Goldman Sachs to capitalize on a 0.50% interest rate. This is a high-yield interest-earning savings account that is almost unheard of at your well-known American banks.
There is no minimum deposit to open this account and a maximum of $3,000,000 can be present in the account at once. You can simplify transfers from your bank to your Marcus by Goldman Sachs account via online bank transfers. Same-day transfers are for transactions $100,000 or less.
The Benefit of High Yield Interest Savings Accounts
You can use this interest calculator on the Marcus website to find out how much interest you can earn on the initial deposit into your account once you open it.
Say that you made an initial deposit of $5,000 into your Marcus account. Even if you never made another deposit into that savings account, you would earn $25 in a year just by leaving your money alone in the bank to accrue interest.
Let's take it a step further. Say that your initial deposit was still $5,000, but you made recurring deposits of $2,000 per month. That Annual Percentage Yield (APY) would skyrocket considerably from $25 in one year to $81 in one year.
Optimally, you will want to deposit into your savings or business savings account as much as possible to accrue interest and get you to your startup cost goal much faster. Try to make a goal to deposit a lump sum of your choice at least once a month to get started on your saving journey.
3. Fund Your Coffee Shop Via Patreon
Patreon is the pinnacle of helping to fund small businesses and spread awareness about them. There is an option to start a Patreon account operating as a local business. Vary your funding options by starting a Patreon account.
The benefits of having a Patreon account are as follows.
Receive Monthly Pledges from Patrons
Your most loyal customers are called patrons. You can set a minimum pledge per month that will give customers access to member exclusive information, discounts, giveaways, and more! Increase the monetary value of each pledge by offering a T-shirt or product with the very first pledge that the customer makes to your coffee shop.
For example, if a person pledges you $5.00 per month, he or she can gain access to the members-only newsletter and member exclusive coffee shop product discounts online and in-store.
If a patron wants to give you $20 or more per month, you can offer them a branded T-shirt with your coffee shop's name on it as a token of your appreciation. Maybe you can offer another perk to patrons that pay this threshold every month like they receive a free coffee product with every 10 purchases they make in-store or online.
The Benefits of Monthly Pledges
You know what income you will make every month based on the number of loyal patrons that are actively supporting your coffee shop.
Say that you start your Patreon account and get 30 people to pledge at least $5 per month in the first week and another 20 people to pledge $20 per month within just the first week of your account opening.
In one month, you will receive $150 from the 30 people pledging $5 and 400 from the 20 people pledging $20.
As long as those same patrons stick with the monthly pledges, you will earn a total of $550 per month and $6,600 per year!
As you increase the number of patrons, you will see more monthly income hitting your Patreon account to put back into funding your coffee shop.
Connect with Your Future Customers
Since you are only starting funding for your coffee shop business, you want to show potential future customers that your business is worth them taking the pledge to donate to your business every month via Patreon.
Show them the types of promotions that you will run at your coffee shop. Poll them on their likes and dislikes about certain coffee products. Start a discussion with them about coffee-related news.
For a more personal "face-to-face" virtual interaction with your future customers, make YouTube videos and share the links on your Patreon account. Talk about your coffee products and what makes your business stand out from the other local coffee shops. You could even make a commercial about your grand opening day to get your future customers hyped.
Advertise Your Coffee Products on Patreon
In posts to your loyal customers, talk about the products that you will be launching when your coffee shop opens. If you have your own special brewed coffee blend, do a feature post about its details and its taste profile.
Have your employees and/or family members do a blind taste test to see which coffee blend they like better between yours and a couple of name brands. This could be another YouTube video idea that brands your business as more people in the video talk about and review how your coffee blend tastes.
Customers Can Save with Store Credit
Give your patrons a chance to accumulate in-store credit. Perhaps for every post they share on social media from your Patreon page, offer customers a $1 in-store credit to use for when your coffee shop opens. Put a cap on the rewards earnings at 1 per week, so that customers are not abusing the system.
If you were to offer this option, a very loyal patron would share one of your Patreon posts to social media once a week and get $4 per month. That's a $48 in-store credit that could be earned in one year.
If a standard cup of coffee is $2.50 at your coffee shop, that's 19 free coffees maximum per year for a customer who shares a post for you once a week. How's that for savings perks?
Distribute Newsletters Especially for Your Patrons
Member exclusive newsletters distributed via Patreon will keep your loyal patrons informed about news in your coffee shop and coffee industry news. Report what your coffee shop is doing for a successful grand opening day. Highlight the special events that will take place at your coffee shop during that day. How will you serve the community that day as a new coffee shop business in your local area?
Add a light touch of fun and humor into your newsletter by offering coffee-related activities. Have a word search or crossword with coffee terms. Throw in a funny coffee meme. Encourage patrons to participate in a coffee-related poll.
Ask your patrons what they want from the monthly newsletter to further guide what you include in it on a month-to-month basis.
4. Ask for Donations from Family and Friends
Asking for donations from family and friends doesn't hurt. You may feel prideful to ask for help for them, but do not feel that way. Your family and friends are happy to help you fulfill your dream.
For your birthday and other holidays that involve gift-giving, ask that your family and friends donate to your future coffee shop business. Keep these donations in a separate interest-bearing savings account, so that you can keep track of how much donations you have accrued.
Also, did you know that International Coffee Day is on October 1st of every year? See if your closest family and friends can donate to your business on that day as well in the spirit of how you are contributing to the local coffee industry.
Let's Talk Budget Planning
Once you have taken these 4 steps, remember that you should also be budget planning as you are launching your coffee shop.
If you find that your savings, Patreon pledges, and donations from family and friends have not funded your entire startup cost, you can:
Apply for business grants.
Seek bank loans for your startup costs.
Cut your recreational and overall daily expenses to increase your savings.
Business grants are monetary funds that are contributed to your coffee shop's startup costs as a first-time business owner. The awesome perk of being awarded a business grant is that you do not have to pay that back to the grantor.
Only seek bank loans as a last resort. These must be paid back to the bank that issued your loan. Since you will have to pay back this amount along with interest, you are spending more in the long run by using a loan. However, if it can quickly help you get your coffee shop's doors open and you start making an optimal profit, it will be that much easier to pay back the loan.
To increase your savings, you can cut recreational and overall daily expenses by:
Eating out only once per week instead of 2-4 times per week.
Making more meals at home.
Giving yourself a grocery budget and sticking to it.
Stick to a monthly recreational budget (purchasing supplies for hobbies, going out to recreational venues, etc), so that you still have fun but do not break the bank.
Put aside the money you need to pay your bills and loans and save at least 20% of your leftover funds each month. If you can save more than that percentage, that's great!
All of the money that you save from cutting your expenses will benefit your savings towards your coffee shop so that you can start your dream business faster.
Frequently Asked Questions
1. What are other ways that I can raise money for my coffee shop business?
Consider these other small ways that you can fund your coffee shops opening:
Sell your coffee and pastries at local community events for customers to try out your product before you open your brick-and-mortar store.
When you are at these events, have a tip jar by your cash box, so that clients can tip you. Every penny counts towards funding your future brick-and-mortar location!
If you brew your blend of the coffee, package and sell it yourself and have local cafes or even big box stores partner with you to sell your coffee product. '
2. If I do sell my own brewed blend of coffee, how do I partner with potential retail sellers?
Partner with potential retail sellers of your brewed blend of coffee by:

Starting with small businesses. See if they are open to wholesale purchasing your coffee blend and you get a cut of the profit for each of your products sold.
Having your business plan written for your coffee shop. Include a section about marketing your coffee blend to increase sales. Present this to big box store executives.
Having a flea market table where you can sell your coffee blend or (with a yard sale permit) sell from in front of your home.
To learn more on how to start your own coffee shop checkout my startup documents here
Please note: This blog post is for educational purposes only and does not constitute legal advice. Please consult a legal expert to address your specific needs.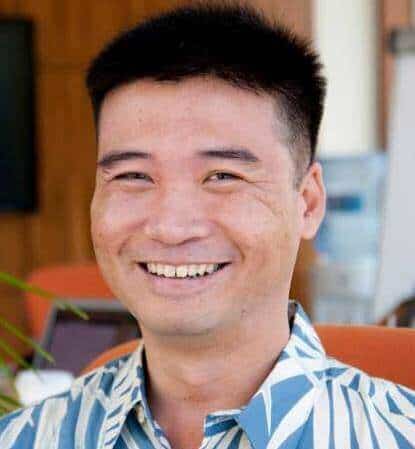 Hi! I'm Shawn Chun
My adventure in coffee began when I first launched my first coffee shop back in the early 2000s. I had to figure out so many things on my own and to make it worse within 2 years of opening two large corporate coffee chains moved in just blocks away from me!
As I saw smaller and even some larger coffee shops in the neighborhood slowly lose customers to these giant coffee chains and slowly close up shop, I knew that I had to start getting creative…or go out of business.
I (like you may be) knew the coffee industry well. I could make the best latte art around and the foam on my caps was the fluffiest you have ever seen. I even had the best state-of-the-art 2 group digital Nuova Simonelli machine money could buy. But I knew that these things alone would not be enough to lure customers away from the name brand established coffee shops.
Eventually, through lots of trial and error as well as perseverance and creativity I did find a way to not only survive but also thrive in the coffee/espresso industry even while those corporate coffee chains stayed put. During those years I learned to adapt and always faced new challenges. It was not always easy, however, in the end, I was the sole survivor independent coffee shop within a 10-mile radius of my location. Just two corporate coffee chains and I were left after that year. All told the corporate coffee chains took down over 15 small independent coffee shops and kiosks and I was the last one standing and thriving.
Along the years I meet others with the same passion for coffee and I quickly learned that it is not only "how good a barista is" that makes a coffee shop successful, but the business side of coffee as well.
Hence why I started this website you are on now. To provide the tools and resources for up and coming coffee shop owners to gain that vital insight and knowledge on how to start a coffee shop successfully.
Stick around, browse through my helpful blog and resources and enjoy your stay! With lots of LATTE LOVE!
Shawn