Going into the coffee shop business is competitive, challenging, and cumbersome. There are many local cafes and coffee shop chains throughout the United States trying to make it. Learning all the recipes and the best way to operate your coffee shop will be a battle at first, but then you will get the hang of it the more time you continue to operate.
Here are 5 things to do before opening your shop. These are actions nobody is going to tell you to do before opening your coffee shop. But we've got the inside scoop just for you!
Perfect your coffee shop's coffee making and pastry recipes before opening day.
Implement a coffee shop loyalty program.
Affiliate your coffee shop with a third-party delivery service.
Have an app developer create a coffee shop app.
Promote all your coffee shop's sales, coupon offers and rewards program perks on social media.
Perfect Your Coffee Shop's Coffee Making and Pastry Recipes Before Opening Day
Continuously perfect your coffee making strategies and pastry recipes before opening day. The tastier the pastries and the higher quality the coffee's taste means you will be a step ahead before you even open up your cafe's doors.
Perfect Your Coffee Making
Review the bag for each type of coffee bean in your inventory. Be sure to follow the roasting times for optimal and delectable taste.
Stock up on a variety of in-demand creamers.

Dairy-based creamer such as regular, vanilla, almond, etcetera.
Plant-based creamer from brands such as Silk, Coffee Mate (non-dairy line), etcetera.

Train staff to use a certain coffee to creamer ratio, so customers get the right taste of coffee without the creamer overpowering the java taste.
Do mock orders where you or another employee "orders" one of the coffee drinks on the menu and a new employee must make it by memory and/or by following a recipe book.
Perfect Your Pastry Making
Have you and your employees watch videos on how popular coffee shop pastries are made. Pick one viable YouTube source and stick to that person, so it's the same technique and quality.
Once you have learned the tutorials, talk amongst your employees to find base recipes for danishes, cookies, cake, and more.
Put a twist on these recipes to make it your own for your coffee shop.
Train employees by having them learn how to make the pastries so that it can eventually become memory without having to use the recipe book.
Implement a Coffee Shop Loyalty Program
A Forbes article uncovers one secret of running a successful coffee shop is to implement a loyalty program at your establishment. What's The Secret To A Successful Coffee Shop? (forbes.com)
There are many ways that you can institute a loyalty program at your coffee shop. The two main popular ways are:
Have customers accrue points on their purchases to redeem on cash rewards that can be put towards their next purchases.
Have punch cards and for every certain amount of visits, the customer can get money off their next order or get a free product.
Example 1: Coffee Shop Loyalty Program That Accrues Points
A loyalty program that accrues points may actually make you more money than the other option with punch cards. If you make the points threshold high enough before you give out rewards, you will actually make more valuable sales on your coffee shop products.
You can have a points limit stated in the terms and conditions of your rewards program such as "for every 1,100 points you accrue on your purchase, you get a $10 credit towards your next purchase".
Most rewards programs allow 1 point earned for every $1 spent. In the case of the example above, that would mean that customers have to spend $1,100 just to get that $10 reward. That would not be worth it!
Instead, for the example above, you can have the program offer "10 rewards points for every $1 spent at (insert your coffee shop name)". Hence, customers would have to spend $110 overtime to get that $10 reward which is more worth it.
Example 2: Coffee Shop Loyalty Program With Punch Cards
While you may not make as much money before having to give out rewards by using the punch card method, it will bring your customers back constantly and increase their loyalty. To be sure that you are making enough money before you give a reward out to the customer, you could have a requirement stating, "earn one punch on your card if you spend $15 or more during each visit".
The terms and conditions of your coffee shop's punch card loyalty program could state "for every 5 punches completed on your card, you get your choice of a free coffee, free pastry, or $5 towards your next purchase".
If you go with the mandate of customers having to spend at least $15 to earn one punch on the card, this means each customer in the program will at least have to spend $75 before getting a $5 reward or a free product. That seems pretty fair, especially for customers who are java junkies that prefer not to use a Keurig at home!
Affiliate Your Coffee Shop with a Third-Party Delivery Service
When you go to any restaurant or cafe, you will see stickers in the window showing which third-party delivery services are affiliated with that business. Customers love the convenience of delivery if it means they do not have to get off their couch to go eat at their favorite local coffee shop (we are talking about your business!).
Many third-party delivery services such as DoorDash, Uber Eats, Postmates, and GrubHub are always looking for new restaurants to add to their platform. Affiliate with the 2-3 most popular platforms in your area, so you can start having your coffee shop products available for delivery.
Enlisting the help of a third-party delivery service will:
Reduce the costs of having to hire delivery drivers for your coffee shop.
Increase your coffee shop's revenue by providing another way for customers to receive your product besides dine-in and drive-thru.
Reinforce customer loyalty even during the times customers cannot physically make it to your coffee shop.
Have an App Developer
Create a Coffee Shop App
This little secret may take some investment depending on the charge by the app developer. Try to set some extra money aside to do this step or take out a small business loan. This is a crucial step to staying competitive against other local coffee shops.
Tell your app developer that you want your coffee shop to have the following perks.
The ability to take orders on the app and deliver them to your coffee shop for them to be filled.
Have customers check into the coffee shop, so employees know they can deliver their order to them at the counter.
Have coupon offers and sales able to be applied at checkout.
The ability for customers to connect their rewards program account, so that they can accrue points on every purchase via the app.
Promote all Your Coffee Shop's Sales,
Coupon Offers and Rewards
Program Perks on Social Media
This secret sounds like a no brainer, but we mustn't forget the importance of social media for the success of the small business. Whether you hire a part-time social media coordinator or do it yourself as the owner, always promote everything about your coffee shop on social media.
Post these subjects on your social media pages before opening your coffee shop.
A GoFundMe campaign link to help with startup costs for your coffee shop.
Reminders about your grand opening day.
A challenge for followers to share the post about your grand opening day to enter for a chance to win a gift card for your coffee shop.
Any blog posts you may write for your business's website.
Any coupons that will be available the first week or so after opening day.
The grand opening day sales.
The sales for the first couple of weeks after the grand opening day.
The rewards program perks and information on how to sign up before the grand opening day.
Learn more about advertising your business HERE!
Get Excited About These Best Kept Secrets for Opening Your Coffee Shop!
Get in the kitchen and perfect your coffee making and pastry recipes today! Make it a team effort and make it fun, too. At least you will have tasty coffee and treats for everyone to enjoy during trial runs.
Feel the excitement of starting the loyalty program and how much more customer loyalty will come from running it.
Promote, promote, promote everything on social media, including the launch of your coffee shop's app!
Frequently Asked Questions
Which social media platforms should I use as a coffee shop?
Coffee shops benefit best using Facebook and Pinterest. Facebook is the best platform for promoting sales, coupons, and rewards program perks. Pinterest is best for promoting any blog posts that you may write for your company's website.
What else can I do to help perfect my coffee shop's recipes?
You can:
● Go to other local coffee shops and taste their products.

● Have a focus group with your employees to find out their true takes on how the products taste and how they can be improved compositionally.
To learn more on how to start your own coffee shop checkout my startup documents here
Please note: This blog post is for educational purposes only and does not constitute legal advice. Please consult a legal expert to address your specific needs.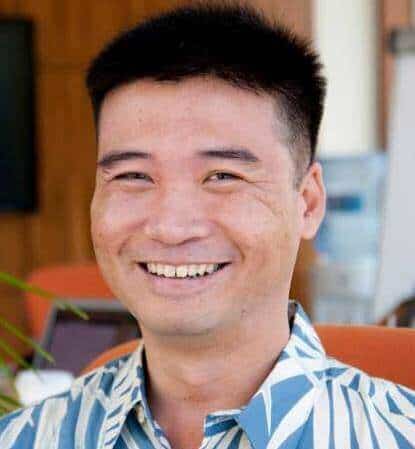 Hi! I'm Shawn Chun
My adventure in coffee began when I first launched my first coffee shop back in the early 2000s. I had to figure out so many things on my own and to make it worse within 2 years of opening two large corporate coffee chains moved in just blocks away from me!
As I saw smaller and even some larger coffee shops in the neighborhood slowly lose customers to these giant coffee chains and slowly close up shop, I knew that I had to start getting creative…or go out of business.
I (like you may be) knew the coffee industry well. I could make the best latte art around and the foam on my caps was the fluffiest you have ever seen. I even had the best state-of-the-art 2 group digital Nuova Simonelli machine money could buy. But I knew that these things alone would not be enough to lure customers away from the name brand established coffee shops.
Eventually, through lots of trial and error as well as perseverance and creativity I did find a way to not only survive but also thrive in the coffee/espresso industry even while those corporate coffee chains stayed put. During those years I learned to adapt and always faced new challenges. It was not always easy, however, in the end, I was the sole survivor independent coffee shop within a 10-mile radius of my location. Just two corporate coffee chains and I were left after that year. All told the corporate coffee chains took down over 15 small independent coffee shops and kiosks and I was the last one standing and thriving.
Along the years I meet others with the same passion for coffee and I quickly learned that it is not only "how good a barista is" that makes a coffee shop successful, but the business side of coffee as well.
Hence why I started this website you are on now. To provide the tools and resources for up and coming coffee shop owners to gain that vital insight and knowledge on how to start a coffee shop successfully.
Stick around, browse through my helpful blog and resources and enjoy your stay! With lots of LATTE LOVE!
Shawn