When you open a coffee shop, there are certain important steps that you need to take. We highly recommend making sure that purchasing uniforms for your employees is on your list of steps to complete. When employees all wear the same outfit or uniform, it builds the brand of your coffee shop. It makes the shop look more professional. We have put together the top three places we recommend using when it comes to purchasing your uniforms.
The three best places to get uniforms for your coffee shop are Wholesale Screen Printing, AliBaba, and Amazon. The specific site you should use will depend on if you are looking for the best price, if you want to easily be able to customize the shirts, or if you need a quick delivery time frame. Each of these places have excellent options for uniforms and will enhance the brand of your coffee shop easily!
Wholesale Screen Printing
www.wholesalescreenprinting.com
When it comes to getting uniforms for a new coffee shop, one of the most popular options is matching t-shirts that have the logo for the coffee shop screen printed on them. This option is especially recommended if you have a coffee shop that has a more casual atmosphere. The t-shirt keeps it casual, but your employees will still look professional in matching shirts that represent the company they work for.
Wholesale Screen Printing's website is one of the best places to get uniforms for your coffee shop because they offer various t-shirt styles, allow you to easily customize the t-shirts and also offer great prices. This allows you to find the best option that will represent your company and will fit your brand.
Since they offer wholesale pricing, you can buy shirts for all of your employees at a discounted rate. This will especially come in handy if you are wanting to stock up on shirts (which is helpful if you plan on hiring more in the near future). You can also request a quote before you make a decision on what t-shirt you want to get.
Generally, you will get a lower price per shirt if you order a larger amount of shirts. A lower quantity will often result in a higher price per shirt when it comes to purchasing wholesale. We always recommend having extra shirts on hand in case an employee's shirt gets damaged or you need to quickly hire a new employee before you get new shirts in.
One thing you want to keep in mind is regular shipping for Wholesale Screen Printing takes about two weeks. If you need your shirts as soon as possible, you may want to consider one of our other top picks (like Amazon). Although the shipping takes about two weeks, they do offer free shipping, which especially comes in handy if you are looking to keep your costs down.
AliBaba
www.alilbaba.com
Alibaba is another great option when it comes to getting your uniforms or outfits at a wholesale cost. This website allows you to get in contact with various different suppliers to get quotes on the uniform you are looking for. Therefore, you will be able to compare different uniform options and different prices from multiple suppliers.
We especially recommend Alibaba if your coffee shop has a more sophisticated atmosphere. Screen printed t-shirts may be too casual for a coffee shop that does not have a casual atmosphere to match it. If this fits your coffee shop, you will want to go with uniforms that are slightly dressier. Alibaba offers excellent options for this.
However, out of all of our top picks for places to get your uniforms, you need to keep in mind that Alibaba will likely have the longest delivery time. When you add in the time you spend talking to suppliers, any production time and then shipping from overseas, you will likely be looking at a minimum of 3 to 4 weeks before you'll receive your uniforms (and it could be longer than this as well).
Alibaba is a great option for those who are looking to keep their costs down as well. Since you get to reach out to multiple suppliers and shop around through the website, you can pick a quote that fits your budget the best. You can also try negotiating with potential suppliers to see if you can agree on a lower price as well.
Amazon
www.amazon.com
You may not expect Amazon to be listed as one of our top picks for purchasing uniforms and outfits for your coffee shop, but there are definitely some advantages for choosing Amazon. Some of the benefits of choosing this website and app includes quick delivery, various styles being available and competitive pricing.
Like we previously mentioned, the two first options we discussed do not have extremely quick delivery time frames. However, Amazon is known for their extremely quick shipping options. Some items can be delivered in only 1 to 2 days! Therefore, it is an excellent option for those who need uniforms quickly as possible and do not have time to wait for wholesale uniforms (which will generally have slower delivery times).
Amazon offers a wide selection of both t-shirts that fit the coffee shops that are more casual and also shirts that are a bit dressier if you are looking for uniforms that are a bit fancier. They also have café style shirts that work well for the coffee shops that plan on having a larger amount of food options as well.
Another important part of your uniforms to keep in mind is aprons! We highly recommend providing employees with aprons to keep their clothes clean and help them easily carry items they may need (like extra straws). You can find excellent options on Amazon for both half aprons (that only tie around the waist) or full aprons (that go around the neck).
When it comes to pricing, you will find a large variety of pricing on Amazon. If you are on a budget, you will be able find casual t-shirts at a lower cost. They also offer low prices when it comes to purchasing aprons. However, Amazon will likely have higher pricing than most of the wholesale websites you may visit. Therefore, you will need to decide if quick shipping or a lower price is more important for you when you are ordering.
Purchasing uniforms or outfits for your new coffee shop helps all of your employees look professional and feel like they are a part of the team. Uniforms also help when it comes to the branding of your company. By wearing matching uniforms, all of the employees will fit the brand and the image you want to portray. By visiting one of our top picks for uniforms mentioned above, you will easily be able to find the best uniform for specifically what you are looking for (when it comes to style, price and delivery times).
Frequently Asked Questions
Should I seek additional funding for my new coffee shop?
The amount of additional funding you will need for your coffee shop will ultimately depend on your location, how much work needs to be done to your building, and how quickly you are looking to get your shop up and running. For most new coffee shop owners, you will need additional funding (unless you are starting out with a large amount).

However, there are multiple options to get more funds. Some of the options include seeking investors for your company, looking into business grants, and applying for business loans. Before you start applying for these options, you should have a clear idea first on how much funding your company will specifically need.
What education is required to start a coffee shop?
There is not a large amount of formal education required to start a coffee shop and your formal education is not the most important factor when it comes to your success. Ultimately, you will need knowledge and skills when it comes to business. A background or knowledge in the coffee industry is also important when opening a coffee shop.

If you do not already have a large amount of knowledge when it comes to business, we recommend reaching out to your local community college. Many colleges will offer individual classes on business. This allows you to get the knowledge and skills you need, without committing to completing an entire college degree.

To learn more about the skills and experience needed to own a coffee shop, click here. 
How long does it take to start a new coffee shop?
There are various factors when it comes to how long it will take you to open your new coffee shop. It will depend on how quickly you find a building, how much work the building needs, and the amount of time you have available to put into your new business.

If your building requires a lot of work, it will likely take you longer. We would recommend planning on at least 3 months. If your schedule is flexible and provides plenty of time to work on your new shop, you can open it quickly (sometimes within a matter of one to two months).
To learn more on how to start your own coffee shop checkout my startup documents here
Please note: This blog post is for educational purposes only and does not constitute legal advice. Please consult a legal expert to address your specific needs.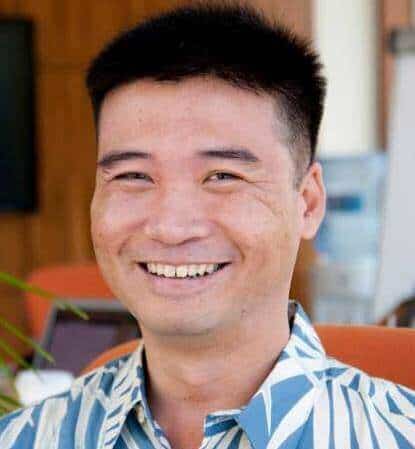 Hi! I'm Shawn Chun
My adventure in coffee began when I first launched my first coffee shop back in the early 2000s. I had to figure out so many things on my own and to make it worse within 2 years of opening two large corporate coffee chains moved in just blocks away from me!
As I saw smaller and even some larger coffee shops in the neighborhood slowly lose customers to these giant coffee chains and slowly close up shop, I knew that I had to start getting creative…or go out of business.
I (like you may be) knew the coffee industry well. I could make the best latte art around and the foam on my caps was the fluffiest you have ever seen. I even had the best state-of-the-art 2 group digital Nuova Simonelli machine money could buy. But I knew that these things alone would not be enough to lure customers away from the name brand established coffee shops.
Eventually, through lots of trial and error as well as perseverance and creativity I did find a way to not only survive but also thrive in the coffee/espresso industry even while those corporate coffee chains stayed put. During those years I learned to adapt and always faced new challenges. It was not always easy, however, in the end, I was the sole survivor independent coffee shop within a 10-mile radius of my location. Just two corporate coffee chains and I were left after that year. All told the corporate coffee chains took down over 15 small independent coffee shops and kiosks and I was the last one standing and thriving.
Along the years I meet others with the same passion for coffee and I quickly learned that it is not only "how good a barista is" that makes a coffee shop successful, but the business side of coffee as well.
Hence why I started this website you are on now. To provide the tools and resources for up and coming coffee shop owners to gain that vital insight and knowledge on how to start a coffee shop successfully.
Stick around, browse through my helpful blog and resources and enjoy your stay! With lots of LATTE LOVE!
Shawn