Are you someone who is immersed in coffee culture? Do you spend a lot of your free time at a coffee shop? Do you have the intrepid spirit of an entrepreneur? If you possess these attributes then owning your own coffee shop could be an exciting new career path for you!
Like any budding new business owner, the first question you might ask yourself is what skills and experience do I need to own and operate a successful coffee shop?
 To answer that question very simply: you'll need to possess an entrepreneurial spirit, an aptitude for hospitality, and (of course) a basic knowledge of coffee and the workings of a coffee house. With these three attributes you can operate a successful coffee shop of your own!
Ambition and Enterprise
The first hurdle in opening your own business lies within yourself. The question is, do you have the passion, desire, and self-motivation necessary to take the leap into business ownership?
This is that kind of proverbial "you either have it or you don't" situation where you must first consider the expenditure of time and mental capital that it takes to open your own business. Consider that Bureau of Labor statistics show that roughly 20% of small businesses fail within their first year, and an additional 33% fail within their second year of operation. With these numbers in mind, your first task in opening a new coffee shop should be to do some soul searching.
If, after answering this integral first question, you still feel the drive to forge onward, consider these ten attributes of successful entrepreneurs presented by Forbes Magazine.
Curiosity – Successful entrepreneurs are not just great problem solvers, but also great problem seekers! Possessing the desire to seek out ways to innovate and find the problems that hinder your business will ultimately help you discover your niche.
Time Management – Knowing how to prioritize your tasks as well as your time will make you more efficient in running your burgeoning coffee shop, and keep you from getting bogged down with issues that don't require your precious time and attention.
Critical Thinking – Approaching a problem strategically to deconstruct the issue and realize opportunities for improvement, or simply identifying the "low hanging fruit," is an essential characteristic of a great entrepreneur.
Efficiency – Implementing the 80/20 rule (the Pareto principle) in all aspects of operating your business will allow you to be more effective while spending less time to get it done. The 80/20 rule is the idea that 80% of all output is due to 20% of all input, meaning that a small amount of highly efficient and effective effort results in the highest amount of gains.
Resilience – As an entrepreneur you will experience many trials and tribulations. These include rejection, failure, stress, and burnouts; the ability to get back in the saddle day after day will play an integral part in your success as a business owner. The determination to succeed above all else will allow you to overcome the desire to quit when times get tough.
Communication – Open and honest communication builds respect amongst teammates and coworkers and allows progress to move forward. Clear and effective communication also plays an important role in ensuring that expectations are met on a daily basis.
Networking – Meeting and getting to know others in the industry helps new business owners build a support system upon which they can rely on to solve problems, facilitate business deals, and even discover future partners or employees.
Finance – This one is a no-brainer! Knowing how to effectively manage your new coffee shop's finances will ultimately make or break your business quicker than any other factor. Intelligently managing the finances of the business will ultimately decide your ability to continue operations, or how quickly that you can grow and expand.
Branding – This is a tough one to grasp at first, but creating and conveying a clear message of who you are as a business and marketing that to the right audience is a challenge for any new business. It's especially challenging because these are things that new businesses are often just starting to learn about themselves. Your brand will constantly be evolving as you work through the identity of your business and who your target consumer will be.
Sales – Having the confidence to create new business channels through outreach and marketing will help any entrepreneur grow their business through predictable revenue streams built by salesmanship. It is a common misconception that when a business opens its doors that guests will just walk in and begin spending money. Unfortunately, this isn't the case. You must seek out guests, convince them to return and continuously search for new opportunities to get more people through that door!
Guests vs. Customers
The dictionary definition of a "customer" is a person that buys goods or services from a business. However, with any business operating in the service industry, when you welcome someone into the store you welcome them into your home. Thus, you must adopt the idea that every customer that enters your business is not merely there to buy goods, but they are a guest that has come to experience your warm brand of hospitality. This approach will not only make a memorable first impression and resonate with new guests, but will also encourage people to return in expectation of a consistently hospitable experience.
Listed here are the core attributes upon which to build your tool box of hospitality.
"Yes is the answer. What is the question?" – Keep this simple phrase in the back of your mind to allow yourself to easily decide what to do in any hospitality related situation. This is the idea that whatever the need or request of the guest, you make happen (within your power to do so). Going above and beyond in this aspect will instantly endear your establishment to your guests.
Emotional intelligence – Remember that everyone that walks in for a cup of coffee also has at least a hundred other things going on in their day when they do so. They chose to wake up five minutes early so that they could patronize your coffee house, or decided to forgo going home to instead catch up with a friend after a long day; and the list goes on. The ability to read the room, so to speak, will allow you to effectively serve every guest with an amount of tailored attention. A positive attitude is the go-to mood to showcase from a service standpoint, but empathy and the human connection are just as important.
Communication – Clear and effective communication ensures that the guest gets what they want, exactly how they want it.
Attention To Detail – This goes a bit deeper than merely paying attention to a guest's order. Attention to the finer details allows you to get to know each guest on a deeper level, and further improve their experience time and time again. Recognizing and remembering their preferences makes them feel like a V.I.P. every time they patronize your business.
Multi-Tasking – Possess the ability to prioritize tasks and effectively juggle multiple tasks simultaneously in order to take care of several guests quickly and efficiently, and leave a lasting impression of expedient service.
Coffee knowledge
This is the most basic skill set required to open your new coffee shop! Your ultimate decision of whether or not to open a coffee business should rest upon your love and knowledge of coffee. Do you know all of the basic coffee-based drinks, styles of coffee beans, flavors and flavorings, and how and where to source beans? Do you care about the roast or the fair trade aspects of the coffee trade? All of these items should pique your interest and spark your desire to create something of your own. However, if the potential of filling in as a barista or deciphering the subtle nuances between a dark roast from Guatemala and its equivalent produced in Hawaii doesn't excite you, then turn around now!
Are you still interested in opening your own coffee shop? If you possess the key attributes of an entrepreneur, the aptitude for hospitality, and a true passion for coffee then you have the initial qualifications required to consider a career owning a coffee house!
To learn how much a coffee shop owner does, click here!
Frequently Asked Questions
How much financial capital do I need to open a coffee shop?
A drive through only based coffee shop can cost between $80,000-$200,000 to open, whereas an open concept may cost between $200,000-$350,000 to start up.
What is the gross margin of profit for a small coffee business?
Independent coffee shops average only about 2.5% profit based on gross income.
How many specialty coffee houses are there in the U.S.?
There are 37,274 coffee houses in the U.S. in 2020. This is an increase of 1,658 new stores year over year!
What percentage of new coffee shops succeed?
55% of new businesses succeed beyond five years of operation.
To learn more on how to start your own coffee shop checkout my startup documents here
Please note: This blog post is for educational purposes only and does not constitute legal advice. Please consult a legal expert to address your specific needs.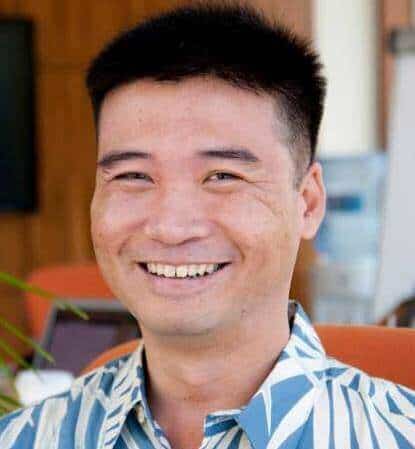 Hi! I'm Shawn Chun
My adventure in coffee began when I first launched my first coffee shop back in the early 2000s. I had to figure out so many things on my own and to make it worse within 2 years of opening two large corporate coffee chains moved in just blocks away from me!
As I saw smaller and even some larger coffee shops in the neighborhood slowly lose customers to these giant coffee chains and slowly close up shop, I knew that I had to start getting creative…or go out of business.
I (like you may be) knew the coffee industry well. I could make the best latte art around and the foam on my caps was the fluffiest you have ever seen. I even had the best state-of-the-art 2 group digital Nuova Simonelli machine money could buy. But I knew that these things alone would not be enough to lure customers away from the name brand established coffee shops.
Eventually, through lots of trial and error as well as perseverance and creativity I did find a way to not only survive but also thrive in the coffee/espresso industry even while those corporate coffee chains stayed put. During those years I learned to adapt and always faced new challenges. It was not always easy, however, in the end, I was the sole survivor independent coffee shop within a 10-mile radius of my location. Just two corporate coffee chains and I were left after that year. All told the corporate coffee chains took down over 15 small independent coffee shops and kiosks and I was the last one standing and thriving.
Along the years I meet others with the same passion for coffee and I quickly learned that it is not only "how good a barista is" that makes a coffee shop successful, but the business side of coffee as well.
Hence why I started this website you are on now. To provide the tools and resources for up and coming coffee shop owners to gain that vital insight and knowledge on how to start a coffee shop successfully.
Stick around, browse through my helpful blog and resources and enjoy your stay! With lots of LATTE LOVE!
Shawn