Are you passionate about coffee and dreaming of owning your cozy coffee hut? A well-structured business plan is the cornerstone of transforming your aspirations into a thriving reality.
If you plan of opening a coffee hut, you need to have a solid business plan that has an executive summary, company description, market analysis, and information about the product and services you will offer and how you plan to market them. You also need to have a financial and operational plan.
From market analysis to financial projections, I will cover some of the vital aspects that will set you on the path to brewing effectively.
1. Executive Summary
The executive summary plays a vital role in your coffee hut business plan, offering a concise glimpse into your venture's essential aspects. It should showcase your overarching vision, outline your target market, emphasize your unique selling proposition, and highlight your financial goals.
Crafting a captivating executive summary is crucial as it acts as a gateway to capturing the interest of potential investors and partners. By presenting a compelling snapshot of your coffee hut's potential, you can entice them to explore your plan further, setting the stage for fruitful collaborations and securing the necessary support for your endeavor.
Read more about: Business Plan For Drive-Thru Coffee Shop: Key Elements To Include
2. Company Description
When describing your coffee hut concept, it is crucial to showcase its uniqueness and value proposition. Highlight the elements that set your establishment apart from the competition. Discuss your mission, vision, and core values to give stakeholders a clear understanding of the principles that drive your coffee hut.
Elaborate on how your establishment will stand out by offering a distinct ambiance, one that creates an inviting and memorable experience for customers. Emphasize your commitment to serving high-quality coffee, showcasing your expertise in sourcing the finest beans and utilizing exceptional brewing methods. Personalized service can also be a key differentiator, ensuring that each customer feels welcomed and valued.
Additionally, consider any other unique selling points such as locally sourced ingredients, sustainable practices, or innovative menu offerings. By clearly communicating these aspects, you can paint a compelling picture of how your coffee hut will stand out in the market and attract coffee lovers seeking a distinct and exceptional experience.
3. Market Analysis
A thorough market study is crucial to the longevity of any coffee shop. Learn useful information about the coffee industry and determine who your target customers are. Analyze the local market's size and growth potential while keeping a close eye on any new trends.
Consider customer preferences, demographics, and behavior analysis while designing your offers to better meet their needs. Determine your rivals and carefully evaluate their advantages and disadvantages. Using this knowledge, you can create tactics for your coffee shop that will set it apart from the competition and give it an advantage.
You can make wise judgments, improve your business strategy, and establish your coffee shop as the go-to place for coffee lovers in your neighborhood by utilizing market information.
4. Products and Services
When detailing the range of products and services your coffee hut will offer, it is essential to provide a comprehensive overview. Discuss the types of coffee beans you will feature, highlighting their origins, flavors, and unique characteristics. Elaborate on the brewing methods you will employ, whether it's pour-over, espresso-based, or a combination of techniques, showcasing the expertise and precision behind each cup. Additionally, introduce specialty drinks that set your coffee hut apart, such as signature creations or seasonal offerings that excite and intrigue customers.
Consider expanding your offerings beyond beverages by including a thoughtfully curated food menu. If you plan to serve snacks or pastries, describe the delectable options available, emphasizing their quality and freshness. Showcase any organic, fair-trade, or locally sourced ingredients used in your products, appealing to customers who value ethical and sustainable consumption.
By detailing the range of products and services, you paint a vivid picture of the diverse and enticing options available at your coffee hut. This approach captures the attention of coffee enthusiasts and food lovers alike, positioning your establishment as a destination that offers both exceptional coffee and delectable treats, all prepared with a commitment to quality and uniqueness.
Read more about: Business Plan for Online Coffee Shop: Your Digital Blueprint
5. Marketing and Sales Strategies
To attract and retain customers, outline robust marketing and sales strategies. Identify your target audience and define your brand positioning, emphasizing what sets your coffee hut apart. Craft a compelling brand identity, encompassing a memorable name, logo, and visually appealing aesthetics.
Leverage digital marketing techniques like engaging social media campaigns, strategic influencer partnerships, and enticing online promotions to reach a wider audience. Moreover, consider community involvement and hosting events to generate excitement and buzz around your coffee hut. By implementing these strategies, you'll effectively capture the attention of potential customers, build brand loyalty, and establish a strong presence in the market.
6. Operational Plan
When providing an overview of the operational aspects of your coffee hut, it is crucial to cover all the essential elements. Begin by describing the location and layout of your establishment, highlighting its convenience, accessibility, and any unique design elements that contribute to its ambiance and appeal. Include details such as seating capacity, restroom facilities, and the flow of the customer journey within the space.
Discuss the equipment and supplies required for coffee preparation, storage, and serving. This may encompass espresso machines, grinders, brewing equipment, refrigeration units, and serving ware. Emphasize the importance of maintaining high-quality standards by investing in reliable and efficient equipment.
Outline your hiring process, staff training, and responsibilities. Describe the criteria you will use to select team members who align with your coffee hut's values and commitment to exceptional customer service. Elaborate on the training programs you will implement to ensure that your staff possesses the necessary skills and knowledge to provide an outstanding experience to customers.
Establish operational policies and procedures, focusing on quality control, customer service, and cleanliness. Emphasize the importance of consistently delivering top-notch products and services, exceeding customer expectations at every touchpoint. Highlight your commitment to maintaining a clean and hygienic environment to ensure the health and satisfaction of your patrons.
7. Financial Projections
To ensure financial stability, develop a detailed financial forecast for your coffee hut. Include startup costs, revenue projections, and operating expenses, allowing you to anticipate and plan for financial challenges. Calculate your breakeven point, determining when your revenue will cover all expenses.
Set a realistic timeline for achieving profitability based on market analysis and projected growth. Present a clear picture of your funding requirements and explore potential sources of financing, like loans, investments, or personal savings. Utilize financial software or consult with an accountant to ensure accuracy and feasibility in your projections. A well-developed financial forecast provides a solid foundation for decision-making, helps attract investors, and demonstrates your commitment to financial freedom.
Read more about: Business Plan for Internet Cafe Coffee Shop: From Concept To Reality
8. Risk Analysis and Contingency Plans
As you plan your coffee hut, it's important to identify potential risks and challenges that may arise. These could include changing market trends, supplier issues, or unexpected regulatory changes. To demonstrate your preparedness, formulate contingency plans to mitigate these risks.
Outline specific steps you would take in response to unforeseen circumstances, such as finding alternative suppliers, adjusting your menu, or adapting marketing strategies. This shows potential stakeholders that you are proactive and capable of navigating challenges.
By acknowledging these risks and developing contingency plans, you inspire confidence in your ability to adapt to changing conditions, ensuring the long-term growth of your coffee hut.
9. Implementation Timeline
To launch your coffee hut effectively, create a comprehensive timeline that outlines the key milestones and tasks. Begin with initial steps like securing permits, scouting a suitable location, and procuring necessary equipment.
Break down the process into manageable phases, including renovations, staff hiring, menu development, and marketing campaigns. Assign responsibilities to team members or external contractors and set realistic deadlines to ensure a smooth and timely execution.
By creating a well-structured timeline, you can effectively manage the multiple aspects of opening a coffee hut and ensure that each task is completed in a logical sequence. This organized approach will help you stay on track, meet deadlines, and launch your coffee hut with confidence and efficiency.
10. Sustainability and Social Responsibility
In today's socially conscious world, incorporating sustainability and social responsibility practices into your coffee hut can enhance your brand reputation and attract environmentally conscious customers.
Consider eco-friendly packaging options, energy-efficient equipment, and partnerships with local suppliers who prioritize fair trade and ethical sourcing. Engage in community initiatives and support local charities to foster goodwill and strengthen your brand's connection with the community.
Read more about: Business Plan For Drive-Thru Coffee Shop: Key Elements To Include
11. Monitoring and Evaluation
Establish key performance indicators (KPIs) to monitor and evaluate the progress of your coffee hut. Track metrics such as daily sales, customer satisfaction ratings, and repeat business. Regularly assess your marketing strategies and make adjustments based on customer feedback and market trends.
Implement feedback loops with your staff to continuously improve service quality and operational efficiency. This iterative approach will help you refine your business model and adapt to evolving customer preferences.
12. Expansion Opportunities
As your coffee hut experiences its peak season, it's important to explore expansion opportunities that can fuel further growth. Consider opening additional locations in different neighborhoods to broaden your customer reach and tap into new markets.
You may also explore diversification avenues, such as venturing into online coffee sales or wholesale distribution to expand your customer base beyond the physical store. Evaluating potential partnerships with local businesses or coffee roasters can provide opportunities to expand your offerings and leverage their existing networks.
By executing a well-thought-out expansion strategy, you can unlock new revenue streams, enhance brand visibility, and solidify your position in the competitive coffee market. However, it's crucial to carefully analyze market conditions, financial feasibility, and operational capabilities before embarking on any expansion plans to ensure sustainable growth.
Conclusion
Opening a coffee hut is an exciting venture that requires careful planning and execution. By crafting a comprehensive business plan that encompasses market analysis, marketing strategies, operations, financial projections, and sustainability practices, you can increase your chances of survival. Remember, adaptability, continuous monitoring, and a customer-centric approach are key to staying relevant and thriving in the competitive coffee industry.
Frequently Asked Questions
Q: What makes a coffee hut different from a regular coffee shop?
A: A coffee hut typically offers a smaller, more intimate space with a focus on takeaway or drive-through service. It often provides a cozy atmosphere, personalized customer interactions, and a convenient option for coffee lovers on the go.
Q: How do I determine my target market for a coffee hut?
A: Conduct market research to identify your target audience. Consider factors such as location demographics, local competition, and customer preferences. Analyze data on age groups, lifestyle, and coffee consumption habits to tailor your offerings to the specific needs and desires of your target market.
Q: What financial considerations should I include in my coffee hut business plan?
A: Your financial plan should cover startup costs, including equipment, renovations, permits, and initial inventory. Additionally, consider ongoing expenses such as rent, utilities, payroll, supplies, and marketing.
To learn more on how to start your own coffee shop, check out my startup documents here.
Disclaimer: The information provided by StartMyCoffeeShop.com ("The Site") is for general informational purposes only. All information on the Site is provided in good faith. However, we make no representation or warranty of any kind, express or implied, regarding the accuracy, adequacy, validity, reliability, availability, or completeness of any information on the Site. Under no circumstance shall we have any liability to you for any loss or damage of any kind incurred as a result of the use of the Site or Reliance on any information provided on the Site. Your use of the Site and reliance on any information on the Site is solely at your own risk. This blog post is for educational purposes only and does not constitute legal advice. Please consult a legal expert to address your specific needs. Terms and Conditions. (https://startmycoffeeshop.com/terms-and-conditions/)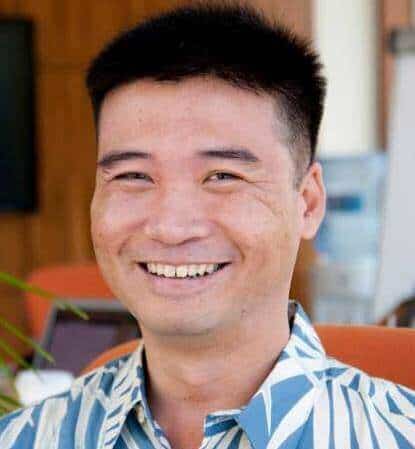 Hi! I'm Shawn Chun
My adventure in coffee began when I first launched my first coffee shop back in the early 2000s. I had to figure out so many things on my own and to make it worse within 2 years of opening two large corporate coffee chains moved in just blocks away from me!
As I saw smaller and even some larger coffee shops in the neighborhood slowly lose customers to these giant coffee chains and slowly close up shop, I knew that I had to start getting creative…or go out of business.
I (like you may be) knew the coffee industry well. I could make the best latte art around and the foam on my caps was the fluffiest you have ever seen. I even had the best state-of-the-art 2 group digital Nuova Simonelli machine money could buy. But I knew that these things alone would not be enough to lure customers away from the name brand established coffee shops.
Eventually, through lots of trial and error as well as perseverance and creativity I did find a way to not only survive but also thrive in the coffee/espresso industry even while those corporate coffee chains stayed put. During those years I learned to adapt and always faced new challenges. It was not always easy, however, in the end, I was the sole survivor independent coffee shop within a 10-mile radius of my location. Just two corporate coffee chains and I were left after that year. All told the corporate coffee chains took down over 15 small independent coffee shops and kiosks and I was the last one standing and thriving.
Along the years I meet others with the same passion for coffee and I quickly learned that it is not only "how good a barista is" that makes a coffee shop successful, but the business side of coffee as well.
Hence why I started this website you are on now. To provide the tools and resources for up and coming coffee shop owners to gain that vital insight and knowledge on how to start a coffee shop successfully.
Stick around, browse through my helpful blog and resources and enjoy your stay! With lots of LATTE LOVE!
Shawn