For many, opening a café is a lifelong dream! And why wouldn't it be? Coffee shops are a fun and great way to give back to the community. However, like many other business endeavors, café businesses offer a unique set of challenges.
It is essential to understand the shortcomings of owning a café business, so you can know what to expect and how to rise above them. 
The most common disadvantages associated with coffee businesses include:
Highly Competitive Industry 

Requires Extensive and Constant Marketing
High Risk of Failing
Relies Heavily on Customer Service
Time-Consuming Endeavor
Countless Responsibilities 
Legalities & Bureaucracy 
Staffing 
Below we will go over each of them so you can make an educated decision and know what to expect when opening a coffee shop:
Highly Competitive Industry 
Let's begin with the most obvious. As you might have already gathered, it seems like every street has one (if not two) coffee shops. Based on a recent census, there are currently 37,189 coffeehouse stores nationwide. So, it is no secret that the café business is a highly competitive industry.
Therefore, if you want your shop to succeed, you will need to develop a plan to set yourself apart from the competition and break through the clutter.
Requires Extensive and Constant Marketing
A highly saturated market, or like marketers call it a "red ocean," will demand constant and extensive marketing on your part to reach your desired target audience and build long-lasting relationships.
An effective marketing plan is essential for your café business' success. You will need to create a thorough marketing plan that includes short-term and long-term tactics and be ready to invest a considerable chunk of your initial investment.
Plus, marketing is not a one-time expense. You will need to include the costs associated with advertising your business in your monthly budget. More so, according to the Small Business Association (SBA), small businesses should allocate 7-8 percent of their revenues to marketing.
Check out our marketing tips HERE.
High Risk of Failing
Arguably one, if not the, most significant disadvantages of opening a café business is how often it doesn't work out. For instance, a recent survey conducted by Coffee Shop Owners on 232 coffee shops in the country observed that between 50%- 74% of independent coffee shops fail in the first five years.
And we all know that failing means losing a considerable amount of money. If you stop to think that, on average, you need to invest between $100,000 – $400,000 for a worthy location and all the necessary equipment to open a coffee shop, knowing that there is more than a 50% chance that you could fail can render it a non-viable business option.
Relies Heavily on Customer Service
Coffee shops and café businesses, in general, rely heavily on customer service. And while it could be considered an advantage if you have a great team working for (and with) you, it is also a double-edged sword.
If customers are unhappy with your service, odds are they will not come back to your shop as they probably have plenty of other nearby options that can satisfy their need for coffee.
Thus, if you want to ensure your customers are getting the best possible customer service, you will need to keep your employees happy. To do so, you need to make sure you offer a great working environment, a decent paycheck, and other benefits that could render your shop a high commodity.
Time-Consuming Endeavor
All entrepreneurs indeed dedicate countless hours to their business endeavors. However, cafés are specially tome consuming as they usually open pretty early in the morning and tend to close late. Of course, your business's schedule will be highly influenced by your target audience and location.
Plus, as a business owner, you will also be responsible for many other "behind the scenes" tasks that keep the business running, such as dealing with suppliers, keeping up the inventory, doing taxes, and more. Thus, you need to be prepared and willing to invest most of your time in your shop.
Countless Responsibilities 
That last element brings us to another "con" of owning a café business, or any other type of business for that matter, which is: having countless responsibilities.
When running a coffee shop, you are responsible for virtually everything that happens — from staffing, inventory, and payroll to maintenance, business planning, accounting, and marketing.
So, you need to be able to draft a detailed and calculated business plan to follow. Additionally, you need to be able to delegate some of the less critical tasks. To do so, you need to make sure you hire efficient, proactive, and supportive staff members for your team. 
Legalities & Bureaucracy 
The licenses or permits needed to open a coffee shop will vary greatly depending on location. But, you must know that you will need a few permits and licenses before being able to open.
As a rule of thumb, you will need the following legalities to legally operate your café business within the United States:
Business License
Food Service License
Health Permit
Food Handler's Permit
Sign Permit
Employee Identification Number/ Tax ID
Additionally, you might also be required to have the necessary insurance policies in case anything goes south. The most common insurance policies for coffee shops and cafés include:
Commercial Property
Commercial General Liability
Business Income Insurance
Workers Compensation
Nonetheless, coffee shop owners could also benefit from having Equipment Insurance, Utility Insurance, and Spoilage Insurance. And in case you will also offer a delivery service or are planning to do any work for your business behind the wheel, it is advisable to secure Commercial Auto Insurance.
As you might have already gathered, owning a café demands a lot and comes with a long list of challenges to overcome. Nonetheless, do not get discouraged! There are many ways to overcome these challenges through thoughtful business planning, commitment, and consistent execution.
Plus, there are also many very appealing benefits and advantages to owning a café business.
Benefits of Owning a Café Business 
As we mentioned above, owning a café business also comes with a list of benefits and advantages worth mentioning. Some of the most relevant include:
• Large Demand
Firmly planted on the spectrum's pro side is that coffee is a popular and common beverage, meaning people drink it daily without even thinking about it. According to a study conducted by the National Coffee Association (NCA), 64% of adults in the United States currently consume coffee every day —drinking about 400 million cups of coffee every day.
Hence, it is safe to say that there is a great demand for coffee in the country, rendering coffee businesses highly lucrative.
• Stable Market
Another great advantage is that café shops operate in a very stable industry. The U.S. coffee market brings in a reported $5.18 billion in sales annually. Moreover, by 2025, the global coffee shop market is predicted to be worth at least $237.6 billion.
A stable market supported by an extensive product demand makes the perfect business venture.
• High-Profit Margins
Certainly, another pro to consider when deciding whether you should open a café business is profit margins. A coffee shop can be an extremely high-profit margin business when compared to others in the foodservice industry.
The median profit margin for regular coffee drinks is 15-20%, while the medium profit margin for specialty coffee drinks is roughly 12-18%. In other words, many coffee shops make 70% gross profit per cup of coffee.
• Growth Potential
Big players like Starbucks and Caribou Coffee are living proof that there is enormous growth potential within the café business. And once more, statistics are on your side! According to a 2021 study analyzing the global coffee market's growth trends, the coffee industry is growing at a significantly large compound growth rate of around 5.5% through the forecasting period (2019-2024).
More so, numbers indicate that the most drastic growth is expected to occur in China and the United States.
Frequently Asked Questions
1. Is owning a coffee shop profitable?
Yes! Coffee shops can be very profitable businesses when managed efficiently. According to the SBA, on average, a small to a medium-sized coffee shop in the United States can make between $60,000 to $160,000 in personal income for the shop owner. 

More so, for many shops, sales often double within three to five years. Thus, as a café owner, you could even amount to make up to $300,000 a year depending on effectively you run your business.
2. How important is the location for a café business?
Location is critical for most consumer-oriented businesses  — even more so when operating in a highly competitive market like the coffee industry. Thus, when choosing the perfect place for your café, make sure you have thoroughly vetted the location and consider street visibility, accessibility, overall space, and competition.
Additionally, before you set your heart on a specific location, consider the area's demographics. Choosing a location based on your audience is a smart business move to consider. Thus, ask yourself if your location is home to your target audience or if you will be better off somewhere else.  
To learn more on how to start your own coffee shop checkout my startup documents here
Please note: This blog post is for educational purposes only and does not constitute legal advice. Please consult a legal expert to address your specific needs.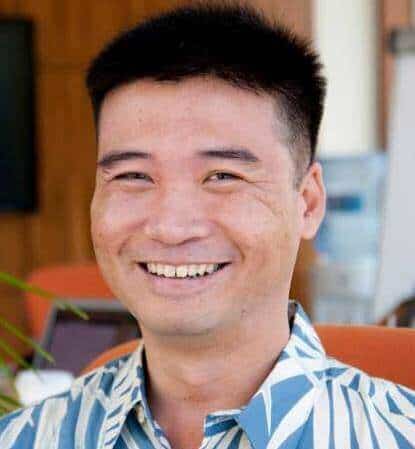 Hi! I'm Shawn Chun
My adventure in coffee began when I first launched my first coffee shop back in the early 2000s. I had to figure out so many things on my own and to make it worse within 2 years of opening two large corporate coffee chains moved in just blocks away from me!
As I saw smaller and even some larger coffee shops in the neighborhood slowly lose customers to these giant coffee chains and slowly close up shop, I knew that I had to start getting creative…or go out of business.
I (like you may be) knew the coffee industry well. I could make the best latte art around and the foam on my caps was the fluffiest you have ever seen. I even had the best state-of-the-art 2 group digital Nuova Simonelli machine money could buy. But I knew that these things alone would not be enough to lure customers away from the name brand established coffee shops.
Eventually, through lots of trial and error as well as perseverance and creativity I did find a way to not only survive but also thrive in the coffee/espresso industry even while those corporate coffee chains stayed put. During those years I learned to adapt and always faced new challenges. It was not always easy, however, in the end, I was the sole survivor independent coffee shop within a 10-mile radius of my location. Just two corporate coffee chains and I were left after that year. All told the corporate coffee chains took down over 15 small independent coffee shops and kiosks and I was the last one standing and thriving.
Along the years I meet others with the same passion for coffee and I quickly learned that it is not only "how good a barista is" that makes a coffee shop successful, but the business side of coffee as well.
Hence why I started this website you are on now. To provide the tools and resources for up and coming coffee shop owners to gain that vital insight and knowledge on how to start a coffee shop successfully.
Stick around, browse through my helpful blog and resources and enjoy your stay! With lots of LATTE LOVE!
Shawn