Your dream is to open a coffee shop. Now it's time to figure out what it will take to realize that dream. One of the biggest factors to consider is how much it will cost to open a coffee shop.
How much does it cost to open a coffee shop? Your cost will most likely be somewhere between $25,000 and $300,000+. This type of business ranges in cost because there are so many routes you can take when you open a coffee shop.
There are a lot of variables to consider when determining how much it costs to open a coffee shop. Below are things you need to include in your calculations when you're planning to open your own coffee business.

Coffee Shops Come in All Shapes and Sizes
So, you want to know how much it costs to open a coffee shop. And the answer to that, like many other questions about cost, is that it depends. One of the biggest things it depends on is the type of coffee shop you intend to open.
Coffee shops can look and feel very different from each other. Think about the different places you've bought cups of coffee from. You may have met a friend and sat in a comfortable seating area in a coffee shop to drink your coffee. You might have run through a coffee shop drive-thru, hit up a coffee cart for some kind of caffeinated beverage, or grabbed a cup from a coffee food truck.
Different types of coffee shops will have different up-front costs to acquire, as well as, differing expenses to consider for continued operation. Let's just focus on the initial costs for the various venues you'll be considering since we're talking about how much it costs to open a coffee shop. Here's a quick break-down so you have a reference point:
Coffee Bar – $50,000 to $160,000

Coffee Kiosk or Cart – as little as $5,000; but more likely between $60,000 and $100,000

Food Truck or Mobile Coffee Shop – $10,000 to $150,000

Café and Bakery – $100,000 to $350,000
It's important to say that there's no straight-forward answer to give you for how much it costs to open a coffee shop. It really depends on you and your vision. A small coffee cart business isn't going to cost you nearly as much as a full-fledged café with seating for customers, a drive-thru window, restrooms, and a kitchen. Once you have a clearly developed business plan, you can then get a better idea of how much your coffee shop is going to cost to open.
Costs You Need to Consider for Opening a Coffee Shop
The type of coffee shop you open is only one factor that will affect how much it will cost to open a coffee business. There are plenty of other things that need to be considered as well. So, what are they?
Size of operation – Obviously this is a huge consideration that will affect the cost of your coffee shop business. This will determine the cost of your venue, how many staff members you'll have to pay, how much your consumable supplies will cost, and how much equipment you need.
To serve food or not to serve food – Most coffee shops that succeed serve some types of food items also. In fact, according to

Forbes.com

, coffee sales should be around 40% or your sales numbers. The rest should be other items that customers purchase along with their coffees.
Menu items – Your cost will depend on what you put on your menu. If all you are serving are different types of regularly brewed coffee then your coffee shop isn't going to cost you as much as someone who puts all kinds of various espresso drinks on their menu.
Drive-thru option – Including a drive-thru at your coffee shop's location can be a very profitable option. However, it will cost you more to start your business too. If the venue you choose doesn't already have one, you'll have to consider the cost of the renovation it will take to set it up. There's also the matter of an employee to man it.
Marketing strategies – Establishing and marketing your brand will cost money. You can market in all kinds of different ways. Some will cost you a lot of money, such as tv ads, billboards, or doing free giveaways so people can taste your products. Others may cost you money in the form of time, like maintaining a social media presence.
Buying or leasing – If you decide you want to open a coffee shop in a building that you own, then that cost will be a big chunk of how much it will cost to open your coffee business. Leasing a space might be a better option for some coffee shop owners as it will take less money upfront.

What About the Equipment?
In essence, you could open a coffee shop with nothing more than a coffee maker, some coffee grounds, some milk and cream, and yourself. But if that were an easy way to succeed in the coffee industry, everyone would do it.
In reality, you're going to need a good bit of equipment to start a coffee shop. Equipment is another large cost to consider when you're trying to determine how much it will cost to open a coffee shop. The good news is that it's mostly just an up-front expense rather than something ongoing.
Again, this is a cost that will vary from coffee shop to coffee shop. It depends on what type of business you're opening, how many customers you'll be serving each day, and what items you plan to have on your menu.
Here's a list of possible pieces of equipment that you should consider when you're calculating your cost to open a coffee shop:
Espresso Machine

Automatic Coffee Makers

Grinders (coffee and espresso)

Commercial Blenders

Tea Makers

Hot Water Dispenser

Counter Refrigerators

Bottles, Bins, Storage Containers

Shelving Systems

POS System

Countertop Convection Ovens

Toaster Oven

Full-Sized Reach-In Refrigerator

Ice Machine

Display Cases (some with refrigeration systems)

Various Sinks

Dishwasher

Various Small Tools (pumps, measuring spoons, tampers, frothing pitchers, etc.)

Dishes (coffee cups, espresso cups, bowls, plates, etc.)

Signs

Merchandisers

Consumables (coffee, milk, tea, syrups, hot cocoa, creamer, sugar, paper products, etc.)

Cleaning Supplies
These items have prices that come in a range depending on the quality, brand, quantity purchased in, and other factors. It's important to do your research and shop around a little bit so that you can get the best deal possible for the items that you need.
Location, Location, Location
The location you choose can make a huge difference in how much it will cost to open your coffee business. For example, opening a coffee shop on 5th Avenue in New York City is going to cost you more than opening one in the small city of Laredo, Texas, the city that smallbiztrends.com lists as the best city to open a coffee shop on a list of the top 50 in the nation.
Most of the largest cities in the country have expensive real estate costs. There's also a lot of competition in populous cities with markets that are saturated with tons of other coffee shops. Saturated coffee industry markets will have higher costs of entry for those looking to open new coffee shops.
Think carefully about the area you want to open your coffee business in. You might find that, due to the cost of living in that area, you'll have to set your prices for menu items lower than you were thinking, but if you're the only coffee shop around you'll likely make up for the difference in the number of sales anyway.
No matter what kind of coffee shop you decide to open, you'll have to plan your finances accordingly. The cost to open a coffee shop starts as low as $5,000 and can reach $350,000 or even higher. The good news is that it's really up to you because this is a flexible industry that you can enter regardless of your financial capabilities.
Frequently Asked Questions
How can I raise funds to open a coffee shop?
The simplest way to find the funds for opening a coffee shop is to acquire a loan from a bank. If that doesn't appeal to you, however, there are some other options to look into.
One way to fund the opening of your coffee shop is to find an angel investor. There are people out there who will provide you the money you need to get started with your business if they believe in what you're trying to do. Usually, the deal will include them getting their money back once you're up and running successfully, and it's likely they will ask for some amount of money on top of the initial investment amount.
Another form of angel investing is crowdfunding. In this case, though, your funds come from a large number of small investors, rather than from one or two larger investors. It's not the easiest thing to do, but if you offer donors something in return for certain amounts of donations, you'll likely find that it helps.
Though it might sound daunting, you can also save for opening a coffee shop yourself. You can invest your own money into your business. If there's one positive to doing this, it's that you'll be more apt to make well-thought-out decisions in your business venture. It becomes a more personal endeavor when you invest your own hard-earned money into your coffee shop.
Should I invest in a franchise or open a private coffee shop?
Either of these options can be profitable for the owner, but there are definitely big differences in how you'll go about opening each of these types of coffee shops.
Choosing between opening a franchised coffee shop and a private coffee shop basically means you'll be choosing how much say you have, as an owner, in how your shop looks, what it serves, how it's set up, and what it's called. If you want to open a franchise coffee shop, you won't have control over the shop's look, layout, menu, pricing, name, or branding.
If you want to be the kind of coffee shop owner that gets to control all aspects of the shop and make all the decisions regarding how it operates, what products it sells, and how it's presented, then you should open your own individual coffee shop to make your vision a reality.
What legal requirements should I be aware of before opening a coffee shop?
There are some licenses or permits that you'll want to look into while you're planning the opening of a coffee shop. There are fees associated with these items, so make sure you plan them into your budget.
A business license may be required for you to open your coffee shop. The cost of these varies based on the city and state you are opening your business in. You can find the location of the office issuing business licenses for your area by visiting the Small Business Administration's website.
Depending on what you decide to put on your menu, how big your establishment is, and other factors, you may need a food service license. There is an application to fill out, and you'll also likely undergo inspections by the health department for your area.
You may need to get a food handler's permit for yourself and for each of your employees. There is a training course that will have to be completed by employees and a fee to purchase the permits.
You might also need to apply for a sign permit. If you're going to be putting up a sign designed to attract customers into your coffee shop, you should check into your city's regulations to see if you need to get a permit before the installation of your sign.
Regulations for businesses differ from city to city and from state to state. Make sure to do your research so you know what is required by your local government agencies before you take any steps towards opening your coffee shop. It could cost you if you don't.
To learn more on how to start your own coffee shop checkout my startup documents here
Please note: This blog post is for educational purposes only and does not constitute legal advice. Please consult a legal expert to address your specific needs.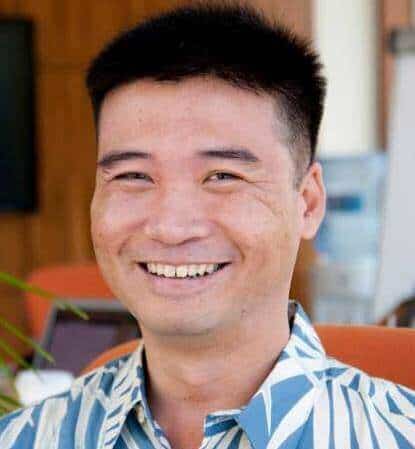 Hi! I'm Shawn Chun
My adventure in coffee began when I first launched my first coffee shop back in the early 2000s. I had to figure out so many things on my own and to make it worse within 2 years of opening two large corporate coffee chains moved in just blocks away from me!
As I saw smaller and even some larger coffee shops in the neighborhood slowly lose customers to these giant coffee chains and slowly close up shop, I knew that I had to start getting creative…or go out of business.
I (like you may be) knew the coffee industry well. I could make the best latte art around and the foam on my caps was the fluffiest you have ever seen. I even had the best state-of-the-art 2 group digital Nuova Simonelli machine money could buy. But I knew that these things alone would not be enough to lure customers away from the name brand established coffee shops.
Eventually, through lots of trial and error as well as perseverance and creativity I did find a way to not only survive but also thrive in the coffee/espresso industry even while those corporate coffee chains stayed put. During those years I learned to adapt and always faced new challenges. It was not always easy, however, in the end, I was the sole survivor independent coffee shop within a 10-mile radius of my location. Just two corporate coffee chains and I were left after that year. All told the corporate coffee chains took down over 15 small independent coffee shops and kiosks and I was the last one standing and thriving.
Along the years I meet others with the same passion for coffee and I quickly learned that it is not only "how good a barista is" that makes a coffee shop successful, but the business side of coffee as well.
Hence why I started this website you are on now. To provide the tools and resources for up and coming coffee shop owners to gain that vital insight and knowledge on how to start a coffee shop successfully.
Stick around, browse through my helpful blog and resources and enjoy your stay! With lots of LATTE LOVE!
Shawn