For any coffee shop owner, the cash management system is a central component of their business. With the advancement of technology, there has been a switch from using a traditional cash register, manually keeping records of sales data, to a more efficient computerized POS, or Point Of Sale system. A POS system is a combination of hardware and software that goes beyond keeping your money safe in a drawer. This article is will go in-depth on how to choose the right POS/Cash Register for your coffee shop.
While there are numerous POS systems available, it's important to choose the right system for your specific coffee shop needs. The following are five of the top-rated companies for POS systems with features that meet the criteria for a coffee shop.
1. ShopKeep – Rated as the top POS system for small, quick service businesses, such as a coffee shop, ShopKeep has remarkable features including a no contract/pay as you go option, as well as offering exceptional, top of the line customer service and 24/7 support.
2. TouchBistro – Coming in as the second-best POS system for a café or coffee shop is TouchBistro, an iPad POS system specific to Apple users, designed for the food industry, that allows self-ordering for a quick customer experience and builds a custom sales report.
3. Lightspeed – With its integrated eCommerce platform and the flexibility to manage from multiple locations, Lightspeed is a POS system designed for a small to medium-sized business with a big ambition, working with any iOS device, including free software updates.
4. Toast – Another tablet and cloud-based solution for a POS system is Toast, a company that scores highly in ratings with an award-winning integration of the back office, excellent reporting analytics, inventory tracking, employee management, and productivity software.
5. Nobly – Providing customers with inventory and staff management, secure payment methods, and multiple reports, Nobly is a wonderful POS system that is simple to use and easy to learn, with powerful integrations for all your accounting and marketing needs.
While a POS system may be a more expensive part of your startup costs, it's important to understand the value it can bring to your coffee shop in comparison with the traditional use of a cash register. Let's look at the benefits of using a POS system.
• Accurately keep records – Cloud-based storage is a distinct feature of modern POS systems that allow you to store important business data in a safe, remote location. This information is logged in real-time during the business day, collecting essential details regarding business operations, sales, and inventory, helping you make better decisions.
• Database marketing – Recording a customer's transaction allows you to capture their information and purchase history. With the integration of marketing software, your POS system becomes a powerful tool that offers customer loyalty rewards and discounts designed to meet their specific wants, based on their previous purchase history in your coffee shop.
• Lowers human error – Traditional cash registers allow for too much error, resulting in a negative customer experience. POS systems prevent internal issues, such as misinformation of inventory, and can be updated with new items, functions, and features creating a more efficiently run coffee shop, which in effect will improve your relations with customers.
• Accepts all payments types – Loss of sales can be seen in coffee shops that have decided to run off cash-only. With more frequent use of alternate payment methods such as credit cards, PayPal, Apple Pay or Venmo, it's important that your coffee shop keeps up with the times, making these options available to your customer. A POS system will do just that.
Deciding to go the traditional cash register route or the modern advancement of the POS system can ultimately depend on your startup budget. Some questions to ask yourself are:
How busy will your coffee shop be?

What types of payment do you accept?

How many products do you carry now?

How many in the future?

How many employees will you manage?

What's your expectation for growth?
Knowing the answers to these questions can bring more clarity to choosing the right money management system for the needs of your coffee shop. Benefits of using a cash register are:
Low cost for startup

Easy to use

Few components

Basic functions and reporting

Long life (no updates required)
While these benefits can seem enticing to a new coffee shop owner, you still run the risk of slowing down business and missing critical data. Utilizing the advancement of technology can give you an advantage over other coffee shops still using methods from the last century.
Next, we'll take a look at what is required to use a POS system.
Essential POS Hardware:
Register screen – Tablets and iPads have replaced the bulkier monitor

Barcode scanner – Necessary if selling products with a barcode other than coffee

Credit card reader – Must be secure and EMV-compliant

Receipt printer – For customers who still desire a tangible receipt

Cash drawer – Safekeeping for the customer who still pays with cash
POS system features need to include:
Sales reporting – Record and analyze data to make informed business decisions

Customer management – Track customer information and purchase history

Marketing tools – Integration of software to help you keep in touch with loyal customers

Inventory management – Keeps an up-to-date record of stock to determine ordering needs

Employee management – Allows you to manage scheduling, payroll, and productivity

Ability for growth – As your business grows, the POS system needs to handle changes
Now that you know what is generally required when using a modern POS system, how will you know which company has the right POS system for your specific coffee shop needs? It's imperative as a business owner that you do your due diligence! Research different companies, talk with other coffee shop owners similar to yours, and read the reviews. While they may seem to operate generally the same, no two POS systems are exactly alike.
Keep reading to learn more in-depth about the above-mentioned POS systems.
ShopKeep's mission has always been to support the growth of independent businesses. Providing the fundamental tools you need in a full-service POS system to simplify day-to-day operations is what they do best. With plans that start as low as $69 per month and pay as you go pricing, ShopKeep makes an affordable POS solution, tailor-made according to your coffee shops needs. Prices will vary depending on how large your coffee shop is and what type of hardware you would require. Some valuable features of ShopKeep's POS system are:
Reports – ShopKeep POS system is capable of tracking sales, staff hours and salary structures, and real-time calculations of inventory. Access to these reports can be reached through the ShopKeep Pocket app available on your mobile phone in any location.
Inventory – A Bluetooth scanner allows you to keep control of your inventory with accuracy, tracking real-time figures and the ability to set up alerts when stocks are running low. This advantage gives insight to items that are bestsellers to be sure you don't run out.
Payments – All payment types are accepted in the Cloud-based iPad system, and will protect your customer's data and all transactions from possible threat to hacking. The payment system also includes a guaranteed low integrated payment-processing rate.
Implementation – ShopKeep offers reasonably priced, top of the line, durable hardware with a touch screen interface. The software is easy to use, and with the exceptional customer service that is available 24/7 you have support at your fingertips, should anything go wrong.
TouchBistro has features specifically designed for restaurants and quick service businesses. While it can prove to be rather costly for small business owners, it includes an all-in-one package to help you manage the entire workflow of your coffee shop, with different levels of customization, to meet your business needs. TouchBistro offers four different pricing tiers, starting with the bottom tier, Solo, at $69 per month, which is paid annually for one license. TouchBistro is an Apple-specific POS system, with additional features that include:
Analytics – With over 20 different types of reports, TouchBistro offers a real-time look into the operations of your coffee shop. You can make more informed decisions based on the day-to-day data collected, keeping track of sales, inventory, employees, and customers.
Self-order – Getting the customer involved with their ordering process is a great way to eliminate errors and speed up transactions. Customers will have the ability to self-order by setting up a TouchBistro Kiosk within your coffee shop, providing an efficient experience.
Customization – TouchBistro is highly customizable, from the menu design to tracking orders, employee management, and productivity. Items on the menu can be added or edited with ease, and you can control staff activities, allocate duties, and track their clock in/out.
Lightspeed is an all-in-one technology solution that offers a fast and reliable POS system to increase your efficiency. Manage your inventory, service, data, staff, and customer relations all on one platform. Lightspeed offers three different plans that start at $99 a month, which includes one register with up to 5 employees. All plans include omnichannel capabilities, 24/7 customer service support, and a secure cloud backup and basic reports. You can add employees for an extra $9 per month and an additional register for $59 per month, which includes three extra employees. Highlights of using the Lightspeed POS system include:
User Accounts – Lightspeed gives you the ability to create individual user accounts for each of your employees. Each account is secured by setting a password, and key information can be shared among your workers, as specified by their unique job duties and requirements.
Loyalty App – Additional Lightspeed Loyalty software can be integrated with your POS system to build relationships with your customers. By tracking, engaging and rewarding your customers, offering incentives to entice them to come back, you can ensure customer loyalty.
Accounting – Automatically send your day-to-day data to your accounting system to establish accurate and efficient record keeping. By choosing the format of your choice, you can easily see how well your coffee shop is doing and make better business decisions.
Toast is a powerful POS system capable of handling all the demands of your coffee shop. Not only is it flexible software skilled to scale with your business, but it is also affordable no matter the size of your café. Toast doesn't believe that one size fits all and will work with the unique needs of your coffee shop to create a package plan designed specifically for you. Monthly prices start as low as $79 to include cloud-based reports, accessible no matter where you are, and multiple add on features to cover every aspect of your business. Other features include:
Performance – Toast gives you the ability to track discounts, refunds, or voids, and which employee is offering them, giving you an inside view on their overall job performance and work ethic, which is important when evaluating your employees and their productivity.
Menu Software – Make real-time changes to your menu from anywhere with the incredible software that is customizable, linked, and in sync with inventory reports. Now customers can order online with certainty of which items are currently in stock and available.
Offline Mode – Keep your business protected and don't stress when you lose access to Wifi during the business day using Toast POS systems. All plans include an offline mode, which means if the Internet goes down, your coffee shop doesn't have to go down with it.
Training – Toast University offers the ultimate training course to learn all things related to using Toast. With interactive webinars, early access to new products, and access to resources available 24/7 giving you a knowledge base and information for setup and troubleshooting.
Nobly began its journey of POS systems in 2013 from its headquarters in the United Kingdom. Nobly will help you keep the pace of the morning rush, saving you time and hassle with its powerful integrations. Custom pricing starts at £59 per month or £468 per year, per registered iPad, which includes free onboarding, back-office suite, free software updates, and customer support available 24/7. Hardware bundles are also available with costs that range from £315 to £445, depending on the needs specific to your coffee shop. Interested buyers are offered free demos and a 15-day trial. More remarkable features are:
Special Orders – No coffee is too complicated when using Nobly POS systems. With the touch of a button, you can easily add custom variations and modifiers to drinks making sure your customer gets exactly the coffee they want, without frustrating cashiers and baristas.
Onboarding – Integrating new employees and training them on the POS system has never been easier than with Nobly. Train your staff in minutes to serve customers faster and with fewer mistakes. Nobly is simple to manage and access without hidden fees for extra workers.
Integration – Nobly can be integrated with several types of software such as quick and reliable payment processors, accounting software designed specifically for coffee shops, an all-in-one workforce management, even marketing automation to keep business brewing.
With so many different POS platforms to choose from, it may be difficult to decide which POS system is best for you. It's up to you to do the necessary research to find which POS system can meet the needs and budget of your coffee shop. While it may appear to be intimidating at first, trust your time, and a POS system will be well worth your investment.
Frequently Asked Questions
What is the average investment of a POS system?
The initial investment of a POS system is going to be around $1250 for all the hardware plus installment, in addition to approximately $1000 per year for the use of the software. This does not include the processing fees associated with credit card payments, which vary per credit card merchant.
To learn more on how to start your own coffee shop checkout my startup documents here
Please note: This blog post is for educational purposes only and does not constitute legal advice. Please consult a legal expert to address your specific needs.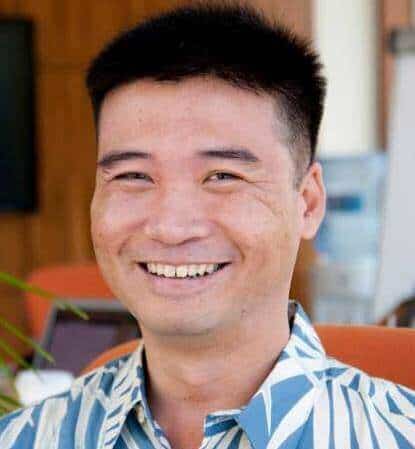 Hi! I'm Shawn Chun
My adventure in coffee began when I first launched my first coffee shop back in the early 2000s. I had to figure out so many things on my own and to make it worse within 2 years of opening two large corporate coffee chains moved in just blocks away from me!
As I saw smaller and even some larger coffee shops in the neighborhood slowly lose customers to these giant coffee chains and slowly close up shop, I knew that I had to start getting creative…or go out of business.
I (like you may be) knew the coffee industry well. I could make the best latte art around and the foam on my caps was the fluffiest you have ever seen. I even had the best state-of-the-art 2 group digital Nuova Simonelli machine money could buy. But I knew that these things alone would not be enough to lure customers away from the name brand established coffee shops.
Eventually, through lots of trial and error as well as perseverance and creativity I did find a way to not only survive but also thrive in the coffee/espresso industry even while those corporate coffee chains stayed put. During those years I learned to adapt and always faced new challenges. It was not always easy, however, in the end, I was the sole survivor independent coffee shop within a 10-mile radius of my location. Just two corporate coffee chains and I were left after that year. All told the corporate coffee chains took down over 15 small independent coffee shops and kiosks and I was the last one standing and thriving.
Along the years I meet others with the same passion for coffee and I quickly learned that it is not only "how good a barista is" that makes a coffee shop successful, but the business side of coffee as well.
Hence why I started this website you are on now. To provide the tools and resources for up and coming coffee shop owners to gain that vital insight and knowledge on how to start a coffee shop successfully.
Stick around, browse through my helpful blog and resources and enjoy your stay! With lots of LATTE LOVE!
Shawn