Nothing goes better with a hot drink than a good book, and this natural pairing can also help increase the profits of your coffee shop. Whether you already have a coffee shop or are looking to open your coffee shop bookstore, there are a few things you can do to increase your chances of success.
The way to start a coffee shop bookstore and achieve profitability will differ depending on if you're adding a bookstore to a coffee shop, adding a coffee shop to a bookstore, or starting a new coffee shop bookstore. Some everyday necessities include acquiring the necessary permits, buying and installing equipment such as shelves and coffee machines, designing and arranging your layout, training or hiring staff, updating your point-of-sale area, and updating or creating a marketing strategy.
The three possible scenarios for this venture are: you want to add a bookstore to your coffee shop, add a coffee shop to your bookstore, or start a coffee shop bookstore. Each poses unique challenges, but you can achieve profitability within any of these scenarios with the right knowledge.
Adding a Bookstore to Your Coffee Shop
If you already own a coffee shop and want to add an extra layer of income, opening a bookstore in your shop can be a perfect way to do just that. It will require you to update your space and retrain your employees, but if done right, it can give your shop an added boost.
A few things you will need to do include:
Checking Zoning Requirements – In most locations, adding a bookstore to a coffee shop won't require a rezoning of your business since it will still be a commercial shop, but you should still check with your local regulations. You wouldn't want your shop to violate any zoning ordinances.
Acquire Additional Permits – You should also check if you need to acquire any additional permits to sell books in your coffee shop. Each locale has different regulations, so you should be sure to check yours before you put any plans into action.
Talk to Your Property Manager – You'll also want to tell your property manager about your desire to open a bookstore. They may have some ideas of their own or questions they'll want to ask you before you make the change.
Rearrange Your Space – If you're going to add a bookstore, you'll need to rearrange your shop accordingly. More than likely, you're going to want to add an area for your patrons to read, and you'll need the bookshelves themselves. If you already have a seating area, you may want to separate the cafe area from the reading area.
Buy Bookshelves – This may seem like an obvious point, but the bookshelves you choose have an essential effect on your shop. You don't want to break the budget on them, but cheap or poorly made shelves can produce a negative effect. You'll want shelves that not only look nice but are able to stand up to rigorous daily use and hopefully last many years to come.
Connect with Publishers and Book Distributors – This step will not only give you a connection from where to buy your books, but it will also help you in determining what you'll charge. Distributors will know the current market prices of the books you want, which will help you determine your own prices and your book budget.
(Re)Train Your Staff – Some coffee shop bookstores hire separate staff for their cafes and their bookstores, and you may want to do that. If not, you'll need to retrain your staff, so they have knowledge of the books as well as the coffee. They'll need to learn which books go on which shelves so they can better guide customers to the right places and restock any shelves that need it.
Update Your Point of Sale (POS) System – If you own a coffee shop, your point of sale area (the area near the cash register) is probably stocked with baked goods or to-go cups. If adding a bookstore, you'll also want to add some books to that location as well. Determine what books (the hot new bestsellers or all-time classics) you want there. You'll probably be experimenting with what works best, so changing it up is inevitable.
Update Your Marketing Strategy – Now that you'll be selling books as well as coffee, you're going to want to update your marketing strategy to show that. You can even have a grand opening for your bookstore section, complete with discount coupons that get more people in the store. Moving forward, be sure to include advertising about both your coffee shop and bookstore in order to make the most of the addition.
Adding a Coffee Shop to Your Bookstore
Perhaps the most difficult of the three scenarios, you may also be a bookstore owner who has decided to add a coffee shop to increase profits. Brick and mortar bookstores today have to compete with big-box chains and online retailers, which can make profitability harder. Adding a coffee shop is one way to increase profitability and compete with other retailers.
Certain aspects of adding a coffee shop are the same as adding a bookstore, but there are major differences. Some things you'll need to do include:
Checking Zoning Requirements and Adding Additional Permits – As with adding a bookstore to a coffee shop, you'll need to research your local regulations to see what you need to do. Unlike opening a bookstore, though, adding a coffee shop will definitely require additional permits, as health and safety standards will need to be met. Be sure to know what you're adding before you check. The requirements needed for adding just hot drinks can differ from the ones needed for food as well, so you'll want to know exactly what you're doing beforehand.
Redesign Your Layout – When adding a coffee shop to a bookstore, you're going to need to do some major renovations, both to the front of the shop and to the back. In front, you'll need a counter where patrons pick up their drinks, as well as equipment like espresso machines, so your baristas don't have to go too far to get to them. In the back, you'll need equipment such as large-scale coffee brewers and ovens if you're also going to be making baked goods. You should make this decision before you start, so you only need to redesign once.
Purchase and Install Coffee Equipment – Obviously, one of the most important tasks is buying and installing the coffee-making equipment. Espresso machines, coffee brewers, refrigerators, and other equipment will need to be purchased and placed in your shop. While it may be tempting to buy cheaper equipment, you'll also want equipment that lasts. Purchasing new equipment because of breakdowns will only double your expenses.
(Re)Train Your Staff and Update Your POS – In this scenario, you'll again need to retrain your staff or hire completely separate staff to run your coffee shop. It may be easier to hire baristas with prior experience rather than train your bookstore staff to become baristas. This will eliminate any growing pains retraining your staff may produce. You'll also again want to update your POS system, this time to add coffee items and baked goods to your cash register area.
Update Your Marketing Strategy – Again, you'll need to change your marketing strategy to let people know that you are now serving coffee. You can have a grand opening of your coffee shop section, and be sure to mention it in any advertising that you do. Marketing is the key to growing your customer base.
Check out more unique coffee shop ideas HERE.
Opening a New Coffee Shop Bookstore
This scenario requires the most work but doesn't require a restructure of a current business, which makes things a bit easier. The most important aspect of this scenario is finding the right location for your coffee shop bookstore.
Things you will need to do include:
Research and Create a Business Plan – Find out if there are any other coffee shop bookstores in the area you want to open, and if so, how many. Oversaturation could cause you fewer profits. Find out how much a typical coffee shop bookstore makes and how you will need to organize your budget. Creating a business plan from these findings can help you reach your goals more quickly.
Find the Right Location – Location is probably the most important aspect of this scenario, but unlike in the others, this time you will have your choice. Shop around and contact different landlords to find a price within your range. Be sure the area is one that will attract customers instead of repelling them. When it comes to location, visibility, safety, and accessibility are the three keys to a successful business.
Acquire Necessary Permits – Be sure to know which permits you'll need to acquire to fulfill the regulations in your area. You'll probably want to have these before you sign a lease, so there are no delays in opening your new coffee shop bookstore.
Negotiate a Lease – When you do find a location you like, be sure to have a clear and open dialogue with the landlords, so you know who is responsible for what. Price is important but probably less so than other agreements, such as who is responsible for repairs, upkeep, and trash removal. Have all these worked out before you sign on the dotted line?
Purchase and Install Equipment – In this scenario, you'll need to purchase all of the equipment for both a coffee shop and a bookstore from scratch. As mentioned above, be sure to buy equipment that lasts, even if it means paying a little more. It will save you in the long run. Once you have the equipment, you can arrange it according to your desires and accessibility.
Hire and Train Staff – In this scenario, you don't have to worry about retraining, which should make hiring and training easier. Determine if you want separate staff for your coffee shop and bookstore and who will have responsibility for each. There is more of an opportunity for overlap in this scenario, where you can hire people to do both jobs if you wish.
Create and Execute a Marketing Plan – After location, marketing is the most important aspect of a successful business. Create a marketing plan, complete with the full marketing budget. This plan is likely to change as you tweak it, but it's important to have a marketing strategy in place before you open. Determine which avenues you will use for marketing, such as radio ads, billboards, flyers, etc. As you move forward, keep an eye on which marketing tactics are working and which may not be, and update your marketing strategy accordingly.
Frequently Asked Questions
Can a coffee shop bookstore be profitable?
There is no doubt that coffee shops today are profitable. There is also little doubt that brick-and-mortar bookstores are struggling to compete with larger and online sellers. To achieve profitability with a coffee shop bookstore, keeping things simple is the way to go. You may choose to become a niche bookstore, only offering mystery stories or classic books, to give two examples. Whichever you choose, keeping the bookstore aspect of your shop simple and smaller (at least at first) is the best way to ensure that your coffee shop bookstore becomes profitable.
Should I have food on my coffee shop menu?
The majority of coffee shops today do offer at least a limited food menu. Some items that sell well in coffee shops include cookies, muffins, bagels, and other baked goods that go well with coffee. Adding some simple food items to your menu can be a great way to increase your profits and ensure that you keep customers coming back. Nothing goes with a book like a hot drink, and nothing goes with a hot drink like a small baked good. Providing each of these can provide you profits, as well as the ambiance you may be looking for with your coffee shop bookstore.
To learn more on how to start your own coffee shop checkout my startup documents here
Please note: This blog post is for educational purposes only and does not constitute legal advice. Please consult a legal expert to address your specific needs.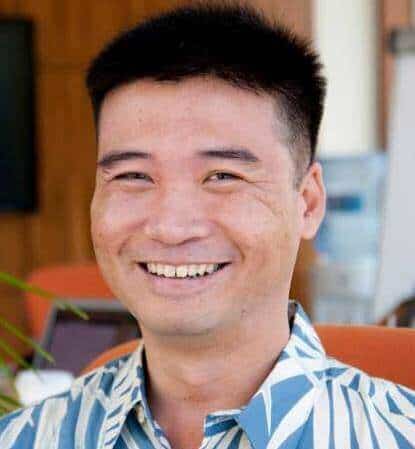 Hi! I'm Shawn Chun
My adventure in coffee began when I first launched my first coffee shop back in the early 2000s. I had to figure out so many things on my own and to make it worse within 2 years of opening two large corporate coffee chains moved in just blocks away from me!
As I saw smaller and even some larger coffee shops in the neighborhood slowly lose customers to these giant coffee chains and slowly close up shop, I knew that I had to start getting creative…or go out of business.
I (like you may be) knew the coffee industry well. I could make the best latte art around and the foam on my caps was the fluffiest you have ever seen. I even had the best state-of-the-art 2 group digital Nuova Simonelli machine money could buy. But I knew that these things alone would not be enough to lure customers away from the name brand established coffee shops.
Eventually, through lots of trial and error as well as perseverance and creativity I did find a way to not only survive but also thrive in the coffee/espresso industry even while those corporate coffee chains stayed put. During those years I learned to adapt and always faced new challenges. It was not always easy, however, in the end, I was the sole survivor independent coffee shop within a 10-mile radius of my location. Just two corporate coffee chains and I were left after that year. All told the corporate coffee chains took down over 15 small independent coffee shops and kiosks and I was the last one standing and thriving.
Along the years I meet others with the same passion for coffee and I quickly learned that it is not only "how good a barista is" that makes a coffee shop successful, but the business side of coffee as well.
Hence why I started this website you are on now. To provide the tools and resources for up and coming coffee shop owners to gain that vital insight and knowledge on how to start a coffee shop successfully.
Stick around, browse through my helpful blog and resources and enjoy your stay! With lots of LATTE LOVE!
Shawn