If you are looking to start a coffee shop in Florida, you probably already know the industry is on the rise!
As of today, coffee shops are the fastest-growing segment of the restaurant industry. And according to a study led by The National Coffee Association and The Specialty Coffee Association of America, over 50% of Americans drink coffee every day — representing over 150 million daily drinkers. More so, the average coffee drinker consumes 3 cups of coffee per day!
Thus, it is safe to say that there is a steady demand and plenty of room to grow. But, this does not mean that opening a coffee shop is easy. Coffee shops demand a lot of work, time, and energy (especially in the sunshine state where competition runs high.)
Opening a coffee shop in Florida is a long and complex process. Fortunately, we have been where you are today! So, to help you navigate the system, we have compiled everything you need to know in these nine easy-to-follow steps:
1. Do your research
2. Develop a business plan
3. Take care of legalities
4. Hire insurance
5. Define your brand
6. Find a location
7. Acquire all necessary equipment
8. Hire the right staff
9. Promote your business
Below we will go over each of these steps for better understanding.
1. Do your research
The first thing you need to do is, of course, research. The key to any successful business is knowing what to expect! Thus, make sure you are up to speed with industry trends, market segments, the best possible products, legal limitations, and more.
There is much room to cover, so start by answering these simple questions:
What type of coffee shop do you envision yourself opening?
How much money do you need to start your business?
Who is your target audience?
What are good areas to set shop?
What business model best fits your needs/wants?
How much can you charge customers?
What are the best coffee providers/suppliers in the area?
Who are your direct and indirect competitors?
What will you name your coffee shop?
Once you have gathered the intel to answer these questions, you will have a clearer picture of what you need to do and expect.
2. Develop a business plan
The next step involves developing a comprehensive business plan that outlines your goals and how you plan to achieve them. Keep in mind that business plans tend to shift and evolve — especially when starting. Hence, focus only on the first three to five years of your coffee shop business by outlining the following:
– Current market report
– Short-term objectives
– Business model & pricing
– Product categories
– Budget & financial forecasts
– Marketing/Sales tactics
A business plan will also help you organize your business from a financial standpoint. Although not all coffee shops necessarily require a massive investment, it can amount to be respectable sum. For instance, based on recent statistics, a sit-down coffee shop typically costs between $200,000 and $375,000 to set up, while a small kiosk may cost between $25,000 and $75,000.
Hence, a business plan can help you obtain the seed capital needed to make your dream a reality.
3. Take care of legalities
Once you have a solid business plan and have secured all funding, you must move on to one of the most comprehensive steps of the process: legalities. Owning a coffee shop in Florida requires you, as the owner, to follow specific rules and regulations.
To start, you will need to register your business. To do so, you first need to decide under what type of legal entity you want to register your business. We suggest you form a Limited Liability Company (LLC) as it is one of the fastest and cheapest options. Plus, it has the added advantage of protecting personal assets by limiting accountability.
Once you have chosen the type, you need to file the Articles with the Florida Department of State to create the entity legally. You will ask to present:
– Company name
– Address (it must be a physical Florida address)
– Mailing address (it can be a PO Box)
– Owners' names
– Valid e-mail address
In addition to registering with the Department of State, most Florida businesses may be required to register with their local county.
Your next step would be obtaining an EIN or Federal Employer Identification Number from the IRS and open an account for your coffee shop. Know that if you decided to form an LLC, you are required by the state to have a business bank account.
Lastly, you will need to secure all necessary business licenses, including a Business License, a Certificate of Occupancy (Building Permit,) a Retail Food Establishment License, and a Liability License.
Note that these licenses might vary depending on your location. Other specific permits may be required for you to operate in Florida legally.
4. Hire insurance
In Florida, you are obliged by the state to hire specific insurance policies for your coffee shop. Thus, before you open your shop to the public, make sure you secure all the needed insurance policies to avoid any conflicts with the law.
The cost of coffee shop insurance depends on the policies you choose, the unique risks your business might encounter, the value of your equipment, and more.
Nonetheless, according to recent statistics, coffee shop and cafe owners in Florida usually pay $75 per month for a business owner's policy covering General Liabilities and Property Insurance.
More so, Workers' Compensation is required in almost every state (and Florida is no exception) for coffee shop employees. The median cost for this type of insurance in Florida is about $85 per month or $1,020 annually.
5. Define your brand
Your brand is what your company stands for, as well as how the public perceives your business. A strong brand will help your business stand out from competitors.
According to IBIS World, there are 62,713 Coffee & Snack Shops businesses in the US as of 2021, increasing 2.8% from 2020. In Florida, the competition is incredibly fierce. You are competing with big coffee chains like Dunkin Donuts and Starbucks and a high number of independent coffee shops.
Therefore, if you want your business to succeed and break through the clutter, you need to think about what will set you apart from the competition. A great way to do so is by writing a mission statement! A mission statement can help you craft brand communications (e.g., press releases, advertising campaigns, marketing efforts, internal statements) and build a strong connection with your target audience. Why? Simple. It is a concise and straightforward way to describe who you are and what you stand for.
6. Find a location
As we mentioned above, in Florida, the number of coffee shops grows by the minute. Therefore, finding the right location for your business is key to its success. A successful coffee shop does not necessarily need to be located in highly populated areas or big cities. Small towns can be equally if not more profitable when chosen correctly.
For example, based on a study published by smallbiztrends.com, one of the top small cities to open a coffee shop business in Hialeah, FL. The key is to find a niche and go for it!
Other promising cities in Florida include Orlando, Jacksonville, Tampa, and St. Petersburgh.
7. Acquire all necessary equipment
After you find the perfect location for your shop, you will need to acquire all the necessary equipment. It might not seem like it, but running a coffee shop requires much more than a commercial espresso machine and a couple of tables.
Based on experience, a detailed coffee shop equipment list can set you up for success. So, here is what we suggest you acquire first:
Automatic coffee dripper maker
High-quality espresso machine
Industrial coffee grinder
Industrial blenders
Refrigerator/Freezer
Oven & Toasters (if you are planning on serving snacks and pastries)
Ice machine
Display cases
Shelving/Storage
POS System
You will also need a few smaller items such as:
Frothing pitchers
Knock boxes
Measuring cups/spoons
Digital scale
Frothing thermometer
Variety of mugs and cups
Condiment organizers
Espresso tampers
Silverware/utensils
Syrup pumps
Glass decanters
There are many other things you will need to get your coffee shop ready for customers. Keep in mind that most coffee businesses today are all about the experience. So, you will probably need to invest part of your budget in developing a unique concept. A concept brought together by decorative and functional elements that can set you apart from every other shop in town.
8. Hire the right staff
In the restaurant & beverage industry, having efficient and committed employees is essential for your business to thrive. In other words, this type of company relies heavily on customer service.
Thus, when it comes to coffee shops, your staff becomes your brand's face and heart.
As a result, you need to make sure you are hiring the right people for your business. Below a list of the most prevalent qualities to look out for when hiring baristas and staff for your shop:
Good interpersonal skills
Great communication abilities
Highly dependable
Good problem-solving skills
Ability to use positive language
Hardworking
Excellent emotional intelligence
Team player
Ensure you're taking the time to identify top employees with outstanding qualities by thoroughly vetting candidates throughout your recruiting process. Make sure you follow these steps:
Review the resume
Ask for personal and professional references
Hold in-person interviews
Schedule a trial day
9. Promote your business
As a first-time entrepreneur, your capital might be limited. And so, marketing might not be at the top of your priority list. However, promoting your business is the last step in the process — and one of the most critical phases when opening a coffee shop.
Thus, even if your marketing budget is not massive, you should include low-cost strategies. These tactics focus on grassroots marketing and have proven to be very successful when done correctly.
A few examples include:
Creating appealing social media accounts on popular platforms like Instagram, Twitter, and Facebook.
Handing out flyers around neighboring communities.
Partnering with other local businesses.
Offering coupons and discounts for first-time customers.
Developing a loyalty program.
Having clear and eye-catching signs to attract passersby.
Advertising in local newsletters or magazines
And more
Once you start making profits, you can invest in more long-term and high-cost marketing tactics that can help you draw in bigger crowds a reach a broader audience.
More on business promotion HERE.
Frequenlty Asked Questions
1. Is opening a coffee shop a good idea?
Coffee shops, like any other business, can be very lucrative endeavors if managed effectively. According to recent reports, a small to medium-sized coffee shop owner can make between $60,000 to $160,000 per year or $5,000 – $13,500 a month. More so, the global coffee shop market is forecast to keep growing in the next couple of years and is expected to be worth $237.6 billion by 2025.
Thus, if you are looking for a profitable business with high demand and room to grow, then opening a coffee is a good idea.
2. How much does a coffee shop franchise cost?
Prices for a coffee franchise vary drastically depending on a few factors, including size, recognition, and specialty. For instance, a coffee shop franchise that sells only coffee can range from $60,000 to $550,000. In contrast, a franchise that serves other food and beverages (e.g., paninis, bagels, sweets, smoothies, chips) runs between $100,000 and $650,000.
And if you are looking to purchase a well-known brand such as a Starbucks or Dunkin Donuts licensed shop, you are looking at roughly $315,000 to start.
Nonetheless, you need to consider many other additional expenses not covered within the franchise cost, such as utilities, equipment, wages, taxes, and more.
3. Is coffee taxable in Florida?
It is not uncommon for first-time coffee owners to ask if beverages sold in their business are subject to tax. In Florida, drinks such as bottled water, coffee, and tea are generally non-taxable unless sold for consumption on the premises.
However, you can read more about food taxability in Florida here.
To learn more on how to start your own coffee shop checkout my startup documents here
Please note: This blog post is for educational purposes only and does not constitute legal advice. Please consult a legal expert to address your specific needs.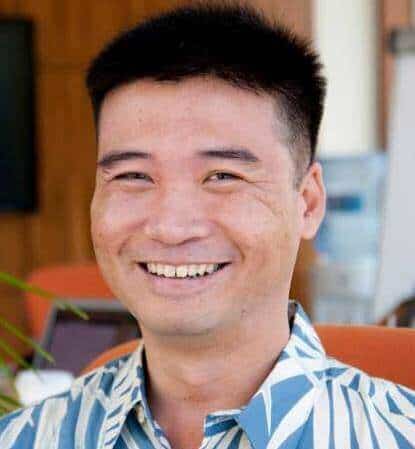 Hi! I'm Shawn Chun
My adventure in coffee began when I first launched my first coffee shop back in the early 2000s. I had to figure out so many things on my own and to make it worse within 2 years of opening two large corporate coffee chains moved in just blocks away from me!
As I saw smaller and even some larger coffee shops in the neighborhood slowly lose customers to these giant coffee chains and slowly close up shop, I knew that I had to start getting creative…or go out of business.
I (like you may be) knew the coffee industry well. I could make the best latte art around and the foam on my caps was the fluffiest you have ever seen. I even had the best state-of-the-art 2 group digital Nuova Simonelli machine money could buy. But I knew that these things alone would not be enough to lure customers away from the name brand established coffee shops.
Eventually, through lots of trial and error as well as perseverance and creativity I did find a way to not only survive but also thrive in the coffee/espresso industry even while those corporate coffee chains stayed put. During those years I learned to adapt and always faced new challenges. It was not always easy, however, in the end, I was the sole survivor independent coffee shop within a 10-mile radius of my location. Just two corporate coffee chains and I were left after that year. All told the corporate coffee chains took down over 15 small independent coffee shops and kiosks and I was the last one standing and thriving.
Along the years I meet others with the same passion for coffee and I quickly learned that it is not only "how good a barista is" that makes a coffee shop successful, but the business side of coffee as well.
Hence why I started this website you are on now. To provide the tools and resources for up and coming coffee shop owners to gain that vital insight and knowledge on how to start a coffee shop successfully.
Stick around, browse through my helpful blog and resources and enjoy your stay! With lots of LATTE LOVE!
Shawn