Coffee consumption statistics show that 150 million Americans drink coffee every day and that, on average most people drink up to 3.5 cups a day. Plus, the global coffee shop market is presumed to be worth $237.6 billion by 2025.
As a result, it is safe to say that the coffee industry can be very lucrative! But, is a coffee van or truck a good business? In short, yes.
A coffee van can be a highly profitable endeavor. Not only because coffee is the second highest commodity in the world, but also because mobile shops are one of the fastest-growing segments in the restaurant trade.
More so, according to Concession Nation (the food truck industry leader), the average coffee truck that operates five days a week makes 800 to 1,000 sales per day of coffee sales alone — adding up to $6,000-$15,000 per month or $72,000-$180,000 a year in net income.
Nonetheless, note that many determining factors can negatively (or positively) affect these figures, including size, product offering, brand recognition, location, price range, and more.
But, the most determining factor will be the seed capital or initial investment you put towards your coffee van. After all, you need to break even before you can start making profits!
Startup Costs for a Coffee Van/Truck
As we mentioned before, the initial investment needed to open a coffee shop van will vary depending on various factors. Nevertheless, on average, the cost associated with a coffee truck will run between $25,000 – $80,000 once you factor in:
• Supplies & Equipment
You can run a coffee van without the necessary equipment and supplies, starting with an espresso machine! A commercial espresso machine can cost anything from $4,000 to $10,000, while multi-boiler machines usually start at $10,000. Plus, you will also need paper cups, sleeves, lids, napkins, stir sticks, milk, water, sugar, and of course… coffee!
Coffee is the raw material that can 'make or break' your business. So, naturally, you should buy only invest in high-quality coffee.
As a result, your supplies and equipment budget can range between $4,500-$12,500.
• Alteration/Renovations
In many cases, to fit (and properly operate) the necessary equipment, you will need to make certain adjustments to your van.
According to recent statistics, coffee truck owners spend between $20,000-$30,000 only on vehicle alterations. However, if you secure a truck that was already altered, then your investment will lower considerably.
• Fuel & Parking
Your fuel costs can change based on how far you drive each day and where you are planning to set up shop. For instance, high trafficked areas usually have higher parking fees than rural areas. And filling up your truck's tank in New York will be more expensive than doing it in, let's say, Florida.
As a result, you can expect your fuel and parking costs to range between $300 – $1,200 a month.
• License & Permits
Legal requirements and fees vary widely based on your state and city. But, when opening a coffee truck, you will most likely need to register your van and solicit a business license and a food truck license.
Plus, depending on the location, you may also need a seller's permit, food handler's permit, health permit, and a fire-department operational permit.
The average cost of permits and licenses for mobile shops and food trucks in the U.S. is $1,864. Thus, make sure you set aside between $500 – $2,000 for legalities.
• Point-Of-Sale System
To accept payments and keep track of receipts, taxes, and other financial considerations, you will also need to invest in a point-of-sale system.
However, know that most systems require not only an initial set-up fee but also monthly payments. Depending on the complexity of the system you choose, these range between $300-$900.
• Payroll Costs
Payroll costs can signify a big chunk of your earnings when you include wages, benefits, payroll taxes, and worker's compensation.
More so, more experienced personnel will usually demand higher pay. Thus, as a rule of thumb, your payroll costs should be equal to or less than 35% of your total revenues.
• Other Expenses
Finally, don't forget to budget in insurance policies (for your business and the vehicle itself), event fees, taxes, marketing efforts, professional fees (e.g., accountant, lawyer, designer), and other expenses.
Benefits of Starting a Coffee Van/Truck
Now that you understand the costs that go into developing and operating a coffee truck and what it entails, we can move on to the benefits of this type of endeavor. Below the top five advantages of owning a coffee van:
1. It is the least expensive (coffee shop) option
One of the biggest motivators for opening a coffee van is that it is that when compared to a sit-down coffee shop or coffee shop franchise is requires a more moderate initial investment — making it the cheapest coffee shop option available.
Recent statistics show that, on average, the initial investment needed to set up a sit-down coffee shop ranges between $200,000-$375,000, while franchises can cost up to $650,000 depending on the size, location, and brand.
Plus, you also need to consider other factors such as equipment, staff, permits, and licenses. Once you factor in all of these elements, you realize that what's required to operate a coffee truck is far less than what you need to run a shop, kiosk, or franchise successfully.
2. It offers independence
Another great benefit of owning a coffee van is that you have more autonomy — not only as an entrepreneur but also as a business.
Why? Simple! You are not obliged to stay in one specific location or operate under the same schedule every day. Thus, you can choose to pursue different target audiences and explore various areas to secure the most business.
More so, you do not need to engage in complex leasing contracts, and if something is not working, you can literally move on.
3. It serves as a business trial
Arguably one of the most valuable advantages that a coffee van offers is that it serves as a business trial.
Think of your coffee van as a "lab" where you can experiment, test, and validate not only products and offerings but also locations, hours of operation, price range, business model, and more.
As a result, you can pivot your business or make any necessary changes to ensure more profits and cut down on useless expenses before committing anything more permanent.
4. It is a moving billboard!
Coffee vans (and food trucks in general) offer the added advantage that they are moving billboards.
Based on recent studies, small businesses spend between 5%-8% of their revenue on advertising. And companies in a fixed location usually tend to invest more to create brand awareness and secure a more significant market share or drive traffic to their site.
But coffee vans, as we mentioned before, are moving billboards! Hence, whenever you drive your truck across town, you are getting brand exposure and free advertising. As a result, you could potentially need to spend less money on marketing and grass-root advertising tactics.
5. It supports a growing business
Lastly, consider that if the business is thriving and you wish to open a second "location," securing and adding a second truck is unquestionably a more cost-effective option than expanding to a second permanent location.
Thus, before taking the plunge, consider all the information we provided here today and make sure you have a solid business plan and all the resources you need to make your coffee van business a reality.
Frequently Asked Questions
How much does a coffee shop franchise cost?
The money needed to buy a coffee shop franchise varies greatly depending on two main elements:
The type of franchise you want
The brand name and reputation it has

For instance, buying a franchise that serves only coffee runs between $60,000-$550,000, while a franchise that serves other items (e.g., paninis, bagels, desserts, smoothies, chips) runs between $100,000 and $650,000.

Check out how much it would cost to own your own Starbucks franchise HERE!
Why do coffee businesses fail?
According to a recent survey that studied 200+ coffee shops, more than 50% of independent coffee shops fail within the first five years in business. Experts attribute the high failure rates to owners being "unprepared" to manage this challenging business structure.
The second biggest reason was the absence of a unique brand or a unique selling proposition that could offer clients an innovative customer experience.
Therefore, if you are planning on pursuing a coffee business and want to avoid falling into this statistic, make sure you:
– Do your research
– Develop a solid business plan
– Are committed to offering a solid experience to your clients
– Have a set of traits or qualities that can set you apart from your competition
 
To learn more on how to start your own coffee shop checkout my startup documents here
Please note: This blog post is for educational purposes only and does not constitute legal advice. Please consult a legal expert to address your specific needs.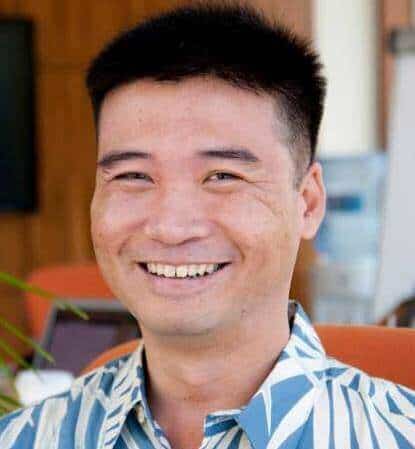 Hi! I'm Shawn Chun
My adventure in coffee began when I first launched my first coffee shop back in the early 2000s. I had to figure out so many things on my own and to make it worse within 2 years of opening two large corporate coffee chains moved in just blocks away from me!
As I saw smaller and even some larger coffee shops in the neighborhood slowly lose customers to these giant coffee chains and slowly close up shop, I knew that I had to start getting creative…or go out of business.
I (like you may be) knew the coffee industry well. I could make the best latte art around and the foam on my caps was the fluffiest you have ever seen. I even had the best state-of-the-art 2 group digital Nuova Simonelli machine money could buy. But I knew that these things alone would not be enough to lure customers away from the name brand established coffee shops.
Eventually, through lots of trial and error as well as perseverance and creativity I did find a way to not only survive but also thrive in the coffee/espresso industry even while those corporate coffee chains stayed put. During those years I learned to adapt and always faced new challenges. It was not always easy, however, in the end, I was the sole survivor independent coffee shop within a 10-mile radius of my location. Just two corporate coffee chains and I were left after that year. All told the corporate coffee chains took down over 15 small independent coffee shops and kiosks and I was the last one standing and thriving.
Along the years I meet others with the same passion for coffee and I quickly learned that it is not only "how good a barista is" that makes a coffee shop successful, but the business side of coffee as well.
Hence why I started this website you are on now. To provide the tools and resources for up and coming coffee shop owners to gain that vital insight and knowledge on how to start a coffee shop successfully.
Stick around, browse through my helpful blog and resources and enjoy your stay! With lots of LATTE LOVE!
Shawn