Opening a coffee shop like any business has its up and downs and pros and cons. It is important to understand the types of pros and cons you will encounter as a new business owner so you can anticipate and prepare for both the good and the bad. One of the main pros of opening a coffee shop business include being your own boss and the bigger cons off opening a coffee shop is self-doubt. In fact, self-doubt may be your biggest challenge when it comes to opening a coffee shop business.
The cons of a coffee shop business include self-doubt, money worries and dealing with unhappy customers. The pros of a coffee shop business include making your own schedule, bringing people together, and great coffee.
Below I will go over in more detail the cons and pros of owning a coffee shop.
The Cons of a Coffee Shop Business
Are You Up to the Challenge?
Opening a coffee shop is a big challenge and it would be natural to have some self-doubt. You're stepping into a new arena and you're starting at ground zero; there's a lot to learn and maybe you're not sure you're up to the challenge. The doubt you're feeling is a form of anxiety which can hold you back or propel you forward. Don't overthink yourself or the situation, instead, take stock of your thoughts and look at them as a way to recognize the first steps in the opening of your coffee shop business.
Make a list of your anxieties and write out how you plan to conquer each one of them. Planning your course of action will go a long way in helping you build your coffee shop business.
Money Worries
It's debatable which worry is worse, self-doubt or money. We all have money concerns but putting your money on the line by opening a coffee shop is bound to cause you to worry; it might even give you some sleepless nights. There is a lot at stake after all. You're not alone in this concern, and one of the best things you can do to alleviate this worry is to take stock of your personal inventory.
What kind of money do you have set aside, and will you need to take out a loan? If so, have you researched where you might get your loan? Have you taken the time to make out a business plan? A business plan is important because it gives you a roadmap to follow by giving you clarity and an understanding of your market. A business plan can help you stay organized as you get your coffee shop up and running.
Why do you want to open a coffee shop? Are you a 'people person' that likes dealing with all kinds of folks? Can you put in the long hours to get the coffee shop on its financial feet? Do you enjoy being around lots of people and multitasking?
Economic Uncertainty
You dream of starting a coffee shop, but you look around and see a coffee shop on every corner. How can you be sure yours will be able to stand up to all the competition in our economy? You can't be sure, but you can do everything within your power to make your coffee shop the best it can be. How can you compete with the .99 coffee down the street at the 7-11? That's a tough one. So, go sample the coffee of your competitors and vow to make yours better.
There is always going to be a certain amount of uncertainty in the economy, so you have to learn to deal with it. One strategy is to hope for the best and prepare for the worst. This will help you not to let it ruin the growth of your coffee shop.
Dealing with Unhappy Customers
Most of the people that come to your coffee shop will be easy to please and easy to deal with. They come there to drink coffee and meet up with like-minded people. But occasionally you'll have an unhappy customer, and your people skills will be tested. The best way to handle this kind of situation is to let the person vent their feelings and tell you exactly why they're unhappy with you and your coffee shop.
Once they've gotten their feelings out and you have listened well to all they have to say, you will have gone a long way in defusing the situation and chances are good that the issue will be resolved. A good thing to do is learn active listening; this kind of listening is done by reflecting back to the person what you hear them saying. This way they know you care, and you'll do your best to resolve the situation.
If you're in need of more customer relations tips, check out this article about owning a coffee shop.
More Work, Less Money
When you start your own coffee business, in fact any kind of business, you need to be prepared to go without the regular paycheck you may be used to getting from the full-time job. For the first few months or maybe years, you may not make as much money as you would like. Are you prepared for this? Are you prepared for getting up early to open the shop and staying late to close it? Can you handle the rush of customers and all the administrative work it takes to run a business? What about the time constraints it will put on your family and on you?
There are daily, weekly, and monthly duties to keep your coffee shop open and a significant amount of these duties will fall on your shoulders. Will you have a partner, or will you go it alone? If you go it alone, do you have family support to get you through the tough times?
The Pros of a Coffee Shop Business 
Profits
You will make profits from your coffee shop, and that's one of the great things about opening a coffee shop. Generating profits from your own business that you put all the blood, sweat and tears into is a great feeling. Once you weather all the storms of coffee shop ownership and get your shop off the ground, making money is one of the greatest joys of running your coffee shop. Your life can change in a very positive way when you begin to realize your goals.
Bringing People Together
A coffee shop is the kind of place that brings people in the community together. By its very nature, it's a place people want to sit and chat over a cup of good coffee. Being part of the community helps us all, networking is done at coffee shops, getting to know and help others is part of a coffee shop atmosphere too. One of the most positive aspects of opening a coffee shop is helping people connect with one another. Operating a coffee shop is an important part of any community.
Making your Own Schedule
If you're used to working a 9-5 job, you will appreciate being able to set your own schedule when you open your coffee shop. At first, you'll work long hours, but eventually you'll be able to set your own hours and this is one of the best things about owning your own business. You'll have more time for your hobbies, your family, and that dream vacation. The lifestyle you create will be your own.
Even though you'll be making your own schedule you should still manage your time by blocking off amounts of time for family, working out, hobbies, and building your business. You can also set up your daily schedule using online templates. Being your own boss can be a pro as well as a con, and without time management you're likely to accomplish much less.
Sharing Great Coffee
Coffee is one of the world's most loved beverages and it has been for hundreds of years. It's a staple beverage for millions of people all across the globe and there are endless ways to drink it. Just the wafting smell of coffee can bring back special memories for people. Wouldn't it be great to be able to serve people their first cup of coffee in the morning and see them enjoy it?  It's their wake-up jolt, it's soothing and tastes great.
There are so many different versions of coffee and your coffee shop can be the one place where the community can sample and enjoy all the different kinds of coffee you offer. Ethiopian, Brazilian, Columbian, the varieties are many, and your customers will enjoy trying them all. As the owner, you are free to explore all the different ways to brew coffee and this in itself will open up a whole new world to you.
Frequently Asked Questions
What are the different ways to brew coffee?
Cold Brew coffee– is brewed without using heat. It takes time but will be worth your time. Use ¾ cup of coffee to 2 cups room temp water. Now let it steep for ten hours and then filter out the grounds. That's all there is to it.

Aeropress– a fast way to brew coffee and a popular cult gadget that's been around for some time. It takes only a few minutes to brew a cup, you can use it when you go camping or are away from home. Aeropress can also make espresso, but you should know that it only makes one cup at a time.

French Press– an easy way to make your coffee, it's a full immersion brewing device that has a metal mesh filter inside of it. Use course ground coffee, pour it into the filter, add water and steep 4-5 minutes and then push the plunger inside the coffee pot down.
What is the best first step to take to start my coffee shop?
Make a business plan. There are multiple ways to get help with this, and it is a process worth going through as it will help you think through all you have to do to get your shop going. There are templates on the Internet you can use and there is a nonprofit association called SCORE (Service Corps of Retired Executives), that has hundreds of volunteers that stand ready to help you with every phase of your business, including a business plan.
To learn more on how to start your own coffee shop checkout my startup documents here
Please note: This blog post is for educational purposes only and does not constitute legal advice. Please consult a legal expert to address your specific needs.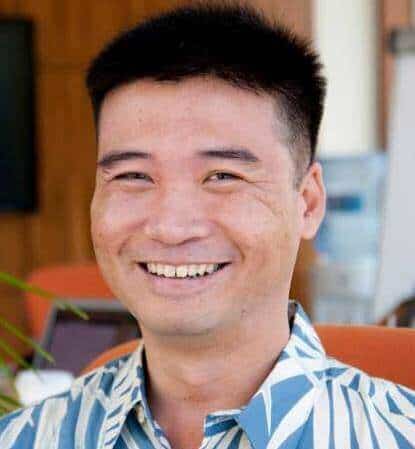 Hi! I'm Shawn Chun
My adventure in coffee began when I first launched my first coffee shop back in the early 2000s. I had to figure out so many things on my own and to make it worse within 2 years of opening two large corporate coffee chains moved in just blocks away from me!
As I saw smaller and even some larger coffee shops in the neighborhood slowly lose customers to these giant coffee chains and slowly close up shop, I knew that I had to start getting creative…or go out of business.
I (like you may be) knew the coffee industry well. I could make the best latte art around and the foam on my caps was the fluffiest you have ever seen. I even had the best state-of-the-art 2 group digital Nuova Simonelli machine money could buy. But I knew that these things alone would not be enough to lure customers away from the name brand established coffee shops.
Eventually, through lots of trial and error as well as perseverance and creativity I did find a way to not only survive but also thrive in the coffee/espresso industry even while those corporate coffee chains stayed put. During those years I learned to adapt and always faced new challenges. It was not always easy, however, in the end, I was the sole survivor independent coffee shop within a 10-mile radius of my location. Just two corporate coffee chains and I were left after that year. All told the corporate coffee chains took down over 15 small independent coffee shops and kiosks and I was the last one standing and thriving.
Along the years I meet others with the same passion for coffee and I quickly learned that it is not only "how good a barista is" that makes a coffee shop successful, but the business side of coffee as well.
Hence why I started this website you are on now. To provide the tools and resources for up and coming coffee shop owners to gain that vital insight and knowledge on how to start a coffee shop successfully.
Stick around, browse through my helpful blog and resources and enjoy your stay! With lots of LATTE LOVE!
Shawn