So you've sorted out where to get the coffee for your coffee shop and how you will serve it – it's time to think about what food you want to offer to go along with it! You may be considering a big operation with lots of options for breakfast and lunch, or you might be envisioning something a little more low maintenance. I'm going to touch on ideas for both and everything in between in this guide to serving food and snacks at your coffee shop. From what licenses to obtain to the actual food and where to get it, by the time you're finished reading you should have a great idea of what setup is best for your cafe as well as how to get started.
Even if you're just opening a kiosk or coffee stand, providing a little something "snacky" for customers is a great way to up your business – they usually won't be able to resist!
Here's what you will need to consider before deciding what food to offer at your coffee shop:
Permits
Food Prep Equipment and Capability
Types of Food
Alternatives to Offer
Suppliers
Permits
Before you do anything you need to acquire the necessary permits for selling food (and drink). You'll likely need this anyway since it is required if you sell drinks with milk or ingredients other than hot coffee. While the paperwork and process may vary depending on your city, you will definitely need a foodservice license issued by the health department. After you apply for the permit online, a health department employee will come to your establishment to make sure you meet their standards (they will also make regular visits following if you are issued a permit). Depending on your state, the cost of the foodservice license can range from $100 to $1000.
Depending on the types of food that you choose to sell, you may also need your employees to acquire food handler's permits. They will need to participate in food safety training to learn proper procedures, regulations, and sanitation practices. The price of this permit can range from $100 to $500. Chances are that you will only need this permit for your employees if you sell items other than pre-packaged, ready to eat foods.
To ensure that you know exactly what is required of your business, it's safest to visit your local health department to make sure you don't miss a step.
Food Equipment and Capability
Before you get carried away thinking about turning your cafe into a full-blown breakfast joint, analyze what limitations might dictate the scale of your food operation. Does your space already have a kitchen? If not, do you have space and budget to add one? If the answer is no, that may narrow down the options for what food you can serve. There is a lot you can do with a little bit of space and an electric hotplate, and it's up to you to be creative about how to use the resources you have. Don't be afraid to brainstorm about your limitations and have a couple of crazy ideas.
Another consideration is training. Whatever you want to make and serve, your employees will have to learn the process as well. This isn't a bad thing necessarily, but get too elaborate, and you might be setting yourself and your baristas up for disaster.
Types of Food
Now for the fun part. What foods should you sell at your coffee shop? Here are some of the pros and cons of providing some of the most common foods for sale in cafes, in order from highest to lowest level of complication:
Full-on restaurant that happens to have espresso – In terms of raw effort and red tape to sift through, this option is going to give you the most trouble. From hiring a chef, kitchen help, and waitstaff to buying more expensive equipment, there is a lot to juggle. You may not even be considering it for that reason, but if you are it can be worth it in the long run. For one, getting sit-down business, while more expensive up front, can make you more money since people are likely to spend more the longer they linger. You will also earn more money per customer since they are purchasing meals rather than single cups of coffee. While it's a totally different animal from the small-scale cafe, it has its benefits.
      2. Soups, sandwiches, and flatbreads – These are a little more ambitious than your typical energy bar and banana setup (especially if you make most of it in-house) but if you think you have the customer base to support a steady lunch business this may be a fun option to try. If you're located near offices or residences, having a low-key lunch menu might tempt mid-day business from people on their breaks. Usually, in terms of equipment, all you need to make this work is a panini press and a small stovetop. You'll also want a few side options like chips or fruit to sweeten the deal. A soup and sandwich lunch deal is pretty popular, and pair it with a cappuccino or delicious iced tea and it will quickly become a customer favorite.
With this type of food, you could also get away with selling alcohol which, of course, is a moneymaker. Having a couple of beers on tap or bottled beer and wine might be the extra push for people to stop in on the weekends or on their way home from work. As you might expect it requires one more permit but isn't that the case with everything else worth having?
     3. Some relatively quick breakfast items – This is a great setup for keeping it lowkey while also providing some sustenance to go along with your customers' morning coffee. After all, you're a coffee joint and coffee is decidedly a morning beverage. A few common breakfast items you will find at cafes are fresh fruit, yogurt and granola, bagels with cream cheese, and then some of the pre-prepared items that will be noted in the next couple of categories. The best part is, all it takes to make these things are a toaster and a few minutes per order to spread on cream cheese or portion out a parfait. It's a minimal effort while offering a delicious and filling product.
     4. Pastries and baked goods – Everybody loves pastries! Having at least one type of baked good at your coffee shop is practically required since there's not much that beats a croissant and a cappuccino (there's a reason it is the official Italian breakfast). If you want to go above and beyond you can make them in-house, or otherwise consider partnering with a local bakery or patisserie (I'll expand on this in the food suppliers section).
     5. Pre-packaged grab and go options – This is pretty much the bare minimum, but if it's easy-peasy you're looking for, having a little something to offer with grab-and-go drinks can up the ante a little bit. Typically pre-packaged items are offered alongside other options but if you are a coffee stand or kiosk this might be all that you have space for. They usually don't require special permits, you don't have to do any of the preparation yourself, and they might generate a few extra dollars per sale, so having some energy bars or desserts right up by the register is a no-brainer whether you offer other foods or not.
If we're talking best-case scenario, some combination of a few of these food items is probably the best way to go. Perhaps you choose a couple of sandwiches to offer as well as some pastries from a local bakery and a basket of apples and bananas next to the register, you're already on your way to having a pretty well-rounded menu.
Don't feel like you have to overdo it, but also don't skimp. As long as customers have something to counteract the coffee jitters, they will likely be satisfied enough with what you provide.
Alternatives to Offer
As you are likely already aware, there is a growing number of dietary restrictions and preferences that need to be accommodated in the restaurant world. As nut allergies become increasingly common and plant-based diets become more popular, you run the risk of alienating some groups if you don't provide adequate options. It is your prerogative to what extent you'd like to indulge these, but the most common diets to consider are those that are vegan, vegetarian, nut-free, gluten-free, lactose-free, kosher, or halal. Some of these may overlap. For example, if you have a vegan option it is also by definition vegetarian. You can also often find bakeries that make "allergen-free" treats that have no gluten, dairy, or nuts but are still very tasty. Having some foods that check two or more boxes will make it much easier to be accommodating. Typically people who have these restrictions are used to having limited options, so as long as you are willing to work with them to find something they can eat you shouldn't have problems. Just make sure your employees know what ingredients are in every food you serve so they can inform customers accordingly.
Food Suppliers
Local bakeries are one great resource for pastries, breads, and other desserts. Do some research about the area where your shop will be located and find out if there are community favorites that you should reach out to first. A recognizable local shop is usually preferable to a random bakery across town. People absolutely love to see brands they know and trust partnering with coffee shops like yours! Most bakeries already have policies and plans in place to supply cafes and restaurants with their goods, so if they have margin there is no reason why you can't serve the best cookies your area has to offer at your own shop (find out how to start a coffee shop bakery here).
This same concept applies to other stores like butchers, grocers, orchards, etc. When possible and affordable, go local. The relationships you forge with other businesses in the area will provide so much support in the early days and create a community that you might not have otherwise. If you can't find a quality provider of a good that you can't live without, consider making it yourself! No good local roasters in the area? Look into doing it yourself. Dying to serve beignets but can't find a bakery that makes them? Go online to shop for deep-fryers. Being known for something that you make yourself is just one more way to gain rapport and in time, you might be the supplier that other shops are buying from!
Frequently Asked Questions
What are some unique, non-traditional drinks that I can serve to attract more customers?
There are lots of trendy new drinks coming to the coffee shop scene that customers will love. One of these is kombucha, a tasty fermented tea that comes in tons of delicious flavors. Another cafe drink that is currently popular is nitro cold brew, an on-tap iced coffee that is infused with nitrogen giving it a smooth and creamy flavor. Also consider alcoholic beverages and signature cocktails, fun non-coffee items like Italian sodas, matcha, or chai, or make up lattes with unique flavors and ingredients.
How do I design the menu for my coffee shop?
You should have a large wall menu with large enough type for customers to read as well as a paper menu. Organize by categories, grouping like items together. Offer adequate descriptions of items that need them that aren't too wordy – customers should be able to find what they are looking for in a matter of seconds. You can browse template ideas on Pinterest or blogs for inspiration, some are downloadable and you can simply write in your cafe's items! Read more about how to design a menu here.
What kind of specials should I offer?
Having some lunch combos like a soup and sandwich meal is great for encouraging lunch business. You could also consider snack baskets like hummus and veggies or meat and cheese trays that can be shared among groups. Limited time offers can generate interest in your food that will make them come back long after the special is over. Even if you don't serve meals, you can offer a slight discount on pastries with the purchase of a coffee.
To learn more on how to start your own coffee shop checkout my startup documents here
Please note: This blog post is for educational purposes only and does not constitute legal advice. Please consult a legal expert to address your specific needs.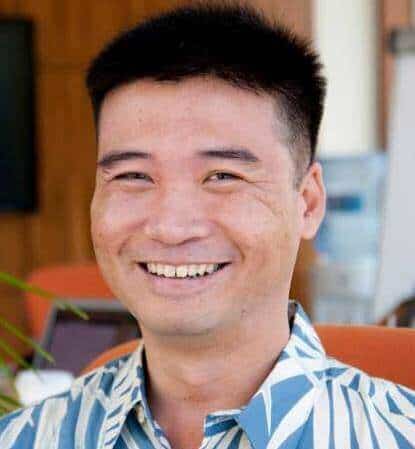 Hi! I'm Shawn Chun
My adventure in coffee began when I first launched my first coffee shop back in the early 2000s. I had to figure out so many things on my own and to make it worse within 2 years of opening two large corporate coffee chains moved in just blocks away from me!
As I saw smaller and even some larger coffee shops in the neighborhood slowly lose customers to these giant coffee chains and slowly close up shop, I knew that I had to start getting creative…or go out of business.
I (like you may be) knew the coffee industry well. I could make the best latte art around and the foam on my caps was the fluffiest you have ever seen. I even had the best state-of-the-art 2 group digital Nuova Simonelli machine money could buy. But I knew that these things alone would not be enough to lure customers away from the name brand established coffee shops.
Eventually, through lots of trial and error as well as perseverance and creativity I did find a way to not only survive but also thrive in the coffee/espresso industry even while those corporate coffee chains stayed put. During those years I learned to adapt and always faced new challenges. It was not always easy, however, in the end, I was the sole survivor independent coffee shop within a 10-mile radius of my location. Just two corporate coffee chains and I were left after that year. All told the corporate coffee chains took down over 15 small independent coffee shops and kiosks and I was the last one standing and thriving.
Along the years I meet others with the same passion for coffee and I quickly learned that it is not only "how good a barista is" that makes a coffee shop successful, but the business side of coffee as well.
Hence why I started this website you are on now. To provide the tools and resources for up and coming coffee shop owners to gain that vital insight and knowledge on how to start a coffee shop successfully.
Stick around, browse through my helpful blog and resources and enjoy your stay! With lots of LATTE LOVE!
Shawn