Coffee shops have been a favorite gathering spot of coffee lovers for the last several hundred years. This comes at no surprise, with the heavenly aroma greeting patrons at the door, and a friendly barista who knows how to create the perfect brew, inspiring anyone to get out of bed in the morning, and face the day. While the love of coffee hasn't changed much over time, advertising has, and this article is going explain the best way to advertise a coffee shop.
The best way to advertise a coffee shop in the 21st century is digitally. Attract your loyal coffee shop patrons through the power of optimizing your digital presence, creating brand awareness and forming a connection within the community.
• Digital Presence – A strong digital presence not only includes building your website, but also managing every space your coffee shop utilizes online. A successful digital presence is highly influenced by cohesive branding, transparency and customer reviews.
• Social Media – Marketing strategies that integrate social media platforms are going to see far more success than coffee shops whose campaigns avoid social media advertising. Social media provides personalization, familiarity, and the ability to provide better customer service.
• Compelling Video – Using video as a way to captivate your target market will bring more awareness to your coffee shop, as well as introduce your team of employees. Video is a great way to tell your story and showcase what makes your coffee shop different from the rest.
• Brand Influencers – Advertising your coffee shop is a great opportunity to link up with local celebrities or brand influencers who have already established a strong connection and built trust within your local community through their digital following. Influential opinions always appeal.
• User Generated Content – With mobile devices and digital platforms easily accessible, your average coffee shop drinker can generate your advertising content for you. Encourage patrons to take pictures and post them to their social media, using your brands personal hashtag.
• Artificial Intelligence – Implementing technological advancements such as artificial intelligence can enhance your customers' experience with options such as a virtual barista taking orders on a customized mobile app, fully integrated with your point-of-sale (POS) system for your cafe.
Coffee drinkers have become immune to traditional advertising methods, which means shops need to get creative with their marketing strategy. The goal is to not only get more consumers through the doors, but to keep them coming back. This requires knowing how your coffee shop stands out amongst the rest, and making those qualities clearly seen in your digital presence.

Branding your coffee shop takes more than designing a logo.
Your branding sets a tone for the quality of coffee and experience your customers can learn to expect. Are you a gourmet cafe with luscious flavors that vary by season? Or an Internet cafe adhering to the caffeine demands of digital nomads, frantically typing about on their laptop computers. Does your coffee shop serve as a meeting place for a younger, vivacious crowd, or a quiet sanctuary for those who prefer to read the local news, as they sip their espresso in peace? No matter what brand of coffee your shop serves, there's a digital following waiting for you to advertise to them. A few important questions to ask:
What makes the coffee at your shop special? Is your barista a coffee genius that can concoct a beverage as unique as the customer ordering it? What is it about your coffee shop that would make someone choose yours over the coffee chain down road?
What age or demographic does your coffee appeal to? Studies show that coffee drinkers are not only increasing in demand, but are also getting younger. Knowing whom your coffee appeals to is going to help guide your digital advertising strategies.
How long will patrons spend in my cafe? Does your cafe entice the entrepreneur looking to cure a 2pm "pick-me-up" and simultaneously answer a few emails? Or, is yours the one-stop-shop, meeting the morning rush with a bagel and cup o' Joe, to go?
Knowing specific qualities about your brand will help you find the best digital platform to advertise your coffee shop, which will gain more awareness and let consumers know you exist. After all, if they don't know you exist, how will they find you?

Being active on social media is vital to coffee shop success.
Advertising your coffee shop on social media may not seem significant, however, if your coffee shop isn't active on social media; you're already losing money. Consumers of all ages depend on search results, reviews, and activity on social media when making their purchasing decisions. Leveraging this social media activity can bring in a tremendous ROI, which can be measured in terms of sales, brand visibility, and customer trust. Some advantages of advertising on social media are:
Wide customer reach – As a local coffee shop, you may not think wide as in miles, but rather demographic range. Social media allows you to create a personalized campaign for a wide variety of people, who share a common love for coffee.
Collect audience analysis – One of the greatest advantages of using social media is the data that can be acquired, letting you know what aspects of your coffee shop are working, allowing you to customize your content to your target audience.
Customer engagement – Social media provides a perfect bridge between you and your coffee shop frequenters, allowing you to engage with them about promotions, special events, and drinks of the week, building stronger customer bonds and loyalty.
Used efficiently, social media is a lucrative tool when it comes to advertising your coffee shop. Social media and coffee shops are similar in the manner that they both provide a wonderful platform for people to network. Networking is a key component to the success of any business. Along with calling attention to your brand, social media presents an opportunity to become more transparent with your community and bring people closer together.
Coffee shops thrive best when they connect with the community.
The best way to connect with people is by letting them know who you are, but how does your community really know what makes your coffee shop different from the rest? Connect with your community by creating compelling content that captures their attention.
Did you know that last year over 500 million hours of YouTube were watched? Using various video campaigns is a captivating way to deliver the message of your brand to your community. Benefits of incorporating video into your marketing strategy can include:
Brand Transparency – Video offers the perfect space to convey exactly who your coffee shop is and the quality of coffee and customer experience you expect to provide. Brand transparency builds customer trust, as well as elicits a positive emotional response in consumers.
Familiarization – Create a sense of familiarization within the community in a video campaign, going live to introduce your team, celebrate the flavor of the season, or promote the deal of the week. The more your community sees you, the more welcomed they'll feel coming into your shop.
Local Influencers – Brand influencers are an increasingly popular way to advertise.
Capturing video of influential people within the community can be very effective at advertising a coffee shop, since these people already have a following that believes in their opinions.
Coffee shops can establish a solid reputation in their community. Community recognition of a coffee shop is essential to its success, since the community is the source of your drinkers. Attend local festivals, link up with other coffee shops, and donate free coffee to neighborhood non-profits. Make it a point to be more helpful to your community, than to sell to your community. This simple switch up of intention can reap massive rewards to your coffee shop success.


Let your coffee shop patrons do the advertising for you.
While marketing budgets may be low, there are several options available to advertise your coffee shop at minimal to no cost. Technology has turned the average customer into a reputable authority in terms of customer reviews. The ability to instantly share thoughts, opinions, pictures, and more with the public, from the safety of a mobile device, has opened the floodgates to User Generated Content. When properly managed to ensure there is no misinformation, UGC can be a remarkable form of advertising for several reasons. Some of these reasons can include:
Customer reviews – There are several outlets that allow customers to leave a review about their experience in your coffee shop. These reviews can be tremendous to your advertising, without you having to expend any money or energy.
Optimal customer service – Even a negative review creates an opportunity for coffee shops to step up to the issue, take necessary responsibility, as well as correct the complaint. This transparency allows coffee shops to build trust in the public eye.
Shareable content – Encouraging your patrons to wear merchandise, take pictures of Latte art, or post their coffee encounters to social media creates a perfect word-of-mouth campaign, which results in the growth of customer bonds and loyalty.
Take advantage of this shift into a digital means by encouraging customers to leave reviews, and use their content as a form of advertising for your coffee shop. Not only is User Generated Content free of cost to you, but an incredible resource to interact with your customers, gaining insight to the peaks of your coffee shop, as well as the ability to properly address the valleys.
Society has made a great leap into the digital era, where most of our interactions take place behind a screen. The best way to successfully advertise your coffee shop is to focus on creating a cohesive brand that is highly visible in the digital domain. Produce captivating content that engages your following and promotes a quality customer experience. Using platforms such as social media is the quickest route to reach your customer, gain brand awareness, as well as develop trust and bonds within your community. Consider valuable resources, such as creating a mobile app that integrates artificial intelligence, optimizing your customer's experience.
Marketing, over time, has become less about selling and more about building relationships. People are tired of being sold to and have become very keen to advertising campaigns that strive only to take their money. Focusing on customer relationships is a guaranteed way to keep customers coming back to your coffee shop for more. This one focus alone will set your coffee shop apart from competitors in your area.
Frequently Asked Questions
How can I open up a coffee shop?
Start by considering the size and location you'd like to open a coffee shop, as well as what features will set you apart from the highly competitive market. Reach out to current coffee shop owners to get an idea of start up costs, and also investors who may be interested in helping you find funding.
How can I make my coffee shop profitable?
Produce a few well designed, company branded t-shirts and offer loyal customers a discount when they come in the coffee shop wearing your merchandise. Not only will the t-shirts generate a profit, but they'll also serve as a walking, talking advertisement in the form of a loyal coffee lover.
How can I attract new customers to my cafe?
A simple way to attract customers to your café is by talking to them. Talk to everybody. Tell everyone about your coffee shop and what makes it special. You are the best spokesperson for your café and word-of-the mouth advertisement is just as powerful as any other marketing campaign.
To learn more on how to open a coffee shop, download our free guide: The Perfect Cup. A Quick Start Guide to Starting a Coffee Shop
Please note: This blog post is for educational purposes only and does not constitute legal advice. Please consult a legal expert to address your specific needs.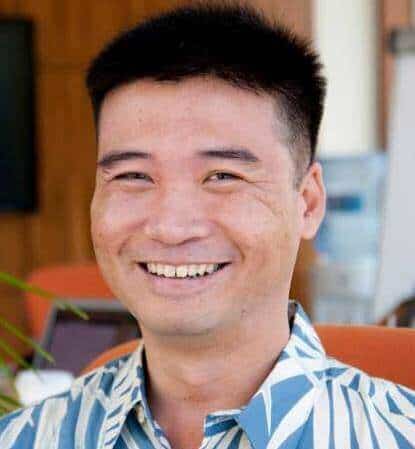 Hi! I'm Shawn Chun
My adventure in coffee began when I first launched my first coffee shop back in the early 2000s. I had to figure out so many things on my own and to make it worse within 2 years of opening two large corporate coffee chains moved in just blocks away from me!
As I saw smaller and even some larger coffee shops in the neighborhood slowly lose customers to these giant coffee chains and slowly close up shop, I knew that I had to start getting creative…or go out of business.
I (like you may be) knew the coffee industry well. I could make the best latte art around and the foam on my caps was the fluffiest you have ever seen. I even had the best state-of-the-art 2 group digital Nuova Simonelli machine money could buy. But I knew that these things alone would not be enough to lure customers away from the name brand established coffee shops.
Eventually, through lots of trial and error as well as perseverance and creativity I did find a way to not only survive but also thrive in the coffee/espresso industry even while those corporate coffee chains stayed put. During those years I learned to adapt and always faced new challenges. It was not always easy, however, in the end, I was the sole survivor independent coffee shop within a 10-mile radius of my location. Just two corporate coffee chains and I were left after that year. All told the corporate coffee chains took down over 15 small independent coffee shops and kiosks and I was the last one standing and thriving.
Along the years I meet others with the same passion for coffee and I quickly learned that it is not only "how good a barista is" that makes a coffee shop successful, but the business side of coffee as well.
Hence why I started this website you are on now. To provide the tools and resources for up and coming coffee shop owners to gain that vital insight and knowledge on how to start a coffee shop successfully.
Stick around, browse through my helpful blog and resources and enjoy your stay! With lots of LATTE LOVE!
Shawn