If you've ever wanted to build your own business, you should know that you can't go wrong with a coffee shop. After all, coffee shops are the fastest growing businesses in the restaurant industry, reaching numbers of up to 7% growth per year.
America is obsessed with coffee, and most Americans drink coffee at least twice a day—once in the morning to get that early jolt of caffeine to start their day and another in the evening to get through those all-nighters at work or school. So, if you want to start your own coffee shop you have a few options. The first one being buying a coffee shop franchise.
There are many coffee shop franchises out there to pick from, so which one do you pick?  Below we've listed the top 5 best coffee shop franchises of 2020, how much you can expect to pay to open a shop of each one, and also why it might be cheaper and more profitable for you to start your own coffee shop business from the ground up.
Just as disclaimer, the cost of buying these franchises (even just for each company) varies quite a bit. The main reason for that is due to the location (a high customer traffic area vs a low customer traffic area) and size of the shop that you're trying to buy. However, these prices also take into account other costs such as leases, permits, improvements, insurance, promotion etc.
The top 5 best coffee shop franchises of 2020
Dunkin' (Startup cost: $228,620 to $1,691,200)
Tim Hortons (Startup cost: $400,000 to $665,700)
Aroma Joe's Coffee (Startup cost: $256,500to $702,000)
The Coffee Bean and Tea Leaf (Startup cost: $183,250 to $615,500)
Scooter's Coffee (Startup cost: $331,000 to $638,000)
Before we continue, you're probably wondering "Where in the world is Starbucks and why is not at the top of the list?" Unfortunately, Starbucks is not a franchise; the company actually owns all of their 29,000 stores that are located worldwide. They do, however, offer certain locations such as airports or malls the licenses to use the Starbucks logo and sell Starbucks branded products.
1.    Dunkin'
Total initial investment: $228,620 to $1,691,200
Royalty Fees: An ongoing royalty fee of 5.9% and an ad royalty fee of 5%
Agreement length: 20 years
Franchise Fee: $40,000 to $90,000
Dunkin' (yes, they dropped the "donuts" from their name; they did this to emphasize that they specialize in primarily serving a great cup of coffee) is according to Franchise Chatter "by far the world champion of coffee franchising".
William Rosenberg founded what is now known as Dunkin' in 1948 when he opened his first coffee/ donut shop called Open Kettle. He later changed the name from Open Kettle to Dunkin' Donuts in 1950. He then started franchising the company in the mid-1950s and the number of locations has since exploded.
Currently, there are over 11,000 Dunkin' restaurants worldwide with around 8,000 of those shops located in the U.S and the rest spread across another 36 countries. The brand is undergoing a major "refresh" effort in order to compete with and lessen Starbucks's dominance in the coffee shop industry.
2.    Tim Hortons
Total initial investment: $400,000 to $600,000
Royalty Fees: An ongoing royalty fee of 4.5% and an ad royalty fee of 4%
Required Capital: $60,000
Franchise Fee: $35,000
Tim Hortons is quick-service Canadian restaurant chain, but its best known for its more breakfast items of coffee and donuts. It was founded in the 1960s by Canadian ice hockey hall of famer Tim Horton and Jim Charade.
The chain grew in popularity in part because of its Smile Cookie campaign in which they would donate the full profit the earned from each cookie sale to local charities, hospitals, and community programs.
The fast-food chain opened seven company owned stores before it decided to start franchising and has since grown to around 4,900 locations. In 2014 Burger King purchased Tim Hortons for an outstanding 11.4 billion (yes, billion) USD.
The company has a long history that has been filled with multiple rebrandings and mergers with other companies. For example, in 1992 the company merged with Wendy's and opened a franchising location that housed both restaurant chains.
3.    Aroma Joe's Coffee
Total Initial Investment:  $256,500 to $702,000
Royalty Fees: Ongoing royalty fee of 8% and an ad royalty fee of 4.5%
Required Capital: $50,000 to $75,000
Franchise Fee: $15,000
Aroma Joe's Coffee was founded in 2000 by brothers Brian and Tim Mckenna and their cousins Brian and Mike Sillon. It is a drive-thru that caters to a younger demographic as it offers a mix of hot and cold coffee beverages and its own energy drinks.
Aroma Joe's Coffee strives to keep a small ecological footprint and only serve ethically sourced ingredients. In fact, Aroma Joe's "proprietary coffee blend uses only the best Arabica beans and is sustainably grown, ethically sourced and craft roasted in Maine by award-winning roasters" and are 100% Rainforest Alliance Certified (Cision PR Newswire).
Currently, Aroma Joe's Coffee has a total of 67 shops and only one of them are company owned.
4.    The Coffee Bean and Tea Leaf
Total Initial Investment: $183,250 to $615,500
Royalty Fees: Ongoing royalty fee of 5.5% and an ad royalty fee of 5.5%
Agreement Length: 10 years
Franchise Fee: $15,000 to $25,000
The Coffee Bean and Tea Leaf was founded in 1963 by Herb Hyman and is a favorite coffee shop franchise and retailer among Americans. They put enormous effort into sourcing their coffee and tea in socially conscious ways by building direct relationships with farmers and other growers.
The company also has a Caring Cup initiative that supports local school children in the U.S and focuses on improving the communities of people who grow coffee and tea.
This franchise prides itself on using only the finest ingredients in the world for their beverages. In fact, on their website they detail how their beans are sourced from "mountaintop to countertop" by using only the top 1% of Arabica beans found in East Africa, Latin America, and the Pacific.
There are currently over 1,200 Coffee Bean and Tea Leaf franchise locations spread across seven U.S states, the District of Columbia, and 29 other countries.
5.    Scooter's Coffee
Total Initial Investment: $331,000 to $638,000
Royalty Fees: An ongoing royalty fee of 6% and an ad royalty fee of 2%
Agreement Length: 10 years
Franchise Fee: $40,000
Scooter's coffee is drive-thru coffee kiosk that makes it easy for Americans to grab coffee on the road and clock in to work or make it to an early class on time. Their motto: Amazing People, Amazing Drinks… Amazingly Fast! truly encapsulates how Scooter's Coffee expects their franchises to run.
The company was founded in 1998 by Don and Linda Eckles and has been franchising since 2001. Scooter's Coffee fully embodies what a coffee shop is expected to be as every drink can be served up hot, iced, or blended, and the menu also includes tea and smoothies along with a selection of pastries and sandwiches.
There are currently 207 locations that are all located in the United States.
Frequently Asked Questions
Why it would be cheaper and MORE profitable to start your own coffee shop business from the ground up?
While buying an existing franchise offers a number benefits such as having income on Day 1, an operating plan and business plan already established, and an established customer base and workforce, the benefits of buying an existing franchise boils down to one main thing—the grunt work of starting your own business has been taken care of.

However, not everyone can just go and buy a franchise. As you may have noticed, the prices for opening one of these franchises cost hundreds of thousands of dollars, sometimes even millions. In fact, even the cheapest one on this list costs a little under $200,000 (but can go up to $615,000). Further, to just qualify you need to have a set of amount of liquid cash at your disposal (usually around the franchising fee).

To learn about how much it costs to open a Starbucks franchise, click here. 
Starting your own business with a clean slate may take a bit more work and a bit longer to get off the ground (probably 2-4 months) but it's a far cheaper option that can generate just much revenue and allows you to have a lot more freedom as a business owner.

Further by starting your own coffee shop you don't have to pay ongoing royalty fees or other franchise fees that come with buying an existing franchise which translates to more money into your pocket.
How much does it cost?
We encourage you to read our article "How Much Capital Do You Need to Open a Coffee Shop" where we do a complete breakdown of the cost of opening a new coffee shop, but to summarize that article, it takes anywhere from $80,000 to at most $250,000 to open a new coffee shop.

This accounts for the different fixed, variable, and one time start up costs that you'll encounter when starting your own coffee shop business.

This allows you to immediately save hundreds of thousands of dollars, and even if the money needed to start your own coffee shop seems way too expensive there is startup capital that is available to small business owners that can cover the brunt of the costs.
How do I even go about starting my own coffee shop?
Starting your own coffee shop from scratch may seem like a monumental task, but don't panic. We've made starting your own shop easy with a FREE guide that's available here. You can also check out our article "Coffee Shop Business Tips for Newbies" where we give you the best tips and tricks to get your coffee shop up and rolling.
To learn more on how to start your own coffee shop checkout my startup documents here
Please note: This blog post is for educational purposes only and does not constitute legal advice. Please consult a legal expert to address your specific needs.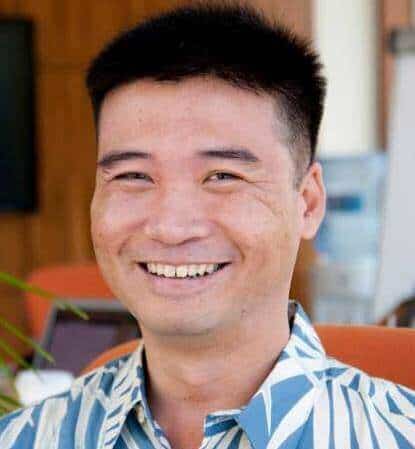 Hi! I'm Shawn Chun
My adventure in coffee began when I first launched my first coffee shop back in the early 2000s. I had to figure out so many things on my own and to make it worse within 2 years of opening two large corporate coffee chains moved in just blocks away from me!
As I saw smaller and even some larger coffee shops in the neighborhood slowly lose customers to these giant coffee chains and slowly close up shop, I knew that I had to start getting creative…or go out of business.
I (like you may be) knew the coffee industry well. I could make the best latte art around and the foam on my caps was the fluffiest you have ever seen. I even had the best state-of-the-art 2 group digital Nuova Simonelli machine money could buy. But I knew that these things alone would not be enough to lure customers away from the name brand established coffee shops.
Eventually, through lots of trial and error as well as perseverance and creativity I did find a way to not only survive but also thrive in the coffee/espresso industry even while those corporate coffee chains stayed put. During those years I learned to adapt and always faced new challenges. It was not always easy, however, in the end, I was the sole survivor independent coffee shop within a 10-mile radius of my location. Just two corporate coffee chains and I were left after that year. All told the corporate coffee chains took down over 15 small independent coffee shops and kiosks and I was the last one standing and thriving.
Along the years I meet others with the same passion for coffee and I quickly learned that it is not only "how good a barista is" that makes a coffee shop successful, but the business side of coffee as well.
Hence why I started this website you are on now. To provide the tools and resources for up and coming coffee shop owners to gain that vital insight and knowledge on how to start a coffee shop successfully.
Stick around, browse through my helpful blog and resources and enjoy your stay! With lots of LATTE LOVE!
Shawn