It's a really exciting part of the process of opening your own coffee shop—finding the right place to do it. You're probably eager to get things up and running. Before you go signing on the dotted line, there are some important things to consider when you're signing a coffee shop lease.
Here's what you need to know:
Details of the space – problems and statistics
Contract stipulations
Timing information
Landlord considerations – responsibilities and personality
The what-ifs
Comparisons
The location of your coffee shop can certainly make or break your business. There's just more to it than many people know. By reading this article, you'll learn some of the things that might get overlooked when you're looking for the perfect space to lease for your coffee shop business. Let's get into it!

Details of the Space
Obviously, you're going to ask about certain things regarding your new space. But you should know more than just the square footage and what the counter space is like. You need to consider other details as well, such as the age of the building, drive-thru window existence (or the potential for one if you're wanting one), what other businesses have been housed in the space, what the electrical statistics are, what type of parking space is available, and what systems support the functioning of the building.
You also need to know what kinds of problems there are with the building before you sign the lease for a coffee shop. Ask what things have had to be replaced during the landlord's ownership of the space. Ask what new problems have arisen so you can determine whether these things will continue to escalate. Find out if there are things that should be taken care of now, and if there are, make sure that the landlord is willing to fix those problems before you take on the lease.
You need to know what you're getting into before your coffee shop lease signing, so the more you ask, the better. Don't be afraid to speak up! You have the right to know about the space you could be opening your coffee shop business in.
Pay Attention to Stipulations
Any lease agreement is going to have some number of stipulations included in the contract language. You need to make sure you know what stipulations are part of your lease agreement. According to Nolo.com, a legal encyclopedia site, there aren't a lot of standard regulations governing commercial leases. These leases are built around the needs of the landlord. 
The landlord for your coffee shop space has the right to stipulate things like what hours you can be open, what things you can serve, where people can park (and where they can't), signage, and more. These are things that can – and will – greatly affect your business's success.
Make certain to read the lease agreement carefully so that you are fully aware of any stipulations that have been included. If you're not sure you fully understand the contract language, bring someone in who can help you uncover the included stipulations so you can feel confident before your coffee shop lease signing.

Timing Information Is Highly Important
A huge part of opening your coffee shop business is budgeting properly. You can't do that if you don't know when lease payments will start and when your monthly payments are due throughout your lease. Make sure you find out when you'll be expected to make your first payment before your coffee shop lease signing.
If there is a better time of the month that will work for you to make your monthly lease payments, you should mention that to your potential landlord. See if it's possible to set your payment date at a time that works for you. At the very least, you'll see how easy it is (or not) to work with this landlord. If there's no flexibility, you might want to consider moving on and finding another space to lease for your coffee shop.
We mentioned above that there could be a stipulation built into the coffee shop lease agreement that limits your business hours to certain times. Make sure you are aware of any limitations on operating hours. You could find yourself severely limited by your lease agreement later on if you don't consider this before your coffee shop lease signing.
One last thing about timing: consider the length of the lease. Some property owners are wary of signing long leases with new tenants. While that's understandable, it's not the best for your coffee shop business. You need to know that you'll have the time you need to get your shop off the ground. Look for lease terms that will give you what you need to be successful.
Landlord Considerations
You also need to consider the landlord specifically. Knowing what kind of person you'll be working with is really important. In a lot of cases, you won't have to deal with the landlord at all. There are some landlords who are more involved with their properties, though, so this is important to consider in your coffee shop lease signing.
One thing you can do is meet with any previous tenants from this particular space to see what they think of the landlord. You can also find other people who have lease agreements with that landlord at other locations. Ask them what they like and dislike about working with the landlord. Ask about any issues that have come up and had to be addressed. Don't feel like you're "snooping around." It's important for you to know what you can reasonably expect when dealing with your landlord.
Landlords aren't all the same. They won't all take on the same level of responsibility. One of the things to consider in your coffee shop lease signing is what things the landlord will be responsible for and what you will be responsible for. If there is an air conditioning problem, will you or your landlord take care of it? What about waste management or minor repairs? Make sure you are clear on what you are taking on in your coffee shop lease signing.
The What-Ifs
This is the part of the lease agreement that will dictate what should happen if certain situations present themselves. Many people have found themselves in predicaments where they're having to be reactive in response to various situations that arise. You want to be as proactive as you can here.
Consider in your coffee shop lease signing some of these somewhat common what-ifs:
What if I become incapacitated and can no longer run my coffee shop?

What if there is a fire or other kind of emergency that destroys the building?

What if I or you (the landlord) pass away?

What if I can't pay my rent?

What if you (the landlord) want to sell the space, will I have the opportunity to buy it?

What if I want to extend my lease?

What if I want out of my lease?

What if I want to renovate the space, will I have that right?

What if I want to transfer my lease, is there a clause for that?
Remember, the more information you can start with, the better off you're going to be. There's no magic number for the things to consider in your coffee shop lease signing. Just be sure to ask any questions you have on your mind because there's a reason you're wondering about it.

Don't Forget About Comparisons
It's a smart thing to do when you're shopping for anything, but it's especially important when you're shopping for a coffee shop lease. We're talking about comparison shopping.
Don't just find one location to consider for opening your coffee shop business in. You need to choose several possible spots and then compare the lease agreements of all of them before making your decision. Going with the first location you find isn't usually the smartest thing to do. At least see what else is out there before going to your coffee shop lease signing.
Have you ever heard the saying, "You don't know what you don't know"? If you never look to see what different options are out there for you to consider, then you don't know what you don't know about. Don't get hung up on one location. Make sure you look around because there could be something better out there that you would have known about if you had taken the time to comparison shop.
If you never compare lease terms to other lease terms, you'll never know if they're better or worse than what you could have gotten. What your options are in terms of a rental property is a very important thing to consider in your coffee shop lease signing.
The most important thing for you to do when you're considering signing a coffee shop lease agreement is to ask questions. You need to know about the details of the space, the contract stipulations, the timing information, the landlord, different what-if situations, and how the lease compares to others you have the potential of signing. Don't take these considerations lightly. The success of your coffee shop depends on them!
Frequently Asked Questions
How much will it cost to rent my coffee shop?
There's no one-size-fits-all answer to this question. We've discussed some of the different kinds of coffee shop businesses in our other articles. They range in size, offerings, and functionality.
Your rent is going to depend on many factors. If you open a little coffee stand drive-thru shop you won't be leasing a property with as much space as a full-service café. Your rent will be significantly lower than that of the café owner.
This is a great place to reiterate that it's important to comparison shop. You should find out what other property owners are renting their spaces for. You don't want to end up paying too much for your coffee shop lease. Find out what the going rate is for similar spaces in the area before you're in your coffee shop lease signing. If you're stuck on a certain space that is priced higher than other places like it then maybe try to negotiate a better monthly payment.
Should the lease for my coffee shop be in my name?
This is a definite no. It's not a good idea to have a business lease signed in your personal name. You want to make sure the lease is in the name of the business.
Even if your business is run by you and you alone, meaning there are no other employees, you want to make sure you establish an LLC or incorporate your business. Then you can have the commercial lease put in the name of the business.
Why is it important to keep the lease separate from you, personally? The same reason it's important to keep all of the business details separated from your personal details. If the business should fail and there are debts to be settled, you don't want the governing authorities to be able to come after you personally. Be smart and set everything up so that you and your personal assets are as protected as possible.
When you blur the lines between business assets and liabilities and your own personal assets and liabilities, you're setting yourself up for possible hardship and headaches later. The smartest thing you can do is make sure that your coffee business financials and your personal financials are as separate as they possibly can be. That includes the coffee shop lease agreement.
To learn more on how to start your own coffee shop checkout my startup documents here
Please note: This blog post is for educational purposes only and does not constitute legal advice. Please consult a legal expert to address your specific needs.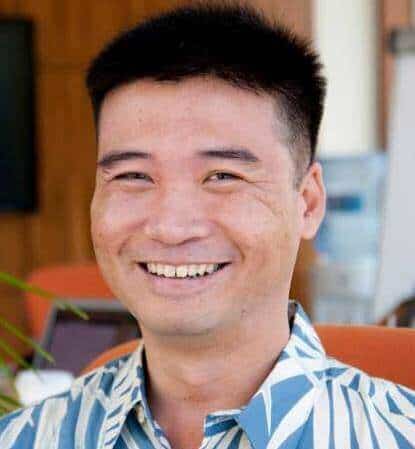 Hi! I'm Shawn Chun
My adventure in coffee began when I first launched my first coffee shop back in the early 2000s. I had to figure out so many things on my own and to make it worse within 2 years of opening two large corporate coffee chains moved in just blocks away from me!
As I saw smaller and even some larger coffee shops in the neighborhood slowly lose customers to these giant coffee chains and slowly close up shop, I knew that I had to start getting creative…or go out of business.
I (like you may be) knew the coffee industry well. I could make the best latte art around and the foam on my caps was the fluffiest you have ever seen. I even had the best state-of-the-art 2 group digital Nuova Simonelli machine money could buy. But I knew that these things alone would not be enough to lure customers away from the name brand established coffee shops.
Eventually, through lots of trial and error as well as perseverance and creativity I did find a way to not only survive but also thrive in the coffee/espresso industry even while those corporate coffee chains stayed put. During those years I learned to adapt and always faced new challenges. It was not always easy, however, in the end, I was the sole survivor independent coffee shop within a 10-mile radius of my location. Just two corporate coffee chains and I were left after that year. All told the corporate coffee chains took down over 15 small independent coffee shops and kiosks and I was the last one standing and thriving.
Along the years I meet others with the same passion for coffee and I quickly learned that it is not only "how good a barista is" that makes a coffee shop successful, but the business side of coffee as well.
Hence why I started this website you are on now. To provide the tools and resources for up and coming coffee shop owners to gain that vital insight and knowledge on how to start a coffee shop successfully.
Stick around, browse through my helpful blog and resources and enjoy your stay! With lots of LATTE LOVE!
Shawn