One of the most important questions to ask yourself when opening a business of any type is, "how will I differentiate myself from the competition?" If you are opening a coffee shop, this is extremely valuable to ask as there could be competition lingering on the same block as you.
Unique things you can sell in a coffee shop include seasonal drinks or food, health drinks or food, coffee beans, a coffee delivery service, tickets to events, or anything besides coffee. This could include, but is not limited to: shopping items, local merchandise, or gift cards.
Differentiating yourself from competition by selling something unique is one way to help your coffee shop stand out in the minds of your potential customers. Below we dive more into the details about how you can bring these differences to life.

Seasonal Selections
Selling seasonal drinks is a great way to mix things up at your coffee shop and stir up interest with your customers. You can base your drinks on a general season, specific holiday, or even a current event.
Themed drinks give your customers something new to try. If they enjoy what you have created, they will look forward to the drink's return when the holiday or season comes around again.
This can also be accomplished with food. Consider ways a snack or sandwich can connect to a particular time of the year. Sometimes it will be the flavors or colors that you use in your creation. Other times, it will simply be the name that you give it.
The Healthy Place to Be
Another way to differentiate yourself among other coffee shops is to be known as the healthy place to be.
You can do this by offering healthy food and drink options, or even exclusively offering healthy food and drink options.
The health food and drink industry is exceptionally large, so it would be easy to fill your coffee shop with all sorts of protein-focused mixes, veggie breakfasts, and vitamin-packed snacks and smoothies.
The only downside with only offering healthier options is that you will miss out on the profit that comes along with traditional coffee shop options such as donuts and pastries. In some cases, this missed profit can be quite significant.
The best way to avoid this lost income is to offer both healthy options and more traditional coffee shop options. This will attract newer health-focused customers while still providing for your donut-loving customers.
If you're looking for more food items to offer at your coffee shop, check out this article!

The 'Buy A Bag' Option
One way to show that you are different from other local coffee shops is by actually marketing and selling your coffee beans. This allows customers to take you home with them in a bag of coffee.
Like most options, this one comes with pros and cons that must be considered.
Pay close attention to whether or not your 'Buy A Bag' customers are coming back and how this works for you financially.
If your customers never stop in for coffee because they decide to start making it at home themselves, you might actually end up making less money in the long run. However, if you price your options properly and keep your costs low, it might not matter if customers start only ordering coffee beans by the bag.
The important thing is to pay attention to your income and expenses so that you never set yourself up for profit loss without realizing it.
Ring Ring – Delivery!
This may not make sense for many coffee shops, depending on the size of your community, but if you can figure out a way to make it work, it would certainly differentiate your establishment!
Just like people love to order pizza and not have to leave the comfort of their own home, people love to receive coffee without too much effort. For some, simply the act of driving somewhere other than work to get their coffee is too much effort.
If you cannot possibly start a delivery option for your local community, consider whether or not there are specific establishments that you could partner with and provide a delivery service to:
Local offices
Gyms
Schools
Daycares
Churches
Community Centers
Wherever people gather, there may be an opportunity for you to deliver coffee. Even if it is only one day a week, this could be a great way for your coffee shop to earn some extra income beyond the regular foot traffic you already experience.
If you do decide to start making deliveries, make sure you are being compensated adequately for your travels. This is an added expense and should be built into your delivery fees appropriately.
Ready to set up delivery for your customers? Get started with this blog.
Open Your Doors
Another thing most coffee shops do not consider selling is the space that they own.
As long as it would not cause any trouble with your lease, there are many ways you can profit off of the real estate you occupy.
This may look like:
Concerts
Poetry Readings
Workshops
Classes
Community Meetings
Comedy Clubs
Religious Groups
And more! As long as your space can hold the amount of people that will be present, opening your doors is an excellent way to increase your reach to potential customers. You could even consider opening for special hours while various groups are meeting to develop a quality relationship with guests and attendees as well as make some extra income.
Depending on the type of event that you have scheduled, you may even be able to sell tickets in your coffee shop for others to attend the event. This may not work for a community meeting or religious group, but could work especially well for concerts, workshops, or any type of performance.
In fact, you could even request a certain percentage of the ticket price, on top of the rental fee. As long as it continues to be affordable, people will likely flock to your space, giving you an opportunity to connect with even more potential customers along the way.

Anything Besides Coffee
When it comes down to it, selling anything besides coffee, drinks, or food is fairly unique to a coffee shop. Usually people think of coffee shops as places to go to eat or drink. However, if you can brand yourself as a place to take care of other business or shopping, you just might be more attractive to your customers than the coffee shop down the street.
Limited Shopping Items
Now it might be a little out of the question to expect you will offer an entire stores' worth of offerings in your coffee shop, but perhaps there are some general store items you could be vigilant about being stocked up on.
The best way to find out what people would want you to offer is to just ask them. You could mention to your people that you were thinking of selling some other items and ask them what they would want to see. You could also develop a survey and hand it out.
Some ideas for basic offerings include:
Groceries such as bread, eggs, sauces, or noodles
Toiletries such as tooth brushes, toothpaste, and deodorant
Office supplies like tape, scissors, and glue
Smaller electronics like watches, headphones, or chargers
Yes, it may seem a bit strange to offer these items in a coffee shop, but it would certainly make your shop unique compared with other local establishments.

Local Merchandise
Selling merchandise from local businesses is a great way to form a bond with other business owners in your area. Establishing relationships could be mutually beneficial in the future should you ever decide to work together on an endeavor.
Even if selling their merchandise is the only way you ever connect, it is still a way to make a little extra income and show your community that you are proud of your town or city.
If your customers know that you are the go-to place for mugs or apparel for any local establishment, they may go to your coffee shop to make a purchase rather than the business they are supporting. This could happen if they are buying multiple gifts for local establishments or if you are just more convenient for them to get to.
Gift Cards
Another unique item worth selling is gift cards.
Selling gift cards allows customers to purchase coffee or other treats for friends and family members without needing to know exactly what they want. It also will give the friends and family members of your customers something that they know they can buy your customer.
Not only does this make a simple gift for people who love your customers, but it also allows your customers an easy way to share their favorite coffee shop with those in their lives.

Frequently Asked Questions
How do I make sure people know what I am selling?
While marketing is the best way to make sure people know about your coffee shop, you do not necessarily want to be marketing every little thing that you sell in your larger promotions. Marketing should focus on your mission and how you will benefit the customer – not the fact that you also sell scissors and gift cards.

If you are concerned about making sure your customers know about your extra offerings, do the following:

● Keep your product area clean (not cluttered)
● Make sure all of your products are clearly visible
● Consider a special weekly post or sign highlighting one of the items you carry
● Create discounts combining a lesser known item with a more popular one
What type of seasonal selections should I consider?
Autumn
In the Fall, think of ways you can mix pumpkin, cinnamon, or apple into your coffee specials. You might consider adding these flavors into your pastries as well.

Winter
If you live in a climate that gets colder in the winter, capitalize on this by offering lots of warm drink options for coffee drinkers and non-coffee drinkers. Teas and hot cocoas are particularly popular at this time. You may also want to add some soups to your menu.

Spring
People often think of bright colored flowers in Spring – this is the time to bring out your colorful flavors. Do not forget about St. Patrick's Day where you can offer a green or minty drink of some sort. Also, remember Easter, where you may want to offer additional sweet options to eat.

Summer
If you are located in a warmer Summer climate, this might be a good time to break out the iced coffee drinks and smoothies. As far as food, consider ways you can offer something people can grab and go as they may be less likely to stop and sit and more likely to be on the go.
To learn more on how to start your own coffee shop checkout my startup documents here
Please note: This blog post is for educational purposes only and does not constitute legal advice. Please consult a legal expert to address your specific needs.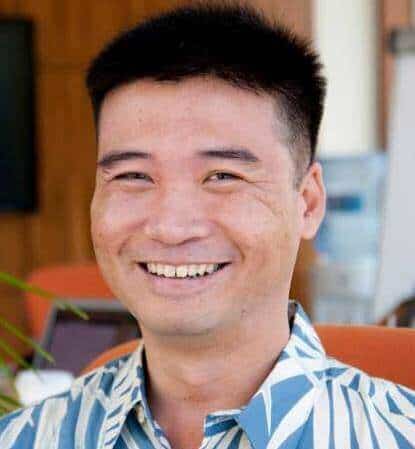 Hi! I'm Shawn Chun
My adventure in coffee began when I first launched my first coffee shop back in the early 2000s. I had to figure out so many things on my own and to make it worse within 2 years of opening two large corporate coffee chains moved in just blocks away from me!
As I saw smaller and even some larger coffee shops in the neighborhood slowly lose customers to these giant coffee chains and slowly close up shop, I knew that I had to start getting creative…or go out of business.
I (like you may be) knew the coffee industry well. I could make the best latte art around and the foam on my caps was the fluffiest you have ever seen. I even had the best state-of-the-art 2 group digital Nuova Simonelli machine money could buy. But I knew that these things alone would not be enough to lure customers away from the name brand established coffee shops.
Eventually, through lots of trial and error as well as perseverance and creativity I did find a way to not only survive but also thrive in the coffee/espresso industry even while those corporate coffee chains stayed put. During those years I learned to adapt and always faced new challenges. It was not always easy, however, in the end, I was the sole survivor independent coffee shop within a 10-mile radius of my location. Just two corporate coffee chains and I were left after that year. All told the corporate coffee chains took down over 15 small independent coffee shops and kiosks and I was the last one standing and thriving.
Along the years I meet others with the same passion for coffee and I quickly learned that it is not only "how good a barista is" that makes a coffee shop successful, but the business side of coffee as well.
Hence why I started this website you are on now. To provide the tools and resources for up and coming coffee shop owners to gain that vital insight and knowledge on how to start a coffee shop successfully.
Stick around, browse through my helpful blog and resources and enjoy your stay! With lots of LATTE LOVE!
Shawn