Coffee shops have different meanings for each person.  Coffee shops have their regulars who just stop by for their morning coffee or tea.  Then there are others who use coffee shops for different activities.  As a businesswoman, I use my local coffee shop has a place I can go that is quiet with no distractions to work on a few things before actually heading to the office.  One thing that helps me get through my morning routine, is the comfort level of the chairs in the coffee shop that they provide.
There are some features you will want to consider when determining which coffee shop chairs are the best.  These features include the compatibility with the coffee shop's style, comfort level, stability and durability, and the ease of cleaning those chairs.
As you shop for your new coffee shop chairs, you want these chairs to be versatile, or adapt to many situations, such as spills, scrapes, dings, and dents.  The cost of the chair would be another determining factor.  Keep in mind that the price of the chairs will vary depending on the style, size, material, and quality of your chairs of choice.
Compatible Style of Coffee Shop
What is the style of your coffee shop? Do you have a more traditional style coffee shop?  Do you have a modern style coffee shop?  Do you plan to have outdoor seating on the patio?
These are just a few questions you can ask yourself as you begin the search for your new coffee shop chairs.  Remember to also keep in mind how spacious your coffee shop is and the design and color palette you have in the coffee shop as you look for your new coffee shop chairs.
What type of atmosphere are you looking to have in your coffee shop?  You have coffee shops that are just your basic coffee shop.  Then you have some coffee shops that look to have entertainment such as an open mic night or a poetry reading.
Mahogany school house chairs and metal stacking chairs are two popular styles of chairs for a coffee shop.
Mahogany School House Chairs VS. Metal Stacking Chairs
Mahogany school house chairs lean more towards a traditional style coffee shop.  The mahogany school house chairs are classic but also are sturdy and great for commercial usage.  They also give a contemporary look.  These chairs are more for a permanent fixture are specific tables or for bars and counter seating.  Mahogany chairs would be used more indoor than outdoor.  You can use them outside if you like, however, you just have to remember to bring them inside if the weather conditions changed.
The Hercules Series mahogany school house chair comes in two different colors.  It is a wood material that is solid hardwood construction.  This chair has a maximum weight capacity of 800lbs.  It is rated 4.6 out of 5 stars for the sturdiness of the chair.  It is rated 4.4 out of 5 stars for the comfort of the chair.  This chair is used in a more traditional setting. https://www.amazon.com/dp/B003S7D3GU/ref=cm_sw_r_cp_apa_i_exR-Eb418JYE0
Metal stacking chairs is used for a more temporary purpose.  Metal stacking chairs are great for commercial seating and can withstand high traffic.  They are very sturdy and can be easily stacked.  Metal stacking chairs can be used indoor or outdoor.
The Jummico metal stacking chair comes in three different colors.  It is a metal material and has a maximum weight capacity of 300lbs.  The legs adapt to a non-slip rubber leg pad that helps prevent the floor from scratching.  It is waterproof, rust-resistant scratch resistant, and easy to clean.  It is rated 4.7 out of 5 stars for the sturdiness of the chair.  It is rated 4.4 out of 5 stars for the comfort of the chair.  This kind of chair can be used as indoor or outdoor seating.  https://www.amazon.com/dp/B07DFCH5FG/ref=cm_sw_r_cp_apa_i_1yR-EbQ9HT5W6
Stacking chairs are lightweight and durable.  Stacking chairs come in round or square, depending on what type of style you have in your coffee shop.  Stacking chairs are perfect if your coffee shop hosts events such as poetry reading or an open mic night.  They stack easily so that you can move them out of the way.
Comfort 
Giving your customers comfort is the main concept.  Keep in mind that no two customers will have the same comfort level.  You will have customers of all ages coming into your coffee shop.  You will also have customers of all shapes and sizes.
You will have the high school students and college students who are either studying or trying to finish a project with either some classmates or by themselves.  These customers usually like to sit on the patio or at a counter height table.
You will have business men and women who will come in and drink their coffee while they catch up on their e-mails, conduct interviews, or even finish up a memo that needs to be sent out in a quick hurry.  These customers usually sit at a low table or a counter height table somewhere ducked off into the corner if possible.
Then you have your customers who like to come in to get that afternoon read.  No matter what they are reading, they want to be very comfortable and just laid back.  These are the customers that will be looking for a nice comfy chair to sit in out of the way.
And let's not forget about our chatty customers.  They are usually easy to please.  These customers are the ones that are meeting up with an old friend to catch up on what is going on in each other lives.  These can also be the customers who like to have their morning routine and sit with friends and just talk about their memories and/or families. The customers are usually not picky where they sit. You will usually see them outside on the patio or at a counter height table.
Stability and Durability
The chairs in your coffee shop need to be stable and durable.  These chairs are going to need to be sturdy, be wear resistance, and last a long time.  They will also need to have reliable hardware.
Your customers are wanting convenience as they come into the coffee shop.  Remember, you are serving your customers while they are handling business, having a friendly conversation with a friend, reading a book, or working on a project.
You are also responsible for their safety, so you will need to make sure your chairs are sturdy.  They need to have sturdy legs and should be able to withstand any visitor.
You are going to want something that is wear-resistant as well as will last a long time.  If you want a soft chair in your coffee shop, it is best to have something that has durable upholstery or is eco-leather.
The Yaheetech accent chair comes in four colors. You can also choose between faux leather or upholstery fabric.  It can withstand a weight capacity of 300lbs.  It is water-resistant and is very easy to clean by wiping it down with a damp cloth.  It is rated 4.9 out of 5 stars for fitting well in small spaces.  It is rated 4.0 out of 5 stars for the comfort of the chair.  https://www.amazon.com/dp/B081T2TGL9/ref=cm_sw_r_cp_apa_i_WmS-EbS4GGSD3
Ease of Cleaning
Cleaning is already a part of the daily routine in your coffee shop.  However, when it comes to the chairs in your shop, you want this to be as easy as possible.  The easier it is to clean the chairs, the faster you will have that chair cleaned and ready for the next customer.   You are going to want to have something that is easy to clean when wet or dry.
Throughout your search for an easy to clean chair, there are a few things you will want to consider.  The first is the occurrence of spilled drinks.  The second is the possible silverware scrapes.  The third is the common dings and dents that will happen.  However, with high-quality wood or metal seating options, these are a few concerns you will not have to worry about.
Once you pick out your chairs? It's time to work on your layout. Check out this article for some help with that!
Frequently Asked Questions
What kind of chair should I have for outdoor seating?
Chairs for an outdoor coffee shop is almost like patio furniture.  Outdoor seating usually has no armrests because they are designed to help organize a large number of seats and ensure high traffic.  Metal chairs are best for outdoor seating.
Can I have folding frame chairs for my coffee shop?
Yes, however, remember that folding frame chairs must be able to withstand any visitor.  Keep in mind the comfort level, stability, and durability, as well as the ease of cleaning a folding frame chair.

To learn more on how to start your own coffee shop checkout my startup documents here
Please note: This blog post is for educational purposes only and does not constitute legal advice. Please consult a legal expert to address your specific needs.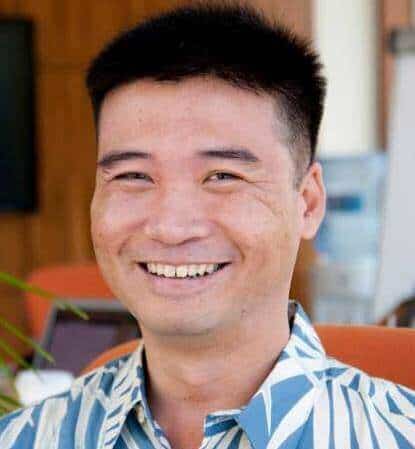 Hi! I'm Shawn Chun
My adventure in coffee began when I first launched my first coffee shop back in the early 2000s. I had to figure out so many things on my own and to make it worse within 2 years of opening two large corporate coffee chains moved in just blocks away from me!
As I saw smaller and even some larger coffee shops in the neighborhood slowly lose customers to these giant coffee chains and slowly close up shop, I knew that I had to start getting creative…or go out of business.
I (like you may be) knew the coffee industry well. I could make the best latte art around and the foam on my caps was the fluffiest you have ever seen. I even had the best state-of-the-art 2 group digital Nuova Simonelli machine money could buy. But I knew that these things alone would not be enough to lure customers away from the name brand established coffee shops.
Eventually, through lots of trial and error as well as perseverance and creativity I did find a way to not only survive but also thrive in the coffee/espresso industry even while those corporate coffee chains stayed put. During those years I learned to adapt and always faced new challenges. It was not always easy, however, in the end, I was the sole survivor independent coffee shop within a 10-mile radius of my location. Just two corporate coffee chains and I were left after that year. All told the corporate coffee chains took down over 15 small independent coffee shops and kiosks and I was the last one standing and thriving.
Along the years I meet others with the same passion for coffee and I quickly learned that it is not only "how good a barista is" that makes a coffee shop successful, but the business side of coffee as well.
Hence why I started this website you are on now. To provide the tools and resources for up and coming coffee shop owners to gain that vital insight and knowledge on how to start a coffee shop successfully.
Stick around, browse through my helpful blog and resources and enjoy your stay! With lots of LATTE LOVE!
Shawn