Starting a small business is no easy task and having a good knowledge base before you start is key to your success. In a world where college degrees are almost necessary, you may think that having your college degree or further education is needed to open your very own coffee shop. But is it?
Do I need to have a degree to open a coffee shop?
A formal degree is not required to open a coffee shop. Experience in the field or in business is encouraged but not needed. Continued education, like certification programs, is also encouraged.
A degree is not necessary, but there are certain things you should know before opening a coffee shop. Read on to find out more.
College Degrees
Much like opening any small business, it's encouraged to have some sort of business background. Again, no formal degree is necessary, but it may give you a leg up you need to get ahead and to understand the possible issues you may face along the way.
If you do pursue a degree, consider receiving a business degree or one in business studies degree. Other potential degrees include finance, marketing, economics, communications, graphic design, or entrepreneurship.
A master's degree in business administration is also helpful in your development as a small business owner. MBA programs also can have specializations in certain fields, like finance, accounting, and marketing that all could be helpful when creating your business.
Local colleges like four-year private or public universities or two-year community colleges also have classes that you could take. Consider looking into one of those institutions to take a class on small business management or entrepreneurship to boost your confidence and knowledge base.
While degrees aren't needed, there are other ways that you can gain the information you need, like through continued education and certification programs.
Certification Programs and Continued Education
A degree isn't important but knowing what you're doing is. Your passion for the coffee industry can take you a long way but knowing what you're doing behind the counter is key.
There are programs available for continued education in the coffee business, like the Specialty Coffee Association's Coffee Skills program. Through the program, you can learn barista skills, brewing, how to keep your business green, and how to roast properly.
Also, within the Specialty Coffee Association, business owners can learn about Coffee Sustainability, which can help teach about how each coffee shop can learn their role in
the coffee industry and how they can become leaders in sustainability.
The Specialty Coffee Association also has a program to teach Coffee Technicians, where applicants can continue to develop their skills and learn how to use different types of equipment.
Boot Coffee Campus launched an eLearning hub, where you can take continuing education courses online or attend workshops. Courses include Roast Profiling Essentials, Roasting Business Fundamentals, and workshops on green coffee and roast profiles.
The International Association of Professionals Career College provides a part-time, online Coffee House Owner Certificate course where they will teach you how to create your business plan, sort out findings, plan your food and menu, and sort out what licenses and insurance you need.
The course also helps with managing your coffee house by teaching students how to hire and train employees, how to keep the business secure, how to manage the daily business of the coffee house, and promote the business effectively—including how to market online and how to compete against large franchises.
When you've solidified your base and know-how to do your coffee shop work, make sure you know how to legally get started.
Legal Knowledge
Whether you've taken a class or learned on the job, understanding the legal structure of opening a business is key.
Planning ahead is what can make or break your business—making sure you have a business plan and a set legal structure will help you not only make decisions but work through any growing pains and opening issues more efficiently.
Before you open your shop, you must register your business name, get a tax identification number, make sure you register for all state, local, and federal taxes, and receive any licenses you may need.
In addition, business owners should familiarize themselves with the Occupational Safety and Health Administration laws and regulations to make sure their business is safe and clean for all customers and employees.
Note that all laws and regulations vary from state to state, so being familiar with your local codes is key. Your coffee shop is subject to zoning approvals, building and equipment permits, safety inspections, among any other approvals your locality may require.
Understanding the number of licenses you may need to get can get daunting, but there are also people who can help. If you are struggling to understand what you need to do, check-in with the U.S. Small Business Administration office in your area.
Practical Experience
Not all educational requirements can be taught through a class. A business owner, especially a coffee shop owner, needs the following traits:
Strong leadership
Focus on health and safety of customers and staff
Ability to stay organized
Strong communication skills
Focus on customer service
Willingness to work long hours
These skills, along with compassion and patience, are not necessarily skills that can be taught in a classroom.
Before you open your coffee shop, you can also work at an existing one to understand how the business is run. If you already have, you can use all that experience in running your new business—both considering what went well and also knowing what could be done better.
In addition to that experience, any sort of practical experience in managing is also encouraged. Knowing how to manage multiple employees—including yourself—is key to making sure the business runs smoothly for you, is a good place to work for your employees, and is enjoyable for your customers.
The most important skill you can bring into your business, though, is your passion. That knowledge about the drink and your appreciation of it is what will drive you through the hardest times when establishing your business.
Know Your Limits—and Understand How to Fix It
Degree or not, you are not going to know everything that goes into building your coffee shop business. That's when you need to create a knowledge base—people around you that have their own education or set of skills that can help.
Whether that's someone in a related business, like a restaurant owner, or a group of small business owners in the area that can help teach you how to run a small business, their experience matters, and it can be shared with you. Learn from their successes and mistakes, and they will be able to learn from you.
If you're looking past just local groups, consider joining a coffee association. The National Coffee Association not only helps its members by having an open line of communication, but they also have information about the industry, consumer insights, discount and insurance programs, and ways to find dedicated, passionate employees.
The Specialty Coffee Association doesn't just provide educational opportunities. They also help their members network, along with providing information about the industry, access to seminars and courses, and having an advocate in the larger industry.
World Coffee Research is a non-profit organization whose mission is to "grow, protect, and enhance supplies of quality coffee while improving the livelihoods of the families who produce it," according to their mission statement.
Any of these organizations, global or local, will have people who are just as passionate as you are about coffee and maintaining a business. Their experience can help build upon your experience as you open your coffee shop.
Opening your coffee shop does not mean you have to have a master's degree in business—it's completely possible to do so with practical experience and an idea. Understanding that it all comes down to creating the best business plan you can, creating a financial plan, and growing from there is really the best way you can start your business.
Check out our list of barista courses HERE.
Frequently Asked Questions
Do I need a degree to become a barista?
No, there are no formal degrees to become a barista. Some franchises require you to be 18 years old, while others may require a high school diploma or equivalent, but no further education is required.
What licenses do I need to start a coffee shop?
Besides the business license, employee identification number, and the sales tax license you need to get when you register your business, there are several other specific licenses you need, including a building permit, food establishment license, and liability licenses.
Do I need a food handler's permit to start a coffee shop?
Yes. If you are brewing coffee on-site, you will need to have a food handler's permit, and all your employees will have to be certified on how to handle food to work in your shop. The certificate is typically valid for around two years but check with your state regulatory organization for exact information.
To learn more on how to start your own coffee shop checkout my startup documents here
Please note: This blog post is for educational purposes only and does not constitute legal advice. Please consult a legal expert to address your specific needs.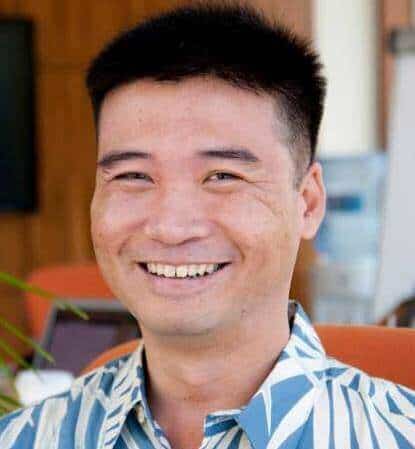 Hi! I'm Shawn Chun
My adventure in coffee began when I first launched my first coffee shop back in the early 2000s. I had to figure out so many things on my own and to make it worse within 2 years of opening two large corporate coffee chains moved in just blocks away from me!
As I saw smaller and even some larger coffee shops in the neighborhood slowly lose customers to these giant coffee chains and slowly close up shop, I knew that I had to start getting creative…or go out of business.
I (like you may be) knew the coffee industry well. I could make the best latte art around and the foam on my caps was the fluffiest you have ever seen. I even had the best state-of-the-art 2 group digital Nuova Simonelli machine money could buy. But I knew that these things alone would not be enough to lure customers away from the name brand established coffee shops.
Eventually, through lots of trial and error as well as perseverance and creativity I did find a way to not only survive but also thrive in the coffee/espresso industry even while those corporate coffee chains stayed put. During those years I learned to adapt and always faced new challenges. It was not always easy, however, in the end, I was the sole survivor independent coffee shop within a 10-mile radius of my location. Just two corporate coffee chains and I were left after that year. All told the corporate coffee chains took down over 15 small independent coffee shops and kiosks and I was the last one standing and thriving.
Along the years I meet others with the same passion for coffee and I quickly learned that it is not only "how good a barista is" that makes a coffee shop successful, but the business side of coffee as well.
Hence why I started this website you are on now. To provide the tools and resources for up and coming coffee shop owners to gain that vital insight and knowledge on how to start a coffee shop successfully.
Stick around, browse through my helpful blog and resources and enjoy your stay! With lots of LATTE LOVE!
Shawn