Generally held to comparatively high standards of ambiance, individuality, and innovation by the public, coffee shops have traditionally functioned as work-social hybrid spaces for writers, musicians, painters, sculptors, and many other types of artists. As a result, local creative communities play a significant role in determining which coffee shops are the best, and which are the worst. While free Wi-Fi access, tasty menu items, reasonable prices, and a stylish environment all help to forge loyalty between your business and your customers, these factors aren't enough to establish your venue as a crowd favorite. An easy, fun way to engage your customers is by selling them captivating merchandise from your coffee shop. We'll give you the basic rundown.
While high-quality food and drink are essential to the success of any privately-owned coffee shop, delicious items are not enough to establish one as a vibrant establishment brimming with personality, potential, culture, or communal commitment. However, one of the best ways to secure a coffee shop's significance in a community is by selling customers unique merchandise.
6 incredible merch ideas for your coffee shop are:
1) Stickers, Magnets, Pins, and Patches, which are perfect for children, teenagers, young adults, and artists;
2) Clothing, which is ideal for everyone;
3) Hats, which have the potential to appease multiple groups of people;
4) Stationery, which tends to be popular among those who frequent coffee shops;
5) Mugs, Tumblers, and Thermoses, so customers can enjoy your ambiance from home, or while on the go, and finally;
6) Specialty Coffee, so people can fall in love with your coffee from their dining room table, and proceed to return for more.
Keep in mind that coffee shop lurkers are generally people with unique, very specific tastes. Thus, they are unlikely to buy anything that doesn't thoroughly excite them, or at least grab their attention. In other words, selling merchandise with only your logo stamped or sewn on won't be enough to convince customers to buy your items.
If you're not an artistic type, one of the best things you can do is look to creatives in your community for assistance. Hire them to create captivating art, come up with memorable text for your items, and design your merchandise thoroughly with extra attention to detail. Additional benefits to taking this approach include:
The opportunity to cement yourself among the same creatives who are likely to become one of your primary customer bases,

The chance to prove that your business is more concerned with compassion, community, and creating opportunity than ease and convenience,

The fact that creatives know all the best and cheapest places to print items, and often maintain strong professional relationships with their printers, and

The ability to support local businesses and creatives in your community while putting some actual money in their pockets!
Furthermore, creatives are always a few steps ahead of the trends, making them fashion, art, thought, and aesthetic trailblazers empowered by their artistic abilities, distinctive approaches to life and art, and respective communities of like-minded people.
The best coffee shops aren't always the ones with the best tea or cookies. Oftentimes, they're the ones with the most personality, compassion, and genuine interest in their customers and community. That's because coffee shops are more than just businesses. Rather, they're spaces with very high cultural expectations and intricate histories that must be considered and integrated by any and every coffee shop owner looking to succeed.
Establish an enjoyable, exceptional culture geared towards your customers' wants and needs. Then, watch as the rest falls into place.
Of course, if building a culture and creating specialized merchandise isn't exactly your "cup of tea," free, high-speed Wi-Fi paired with an abundance of electrical outlets are the perfect alternative.
Just kidding — kind of.

Stickers, Magnets, Pins, and Patches
If you're looking to become a favorite among creatives and families alike (children and teenagers specifically), look no further than stickers, magnets, pins, and patches.
Little trinkets are awesome. Moreover, they're cheap, fun, easy, versatile, and have made an impressive comeback in recent years. As a result, sporting coffee shop gear of this nature is considered extremely stylish in most social circles. People are always looking for this stuff and especially enjoy acquiring it from small, niche businesses.
Regarding pins, mini ones (also referred to as "buttons") tend to be among the most popular. Most places that sell buttons keep dozens in a small, wide container by the cash register with their prices written on a card right next to it. Additionally, the designs you want on stickers, magnets, pins, and patches are things that speak to people on a slightly more personal level. While centering your logo on these items is understandable, items with more personality tend to fare better. The exceptions to this statement are patches and decal stickers. Logos sell well on these.
People enjoy pins with cute animations, goofy pairings, strong color schemes, and sometimes even remarkable text that makes them chuckle. The same goes for stickers and magnets. Luckily, these are all things that are very easy to tie back into your coffee shop aesthetic!
For example, an adorable, smiling mug of coffee with some sort of a short coffee pun written beneath it is not just the kind of thing people would happily buy — possibly even each time they order something from the menu. Merchandise of this nature also helps establish customer loyalty. 
Still, figuring out what to put on these items can be tricky if you're not familiar with these types of aesthetics. That's why if you're not sure what to put on them, aliens are always a good bet. Everyone loves a good alien.
Metallic finishes also go exceptionally far with these types of items.

Clothing
We don't know why this is, but people go nuts when it comes to buying apparel — and truthfully, we're no exception. Seeing a well-made crewneck sweatshirt gets our adrenaline pumping just as much as the next person.
Selling t-shirts, sweatshirts, and sweatpants can prove particularly lucrative for coffee shops. Not only do these serve as big, loud advertisements anytime your customers wear or gift them, but they also bring in pretty good money, make people even fonder of your business, and can be advertised as gifts during certain times of the year.
Again, this isn't the kind of thing where you just want to have a bunch of clothing with your logo stamped right in the middle. A few pieces of this nature are useful, since minimalists tend to go for them, but can still be made slightly less mundane. For example, placing the logo beneath the shoulder (think breast pocket) on a black t-shirt creates the clean, traditional, minimalist look many people crave.
Now, if paying creatives to help you design clothes with remarkable aesthetics isn't your ballgame, there are other options. One of these is offering your clothes in a variety of colors with intelligent logo sizing, color scheme, placement, and aesthetic. Another is paying extra attention to the styles you're ordering.
For example, some people are extremely committed to v-neck t-shirts, and won't even consider wearing anything with a standard, rounded neck. Others might go for especially baggy sweatpants and form-fitting t-shirts to make a fashion statement. That's why offering style options and variety goes far when selling apparel.
Relatedly, the fabric and material you choose for your apparel makes a difference. Most people don't want to dish out $15 for a heavy, rough, itchy, baggy garbage bag of a t-shirt. Some might, but most of your customers won't be as convinced. 
While most of the advice in this article applies specifically to intricately designed artistic or minimalist merchandise, pairing design, variety, and/or wonderful fabrics can really make your apparel fly off the shelf. People will be especially impressed by clothes with pockets, drawstrings, and other understated conveniences.
Hats
You might be wondering why we didn't just include hats in the previous section. Hats are apparel too, right? Right. However, hat fashion is niche and specific enough that it warrants its own section in this article.
Basically, there are people in this world who adore hats and wear them religiously — and then there are those who don't. Most people fall into the latter category. Thankfully, we have our own in-house hat expert here to break it down for those unfamiliar with hat fashion.
There are many different types of hats, and each style speaks to distinct types of people. While it may feel tempting to order a variety and see what people gravitate towards, a better idea is to observe your customers and take note of what they're wearing. This allows you to decipher their tastes and preferences and prevents you from tossing money down the drain.
Understanding what your customers want, like, and need is always essential when it comes to making and selling merchandise, but additionally necessary in the context of hat-wearers. This subset of people is selective, specific, and passionate when it comes to buying hats. As a result, they're unlikely to buy a hat from your shop merely because it's a hat. They'd rather hold out for and splurge on something they can fall in love with daily, and wear regularly over the coming years.   
Here's a basic rundown on the two most popular types of hats: 1) brimmed caps, and 2) beanies.

Brimmed Caps
The three primary types of brimmed caps are baseball caps, dad hats, and snapbacks.
Baseball Caps: These are the traditional, old-school, standard bread-and-butter hats that have yet to go out of style or lose their marketing value. While they may not speak to everybody or impress the more dedicated hat lovers among us, baseball caps are by far the safest choice when it comes to selling hats. People appreciate styles that are cheap, reliable, enduring, and timeless. Baseball caps are exactly that.
Dad Hats: The quintessential "dad hat" has risen to popularity in recent years, especially among teenagers and young adults. Here, the section that covers the head still maintains the general softness, malleability, and close fit of the baseball cap. What sets them apart is the simple fact that with dad hats, the brim protrudes slightly. In other words, the longer brim lightly revamps the traditional baseball hat. The result is a style that is equal parts geeky retro and contemporary chic.
Snapbacks: Out of the three brimmed caps listed here, these are probably the least likely to sell in a coffee shop. That's because snapbacks are socio-fashion statements first, and hats second. They tend to be the most popular with athletes, mainstream musicians, and men who enjoy bold, casual aesthetics. The hat's build involves a tough, raised section that encompasses your head, but still leaves a few inches of empty space between your hat and your scalp. This is accompanied by a sturdy, prominent lid. Snapbacks not only come with intense social context but are also not the most convenient, affordable, or comfortable option. Nevertheless, they look terrific on wearing. While these might not be the most popular hats among standard coffee shop regulars, they're still worth keeping in mind should the moment arise.
Beanies
The three most popular kinds of beanies are fold, skater, and brimmed.
Fold Beanies: These beanies are extremely popular, versatile, durable, warm, and snug. They're stylish, great for cold weather or bad hair days, and have yet to go out of style. Most small businesses and independent creators who sell beanies tend to go with the fold style. This is because fold beanies have a thick fold in the front to create reliable hold, and don't sit snuggly on your head — meaning that customers of all ages, sizes, and aesthetics can reap their many benefits.
Skater Beanies: Small, snug, comfy, minimal, and almost always without folds, skater beanies tend to be standard among creative and alternative communities. They also look terrific. The only problems with them are:
Unlike fold beanies, they are worn directly against the hair and scalp and, therefore, are not one-size-fits-all

Because they sit tightly on the scalp and hair, they stretch and lose their shape easily

They don't necessarily appeal to everyone
Still, if you notice your coffee shop is attracting customers who wear these, skater beanies may very well be worth investing in. Those who wear them generally struggle to find ones that fit well, look right, and appeal to their sense of style. Selling skater beanies that fulfill these requirements is a great way to turn those customers into regulars.
Brimmed Beanies: These are nearly identical to skater beanies, except they have a sturdy, medium-small brim at the front. Essentially, they are a combination of the baseball cap and the skater beanie. Sadly, good, brimmed beanies are even harder to find than sufficient skater ones. Being the coffee shop that sells super awesome brimmed beanies can bring you additional money, loyalty, and business — so long as you have the right customer base for them.
People especially love hats with silky, stitched-on logos, slogans, or designs on the front. Just ensure that whatever hats you sell are resilient, sleek, and well-fitted.
Stationery
People come to coffee shops for numerous reasons. Some come to eat, and some come to drink. Others show up to socialize, work, relax, create, or read. Depending on how you've branded your coffee shop, families looking for child-appropriate spaces might frequent your coffee shop with their children. University students also tend to gravitate towards the steady, stable study space their favorite coffee shops provide.
Something all these people have in common is that they probably not only blow through stationery but enjoy buying an excess of it as well. From students to business professionals to creatives to children, most of your customers probably find themselves needing or wanting to buy new pencils, pens, notebooks, and binders on a regular basis. Oftentimes, they might already be comfortable and situated at your coffee shop before they realize they're short on these supplies they need to work and can buy them from you so they don't have to leave. What a great place to hang out!
Basically, any coffee shop that doesn't sell stationery (pencils, pens, notebooks, and binders) is missing out on a major financial opportunity, and simultaneously, a powerful way to bond with customers on a more personal level.
Seize the opportunity!
Mugs, Tumblers, and Thermoses
People love buying mugs and other types of beverage containers from their favorite coffee shops! Mugs are the most popular item in this category and are best sold in their two most common size options: 8 oz and 16 oz. So long as your mugs are attractive, visible to customers, and reasonably priced, they should fly off the shelves.
Similarly, many of your customers probably have busy, hectic lifestyles that demand they constantly shift from place to place. You'll probably see this the most with business professionals and university students. That's why tumblers and thermoses sell nearly as well as standard mugs. Not only do they appeal to both hot and cold beverage lovers, but they're also a fantastic way to get your logo and brand out into the world.
Specialty Coffee
Above all, your business is a coffee shop that sells — yes, you guessed it — COFFEE! If you feel your in-house coffees and blends are special, delicious, and unique enough (and people seem to enjoy them) you should absolutely be selling fresh, well-packaged beans and grounds. If not, that might be something to change moving forward!
Here's the thing — people are always searching for excellent coffee they can make at home. Religious coffee drinkers tend to drink coffee around the clock— meaning that even if you aren't a 24/7 establishment (which, let's face it, most coffee shops aren't), they'll still need something to get them through the night. If they have a bag of your delicious coffee in neat, attractive, easily maneuverable, non-catastrophic packaging…well, they'll be regular buyers of your coffee beans and coffee grounds! That's the nature of adamant coffee drinkers — they find a coffee they love (one that is marvelous and easy to make), and then they stick with it forever. That's why packaged beans and grounds are a significant source of income for coffee shops that sell them.
Some customers might even enjoy the idea of you grounding fresh, aromatic beans right in front of them, and then packaging that coffee in a memorable, special, and beautiful way. Personal touches of this kind go extremely far with customers and remind them why they chose to visit your coffee shop over some more popular, corporate alternative.
Similarly, selling hot chocolate may also prove lucrative if yours is especially tasty and magical. Packaged in a nice, aesthetically-pleasing tin — and especially during the fall and winter seasons — they should sell well, quickly, and consistently.
Frequently Asked Questions
Should I keep business cards or general flyers around in addition to my merchandise?
Yes. One or both should be noticeable and accessible to customers. Usually, the best place for them is directly by the cash register. They should also be included with any merchandise customers buy. Be sure to throw in a few extra cards and/or flyers for them to pass on to their friends!
Do holidays, seasons, or specific times of year factor into how I should select, arrange, and sell my merchandise?
Absolutely! We find adjusting order quantities to accommodate those themes to be extremely beneficial. Additionally, seasonal favorites should always be arranged front and center in the coffee shop so that customers have no choice but to view them. Take the trouble to make your setup aesthetically appealing so it really stands out. (More tips on how to do that here.)
To learn more on how to start your own coffee shop checkout my startup documents here
Please note: This blog post is for educational purposes only and does not constitute legal advice. Please consult a legal expert to address your specific needs.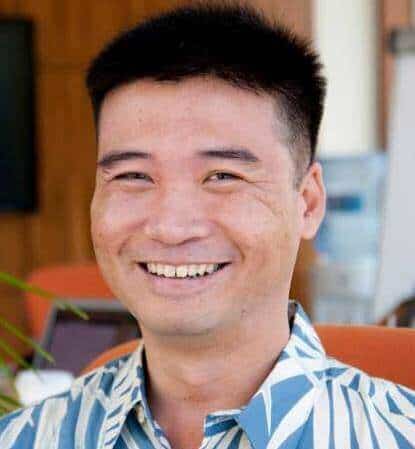 Hi! I'm Shawn Chun
My adventure in coffee began when I first launched my first coffee shop back in the early 2000s. I had to figure out so many things on my own and to make it worse within 2 years of opening two large corporate coffee chains moved in just blocks away from me!
As I saw smaller and even some larger coffee shops in the neighborhood slowly lose customers to these giant coffee chains and slowly close up shop, I knew that I had to start getting creative…or go out of business.
I (like you may be) knew the coffee industry well. I could make the best latte art around and the foam on my caps was the fluffiest you have ever seen. I even had the best state-of-the-art 2 group digital Nuova Simonelli machine money could buy. But I knew that these things alone would not be enough to lure customers away from the name brand established coffee shops.
Eventually, through lots of trial and error as well as perseverance and creativity I did find a way to not only survive but also thrive in the coffee/espresso industry even while those corporate coffee chains stayed put. During those years I learned to adapt and always faced new challenges. It was not always easy, however, in the end, I was the sole survivor independent coffee shop within a 10-mile radius of my location. Just two corporate coffee chains and I were left after that year. All told the corporate coffee chains took down over 15 small independent coffee shops and kiosks and I was the last one standing and thriving.
Along the years I meet others with the same passion for coffee and I quickly learned that it is not only "how good a barista is" that makes a coffee shop successful, but the business side of coffee as well.
Hence why I started this website you are on now. To provide the tools and resources for up and coming coffee shop owners to gain that vital insight and knowledge on how to start a coffee shop successfully.
Stick around, browse through my helpful blog and resources and enjoy your stay! With lots of LATTE LOVE!
Shawn