We are living in a glorious era – the proud and confident march into a culture where going to a coffee shop is essential to who we are. It's where we had our first date, where we studied for final exams, where we work our side gigs, where we go when we need a pick me up, and where we go when we want to relax and hang out. As a society, we spend an enormous amount of time and money at coffee shops – so why not spend a little more and start a coffee shop of your own?
The cost of starting and running a coffee shop varies considerably based on what services you want to provide. You can expect to spend as little as $5,000 for a simple coffee stand or closer to $250,000 for a stand-alone, full-service shop. The primary price variables come from location, equipment, and expected sales volume.
Here we'll break down the costs of a coffee shop not just in terms of startup costs, but how to factor in the costs of ordinary business once the shop is up and running. Fortunately, once you make the initial investment, the rest is all about building your costs and desired profits into the price of each product. This way, your business can run on its own without further funding.
The Initial Investment: Costs of Starting a Coffee Shop
As mentioned previously, the costs of starting a coffee shop vary greatly based on how you define "coffee shop." Do you want to sell high-quality coffee? No problem! Sourcing and inventory will be your largest variable, but your equipment will be comparably cheap. Once you get into espresso machines and baked goods, equipment costs are a bit more daunting. However, you have to consider that without a variety of products, keeping customers interested might be more difficult. Not to mention the loss of some of the higher ticket price products such as baked goods and espresso-based beverages, which can significantly increase your sales per customer.
Researching and defining a solid business plan for your coffee shop will be essential in knowing which of these costs are necessary for you to consider. Regardless of which style of coffee shop you end up pursuing, you'll need to consider the pre-business startup costs. This includes investing in location, equipment, staffing, ingredients, and general business startup costs.
Finding the Location
Location is essential for any business, but particularly ones with the need for high foot traffic and easy visibility such as a coffee shop. We are talking about the lifeblood of America. Don't expect people to go out of their way to get your coffee if there is another shop with easier access between you and them.
There are a variety of potential locations to take advantage of as a coffee shop owner. Rent for each of these varies considerably based on location, but here's a general overview of the types of spaces:
Mobile coffee business

Simple kiosk in a building lobby

Coffee bar

Café with bakery
The versatility of a cup of joe presents some unique opportunities for coffee shops, however. Many office buildings have small kiosks stationed in their lobby, ready to serve the eager and downtrodden early morning coffee rush. A kiosk would be on the low end of rent expectations.
Many buildings also have smaller spaces for retail on the ground floor, which are typically a higher cost per square foot, but an easy and visible access point for commuters.
If you want more seating area, you may need to consider a stand-alone location or somewhere where the price per square foot is more appealing. What you sacrifice in ease of access to a well-defined and consistent group of other tenants, you make up for in offering the ability to sit and stay awhile. The atmosphere shifts, as does the anticipated clientele.
Say you want a different approach and want to avoid rent altogether. A mobile coffee business may be an appealing option for you, whether that means a food truck or accommodating van or a transportable coffee cart. In this scenario, instead of considering rent, you will trade for the cost of the vehicle or cart, upkeep and maintenance, and permits for public sales if needed.
Regardless of what type of location you choose, you should also consider the cost of rent before your business is operational as a startup cost. It may take a few months to customize the space and get the business going. All the while, you will still be paying for rent, so be sure to include 2 to 6 months of rent in your estimates.
Customizing the Location
Depending on the space you choose, tailoring the location to meet your needs is another cost of entry you will need to consider.
This cost comes from both the price of paying experts to assist and the cost of construction materials. The experts could range anywhere from architects, engineers, interior designers, contracted labor, or even coffee-specific consultants to help design the workflow of the kitchen or coffee bar area. Expect to pay each of these people $1,000 to $5,000 for their services depending on the extent of the project.
The cost of materials depends on how well suited the location is already, or how much work it needs to get to that point. Maybe you can rent a space for much cheaper than a furnished retail location, but you'll need to consider the cost of the improvements needed as well. If you have to run new water lines, reroute electrical outlets, install lighting, etc., those costs could end up being pretty steep. Sometimes leasehold improvements can be paid back by the landlord. You'll need to verify these details upfront to know whether to include them in your startup cost estimates or not. An interior designer or consultant can help you determine what items you need and how much each improvement will cost.
Furniture
Often, when considering costs, people skip over the expense of furnishing their space appropriately. Furniture determines whether people feel comfortable sticking around or, more importantly, coming back.
Furniture to consider depends on the square footage of your space. A typical 15-20 person seating space could require around 1,000 square feet if you utilize a variety of furniture properly. You'll want to consider the cost of:
Seating arrangements, including couches, lounge chairs, table chairs, stools, etc.

Tables, bar area, standing bar, coffee tables, and end tables

Lighting, such as floor lamps, table lamps, ceiling lights, etc.

Trash receptacles and supply tables

Décor and wall hangings
A lot of first-time shops make use of used furniture when they are first starting up. Typically, the intent is to invest in better furniture later on when the business is profitable. While purchasing cheaper now and purchasing new later costs more in the long run, it relieves the burden upfront when the shop is first starting out. Read more about how to set up your space here.
Equipment
The type of equipment purchased is the main differentiator in coffee shops. Based on the products you want to be able to provide, here's the list of the basic equipment you might need to start a coffee shop:
High-Quality Drip Coffee Maker
Don't skimp on this purchase, as a coffee maker can either make or break your brewed coffee taste and quality, regardless of the quality of the beans used. Depending on the volume of your anticipated sales, expect to need to buy multiple of these or an industrial size brewer. Including the cost of carafes and pots to keep the coffee fresh and hot, the cost of coffee makers can run anywhere from $500 to $2,500.
Industrial Coffee Grinder
In order to maintain freshness and flavor, coffee inventory is typically held as beans. Once the beans are ground, the clock is ticking on freshness. The method and quality of a coffee grinder can make an enormous impact on the taste and aroma of the beans. As such, investing in a quality coffee grinder for $800 to $2,800 can keep your shop running on fresh grounds all day long.
Refrigerator and Freezer
At a minimum, refrigeration is necessary for dairy products and ice, which are essential to even the most common coffee beverages. If you plan on providing baked goods or more elaborate drink options, you'll also need a refrigerator and freezer to store ingredients. A basic coffee shop-oriented refrigeration system can run $500 to $2,500 depending on size.
Other Brewing Methods
Pour-over coffee and similar techniques are all the rage currently, with customers appreciating the visual appeal and refined nature of creating their beverage by hand. Pour Over, Chemex, French Press, Aero Press, and so on are all small pieces of equipment you may want to have in your repertoire. These simple tools can cost from $150 to $1,000. As each of these methods is best utilized with different grinds of beans, this is where a high-quality industrial grinder can come in handy.
Storage and Supplies
Shelving and storage cabinets are other types of equipment needed to keep your kitchen and brewing area clean and efficient. A quality shelving system could be $100 to $1,500, which cabinetry running $600 to $2,400 for a typical setup, depending on quantity needed.
Supplies include but are not limited to storage containers, coffee pots, and carafes, pumps, cups, lids, napkins, straws, etc. The shop will need to have a fair amount of inventory before opening day so that nothing this small prevents sales.
But what if you want to provide more than just coffee? If you are interested in providing a wider range of products, this list of equipment may be needed:
Espresso Machine
Typically, espresso machines are the most feared element of starting a coffee shop, as the price tag can run pretty high. Running typically from $2,000 to $25,000, purchasing an espresso machine certainly has to be seen as an investment into the business. The types of machines run from manual, semi-automatic, fully-automatic, and super-automatic, each reducing the amount of manual labor and hands-on work needed to provide the espresso. There is also a wide range of volume and other perks, such as the ability to steam milk simultaneously. Less hands-on labor and higher volume mean the ability to sell more, faster. Being able to handle the morning rush efficiently can massively sway whether people are willing to return to your shop again.
Food Preparation Tools
Ovens, toasters, microwaves and more will be needed if you want to provide food products on your menu. Industrial ovens can cost $1,000 for countertop versions or $10,000 and up for full-scale operations. Depending on how much you want to persuade your customer towards food, this is a broad category where sales potential will need to play a factor in how much you invest in this area.
Industrial Blenders
Blended drinks are often a good item to provide to expand your menu. Not only can this be used for smoothies and fruit-based drinks, but an industrial blender can come in handy to expand your coffee-based menu into blended iced beverages. Ranging from $250 to $1,500, a solid industrial blender can be a useful tool.
Ingredients Inventory
Having an adequate supply of ingredients before opening is necessary to ensure you don't have to turn anyone away because you ran out of something. As well, everyone knows that a bad cup of coffee can ruin your day. The source and freshness of your beans (as well as the type of roast) are prominent factors in what constitutes a good cup of coffee. Plan ahead by researching what kind of beans will give you the flavor profile you want, and estimate how much you will need of each variety in order to provide your full menu on Day One.
Coffee beans aren't your only ingredient, however. Milk, other dairy products (or alternatives), syrups, sweeteners, toppings, and other drink ingredients will need to be in the refrigerator on opening day and should be included in your startup cost estimates. Not to mention other product ingredients, such as tea, smoothie ingredients, or baked goods ingredients.
Staffing and Recruiting Services
Another commonly forgotten cost to consider is the cost of bringing in new staff. Sometimes, finding the workers you need can be a difficult task. Employing recruiting services or advertising for jobs online or through paper advertisements can add up – some estimates anticipate paying up to half of the annual salary just to fill the position.
As you are starting out, consider your staffing needs and prepare ahead of time for this cost. You may have to hire a few weeks or months before opening in order to get the highest quality employees if they are on the market at that time. Employers sometimes have to pay these employees before opening to keep them on board during the wait. Also, employees must typically be paid for time spent in training, which is another cost to consider when starting up your coffee shop.
Other General Business Startup Costs
A coffee shop will also have costs that any business would incur when starting up – business registrations and licenses, initial branding, initial legal/administrative costs, and so on. Accountant and attorney help with registering a business and filing for the proper licenses with the state could range near $1,500 to $5,000. You can always try to do this task yourself, but it could take some time. Often, small businesses file on their own and then have an attorney review in the future when they are scaling up in size and beginning to be profitable.
Branding and design are also important costs to consider. A solid logo, your business name posted on signs and handout materials, and other visual elements could cost $500 to $2,000 for just the designs themselves.

Ongoing Business Costs of a Coffee Shop
Congratulations! You've passed the initial barriers of starting a new business and your coffee shop is off to a great start. Now, how do you estimate the ongoing business costs of a coffee shop to make sure you are profitable and can pay yourself back for the startup costs?
Understanding your anticipated sales per month is crucial to making sure you are pricing your products appropriately, which in turn leads to consistent profits. If you can estimate correctly how much you can sell in a given month based on metrics such as the number of customers and dollars spent per customer, you can more competitively and effectively price your products to get the returns you want.
Below, we'll break down the major costs associated with running a coffee shop and how they factor into your product pricing.
Payroll and Administrative Costs (35% or less)
Paying employees, filing payroll taxes, processing W-2's, and very importantly – paying yourself, are all included in this category, which should not exceed 35% of anticipated sales. Don't include paying back your initial investment in this category – only the cost of regular payroll expenses and ensuring you can afford to live while running your own business. However, this should also include any ongoing professional fees of accountants, attorneys, consultants, etc.
Paying for employees can add up quickly, considering the tax liabilities and competitive marketplace for highly trained baristas. Make sure you have a good understanding of how many employees are needed at a given time, based on the volume of customers and other daily needs. Overstaffing costs are obvious, in that you are paying for more people at a time than you need. But understaffing also costs money, in terms of lost sales, efficiency, and loss of reputation. Anticipating your sales and allowing for 35% of this to go towards payroll will be a good start in keeping your shop profitable.
Ingredients (35% or less)
The next highest cost is for the actual ingredients, which should remain around 35% of your anticipated sales. Since the number of ingredients is directly related to how many items you can sell, this is the same as saying that each product should be priced so that the ingredients are about 35% of the price tag, giving you 65% margin for other costs and profit. A significant cost to consider is the cost of milk, which is used in a higher quantity in espresso-based beverages.
Rent and utilities (15%)
Keeping monthly rent and utilities at around 15% of anticipated sales is the ideal ratio. While you may have to pay more to be in a prime location, be sure to offset this with the price of your products. Typically prime locations can charge a premium for products, based on the fact that they are so much more accessible for the customer.
Since this is a fixed cost, it doesn't exactly line up to say that each drink should contain a buffer of 15% for rent and utilities. If you are able to sell a higher volume, your sales revenue will go up while your rent stays constant, which is where you can get higher profit margins. Obviously, more sales means more revenue to put towards costs like rent and payroll!
Supplies (5%)
Another variable cost is supplies, with "variable" meaning that the cost typically increases as sales increase. Accounting for supplies to cost 5% of anticipated sales (or cost 5% per item sold) should provide you with a relatively accurate estimate.
Supplies include not just the items that customers take with them such as cups, lids, straws, and napkins, but also the kitchen and barista supplies such as bags, coffee filters, baking sheets, plastic wrap, and so on – anything that is single-use and necessary to produce a menu item.
Investment Back Into The Shop – (10% or more)
Finally, we get to the best part – the remainder after all costs are considered. Planning for at least a 10% margin for each product based on monthly sales will ensure that there is excess to invest back into the shop.
Remember, you've already paid yourself through the 35% allocated to payroll. This excess profit margin is highly important towards maintaining and growing the business. Some of this can be set aside to pay back any loans for the initial investment, or to pay yourself back for that "loan" to the business for startup costs.
The rest should go towards repairs, maintenance of existing assets, and investment into a growth plan. A growth plan doesn't necessarily mean opening a new shop or acquiring more space but could be used to gain more customers or keep their interest. Advertising and marketing endeavors should be considered part of the investment into growth, as well as paying for new equipment, furniture, or other assets in order to upgrade the level of quality of your shop.
While it may seem easy to "skim off the top" and keep this 10% for yourself, that is a short-term mindset that ignores the potential organic growth of the business over time if that money had been invested back into the company. If you want to keep your coffee shop running, plan on returning at least 10% of sales back into the shop.
In the end, being confident in the cost breakdown of a coffee shop can enable you to determine whether it is a profitable endeavor to pursue. Knowing which type of shop you want to open, identifying the startup costs and what to expect during the regular course of business is the first step to opening your own coffee shop.
Remember that the startup costs are an investment into the future potential of your coffee shop – as long as it is invested wisely, spending more upfront to provide a wider menu or a larger space typically translates into higher profit potential and sales volume. If you are comfortable spending more, you may be able to find more success through the wider options you are able to provide. Build your prices for each product based on your estimated sales in order to ensure you are selling at a profit. With a good amount of research and an understanding of the underlying costs, you can determine if starting a coffee shop is right for you.
Frequently Asked Questions
Should I consider franchising?
Franchising can be an excellent option if you are able to pursue it. Typically, you must pay a franchise fee and a percentage of profits back to the franchising company. However, in exchange, you get to utilize a trusted brand name and have resources to help you manage the business effectively.

While restaurants and related shops have typically high fail rates, franchises tend to perform better in the long run. The trade-off is potentially higher fees upfront, giving some of your hard-earned money back to the franchiser, and the inability to create something independent for yourself.
What if I don't have any money for startup costs?
You may have to flex your creativity. Remember, there's no shame in starting small. Look for options where you can get started without the high overhead costs, such as with a smaller coffee kiosk. Search for the right space where coffee is in high demand.

Many employers or building owners see the ability to provide coffee as an "office perk." Potentially, some may be willing to invest in the equipment themselves in order to provide this perk, and you could buy it back from them over time. This is just one odd potential scenario – but creativity can often replace money when applied wisely. In the end, if you want to make it work and have your own shop but don't have the money, you can still find small ways to get started and develop the shop over time.
To learn more on how to start your own coffee shop checkout my startup documents here
Please note: This blog post is for educational purposes only and does not constitute legal advice. Please consult a legal expert to address your specific needs.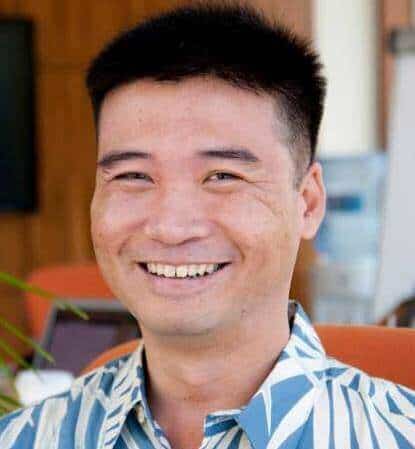 Hi! I'm Shawn Chun
My adventure in coffee began when I first launched my first coffee shop back in the early 2000s. I had to figure out so many things on my own and to make it worse within 2 years of opening two large corporate coffee chains moved in just blocks away from me!
As I saw smaller and even some larger coffee shops in the neighborhood slowly lose customers to these giant coffee chains and slowly close up shop, I knew that I had to start getting creative…or go out of business.
I (like you may be) knew the coffee industry well. I could make the best latte art around and the foam on my caps was the fluffiest you have ever seen. I even had the best state-of-the-art 2 group digital Nuova Simonelli machine money could buy. But I knew that these things alone would not be enough to lure customers away from the name brand established coffee shops.
Eventually, through lots of trial and error as well as perseverance and creativity I did find a way to not only survive but also thrive in the coffee/espresso industry even while those corporate coffee chains stayed put. During those years I learned to adapt and always faced new challenges. It was not always easy, however, in the end, I was the sole survivor independent coffee shop within a 10-mile radius of my location. Just two corporate coffee chains and I were left after that year. All told the corporate coffee chains took down over 15 small independent coffee shops and kiosks and I was the last one standing and thriving.
Along the years I meet others with the same passion for coffee and I quickly learned that it is not only "how good a barista is" that makes a coffee shop successful, but the business side of coffee as well.
Hence why I started this website you are on now. To provide the tools and resources for up and coming coffee shop owners to gain that vital insight and knowledge on how to start a coffee shop successfully.
Stick around, browse through my helpful blog and resources and enjoy your stay! With lots of LATTE LOVE!
Shawn