So, you want to have your own coffee shop? That's awesome! However, if you have started looking for coffee shops for sale, I bet you are finding that its a bit more complicated than you'd anticipated. Don't worry, I have put together this guide to help navigate all the twists and turns of this process!
Coffee shops (as well as coffee stands) for sale are posted on various websites, from Craigslist to BizQuest to locally based sites. The best place to start is Google. Make sure you keep in mind coffee shops can be listed under additional names such as "coffee house" and "espresso stand" so best to search those terms as well.
Many new coffee shop owners choose a business to buy based on location, some may think being in a popular neighborhood or on a busy street is key. There's actually a lot to think about when it comes to location; how busy is the area during peak "coffee hours", how many competitors are nearby and accessibility. These things are often left out of the "business for sale" posting so make sure you make a list of things to look out for before you head to the location.
How to Begin Your Search for a Coffee Shop For Sale
Have a Plan
The first, most important thing you need to do before you begin your search in earnest is to have a plan. Sure this could be a full-fledged business plan or it could be a simple list of rough locations you'd like to buy in and an (educated) budget estimate. Do you want to buy a coffee stand, a building, franchise or entire business? The reason this is so important to have before you even start searching is so you don't waste time.
If you start searching with no plan you won't be able to narrow the search as easily. You'll start searching and subconsciously think, "Oh, $90,000? That's too much," or, "That's 15 miles too far north." Instead, it's better to have this mapped out so you can filter your search from the beginning.
Additionally, you'll want to do a bit of research about what the best plan of action is for your goals. Do you want the ease, but higher upfront cost of opening a franchise? Do you want the freedom of an independent shop, but prefer if the business and brand you buy is already established? Do you want a more "portable" option such as a coffee stand?
Once you've made a general plan of estimated budget, what type of coffee shop business you're looking for and a rough idea of location you can start searching.
Google
As mentioned above, Google will be the best place to initially start, simply search "coffee shops for sale  + the rough location you want to buy". You'll see large sites such as Craigslist, BizQuest and BizBuySell as well as sites local to your area. For example when you search "coffee shops for sale in Seattle" big sites like US Businesses For Sale and BizQuest popped up, but so did the Puget Sound Business Journal and Craigslist Seattle.
There isn't one "best" option, but note that the bigger national sites will likely be listings by brokers while Craigslist will likely be sale by owner. It should note who is selling the business when you first navigate to the site. US Businesses For Sale is one of the few that put upfront the cash flow and sales revenue. Of course, this doesn't mean it's the "best" website, as it didn't list these for every posting, and of course who is to say they're accurate and not just meant to get buyers attention? The best approach is to go in with a skeptical eye and have questions like the revenue, cash flow, customer base, traffic, etc. for when you actually visit the business for sale.
Filter and be Wary
Then once you've decided on a site to search on, you can filter by the plan you made before you even started searching. Most sites will have options to put a price range and narrow the location. Additionally, make sure to keep an eye out for scams, these are typically easy to spot from a mile away, but still it is important to keep in mind. Especially if you are a novice investor, as scammers are typically looking for you. You don't need to strictly keep to one site, but it's best to start with one and thoroughly look through before checking on another. Chances are, after a few hours you'll see duplicate postings across sites and develop a preference for a certain site.
To recap:
Google (keep in mind buying preferences)

Filter results

Lookout for scams
Differences between buying a coffee shop business, coffee stand and franchise
Starting from scratch – buying land and/or a lease
If you are looking into building a coffee shop or stand from the ground up (which we have not, and won't cover extensively in this piece) you'll likely be looking for land, a structure or space for lease. If you're looking at this type of process, it'll look a bit different from what this article focuses on. However, a lot of what is mentioned here is still applicable, so continue reading but keep in mind the differences.
If you're looking to buy or lease a building, land, or coffee stand to begin your coffee business instead of searching for "coffee shops for sale" you'll be looking at more general commercial space. Again, keep in mind you'll want to look out for scams and make a business plan first. Most of the time (especially in large cities) it is advisable to use a broker.
Be a savvy renter. Take a look at some of the questions you should ask before signing your lease.
Buying a coffee shop business
This is what the majority of you will be looking for, a structure already in place, with a brand and business in operation. However, when doing your "plan" in addition to the other questions make note of what exactly you'd like to be purchasing. Are you simply taking over the lease on a cafe space? Are you buying the rights to the name, brand, recipes etc.? It's important to know what you want to purchase before you start looking (as well as budget and location) so you can easily narrow down results.
No purchase will be the same, so note that while a business might appear cheaper than another, you may only be purchasing part of the business. For example maybe one coffee shop is $50,000 and another is $100,000. However, the more expensive one gives you the space, name, brand, recipes, marketing materials (and rights) and current employees. Meanwhile, the less expensive shop only gives you the lease and some mugs. 
Finally, it is important to talk in depth with the seller about terms. This isn't a legal advice post, but it's important to know what you are and aren't aloud to do with your new business. If you're going to shell out five or six figures, you want to know what you're getting (a lease, all the equipment, rights to the name, or only pieces?).
Get an idea of how much it might cost you to buy a coffee shop here.
Buying a Franchise
Occasionally franchises are put for sale on similar sites where you would find independent coffee shops for sale. These postings can be sold by owner or broker, but should be labeled as a franchise. However, most big franchises would be easily recognizable to begin with.
More often than not though you'll need to go directly to the company and apply to open a franchise location. Most big companies have a dedicated page on their website for franchising, with FAQs, requirements to join the network and contact info for further information.
Generally, you'll apply and then the franchise will reach out to you with further instructions. Sometimes they may connect you with a current franchise owner looking to sell, or offer to franchise a corporately owned location. As when buying an independent coffee shop, it is important to be clear on the terms and conditions of buying into the franchise network.
Also, please note if you are looking to franchise a Starbucks coffee shop, the company does not offer this option.
Location is everything
You may begin your search with a rough idea of the "ideal" location for your coffee shop, however, it is important to be reasonable. Maybe you'd like to have a short commute to your business, or you'd like to have a reason to visit a fun neighborhood every day. While these are good reasons to select a particular location, they shouldn't be your main ones.
So what should be your main ideas? Glad you asked! See below for a list that will be elaborated on in this section.
General location – Is it busy? Will there be customers around constantly?

Competition – Are there already plenty of coffee shops nearby?

Traffic – Is it busy throughout the day?

Accessibility – Is it easy for customers to get to the coffee shop?
General location
What is the overall feel of the area where your business will be located? Is it a quiet neighborhood or busy commercial area? What do you prefer? Will you be busy at all hours or just during the day time? Do you want an all hours coffee shop where students come study into the night or do you want to serve office workers in the morning and afternoon?
Competition
Scope out where you're looking to buy. Are there already a lot of coffee shops in the neighborhood you're looking to buy? If so, perhaps that is the reason the current owner is selling. Even if there are plenty of coffee shops, it might not necessarily be a bad omen, a bit of healthy competition is good. Even in Seattle, where there's a Starbucks on every corner, independent coffee shops still manage to make it in between.
Traffic throughout the day
It's a good idea to visit the coffee shops you are potentially looking to buy at different times during the day. Go in the morning when coffee shops are busiest, and again in the afternoon and later on in the day. Is the shop busy when you'd prefer (again go back to the list of what you're looking for). Does it seem to be busy enough that the income the seller claims it brings in appears accurate? Is there a lag time where you could grow the business if needed?

Accessibility
How easy is the space or stand you're looking at to get to? Is it off a main or busy street? Is there a clear entrance and a place to turn in? If it's somewhere people may want to hangout is there enough parking (or parking at all). If public transportation runs through the area is there a stop nearby that will provide a steady stream of commuters? If the location is a bit out of the way, are there options for additional signage to attract customers? It could be the best coffee shop in the area but if people can't get to it, that won't matter!
Get involved!
Attend small business and coffee industry gatherings, learn from those in the business! Follow industry insiders on social media and reach out with questions or just to say hi. Once your shop is almost ready for a grand opening attend community events and promote, promote, promote! Don't forget to continue community involvement after the initial opening, as you'll be expected to be apart of the neighborhood along with your shop.
Frequently Asked Questions
What is the difference between for sale by owner and for sale by broker?
This is similar to other things you might purchase like a car that you can purchase "by owner" or "by dealership." This just specifies who you are purchasing from, either directly from the owner or a broker who is helping the owner sell.
How much should I budget for this purchase?
This depends on if you are buying a coffee stand, business, or the land, building, and business. Prices vary greatly from $8,000 to $800,000, location also affects the price.
To learn more on how to start your own coffee shop checkout my startup documents here
Please note: This blog post is for educational purposes only and does not constitute legal advice. Please consult a legal expert to address your specific needs.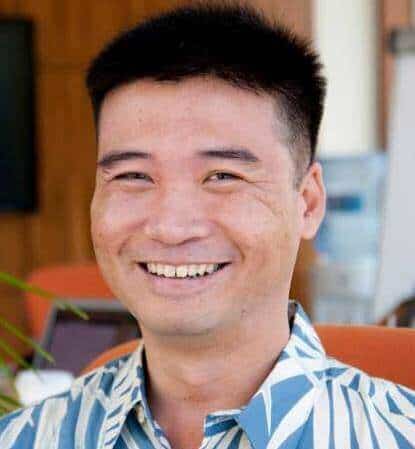 Hi! I'm Shawn Chun
My adventure in coffee began when I first launched my first coffee shop back in the early 2000s. I had to figure out so many things on my own and to make it worse within 2 years of opening two large corporate coffee chains moved in just blocks away from me!
As I saw smaller and even some larger coffee shops in the neighborhood slowly lose customers to these giant coffee chains and slowly close up shop, I knew that I had to start getting creative…or go out of business.
I (like you may be) knew the coffee industry well. I could make the best latte art around and the foam on my caps was the fluffiest you have ever seen. I even had the best state-of-the-art 2 group digital Nuova Simonelli machine money could buy. But I knew that these things alone would not be enough to lure customers away from the name brand established coffee shops.
Eventually, through lots of trial and error as well as perseverance and creativity I did find a way to not only survive but also thrive in the coffee/espresso industry even while those corporate coffee chains stayed put. During those years I learned to adapt and always faced new challenges. It was not always easy, however, in the end, I was the sole survivor independent coffee shop within a 10-mile radius of my location. Just two corporate coffee chains and I were left after that year. All told the corporate coffee chains took down over 15 small independent coffee shops and kiosks and I was the last one standing and thriving.
Along the years I meet others with the same passion for coffee and I quickly learned that it is not only "how good a barista is" that makes a coffee shop successful, but the business side of coffee as well.
Hence why I started this website you are on now. To provide the tools and resources for up and coming coffee shop owners to gain that vital insight and knowledge on how to start a coffee shop successfully.
Stick around, browse through my helpful blog and resources and enjoy your stay! With lots of LATTE LOVE!
Shawn