You are probably reading this because you have decided to start a coffee shop and the only barrier seems to be funding. You do not have to give this dream of yours the backseat just yet. The way forward is to look for an approach that will cost you as little money as possible.
With adequate planning, persistence and hard work, there are a number of ways you can start a coffee shop on the cheap. Here are some low-budget ideas with which you can start your coffee shop successfully.
Start your coffee shop online.
Collaborate with another business.
Establish a co-op.
Operate your coffee shop out of a truck.
Cater to events.
Get a coffee shop business plan.
It is very important that you have a defined plan as soon as you decide to start a coffee shop. Having a business plan is necessary for a successful business. Most businesses that have failed usually had it wrong at the planning stage or did not have a plan at all.
A business plan outlines in detail a description of the coffee shop, what the business is about i.e. its objectives, operation methods, financial details such as estimated start-up costs, projections, and other accounting details. The financial aspect of your business plan is what will help you to come up with a budget for your coffee shop. Without a budget, you cannot begin to minimize start-up costs in the first place. Therefore, getting a business plan is your first step towards starting a coffee shop on the cheap.
After you have prepared your business plan, you will be ready to explore low-budget options that you can implement to start your coffee shop.
Need help writing a business plan for your coffee shop? Check out this article for more details!
Start your coffee shop online.
Perhaps the cheapest way to start your coffee shop is to start it as an online business. It does cost time, but not a lot of money.
Operating your coffee shop online generally entails selling coffee from home using the internet as your means of connecting with customers. You may decide to add a delivery service as your business grows.
Starting your coffee business online comes with its perks. Apart from low start-up costs, you also get to develop at your own pace and with minimal risks, especially if you have no experience.  The downside, though, is the high level of competition on the internet which is due to its affordability and ease of setting up. To successfully generate sales online, it is advisable to find a niche that is not being fully exploited and stick to it. You can find your niche by conducting extensive research. This will help you to stand out from the competition. Also, be sure to use social media to your advantage. Market your brand by posting helpful and engaging content regularly on social media platforms. You can also opt for sponsored advertising on Google or on social media platforms to further spread the word about your products. These platforms provide you with the option of restricting those who can view these ads to your locality so you can cater to orders conveniently, especially when you just start out your business.
When you have created a customer base and gathered enough funds, you may decide to establish a physical coffee shop. You should still continue to maintain your online presence as it will still play a significant role in the continuous growth of your business.
Collaborate with another business.
Instead of going all out to rent a shop, you can liaise with an existing business to run your coffee business within their space. This is commonly referred to as 'piggybacking'.
Thankfully, a coffee shop usually does not require a lot of space and can be paired with a lot of business types. Not only does this save you a lot of money, but it also helps you to leverage on the customer base of the existing business to get sales for your coffee business. In turn, your coffee business also boosts the sales prospects of the existing business as your customers can easily patronize them too.
To effectively do this, you will need to find a suitable existing business with enough customer traffic to sustain your coffee business. Give them your proposition and see if they agree to sublet some of their space to you. It should not be a difficult decision for the existing business as this will be a win-win situation for both your business and theirs.
Consider talking to owners of bookshops, flower shops, boutiques, retail stores, shared workspaces, art galleries, laundromats, hair salons, and any other business that can easily pair with a coffee shop.
A co-op (co-operative) is a proven method of running a business and has been in use for a long time. It is not uncommon to hear of farm co-ops, real estate co-ops or food co-ops.
This approach involves a number of people coming together to establish a business. You can bring together a number of like-minded individuals with whom you can pool the resources you need such as money, expertise, energy and experience to establish a coffee shop.
It is a communal method of running a business and has its pros and cons. Its major disadvantage is decision-making as there will be a number of people influencing the outcomes of the business. This can be prevented by delegating specific duties to each member. This will increase productivity and therefore profitability of the coffee shop. Having a well-thought-out business plan will play a significant role in helping you achieve this.
Operate your coffee shop out of a truck.
Having your coffee shop in a truck allows you to sell coffee at just about anywhere- as long as it is allowed. A coffee shop on wheels allows for mobility and saves you the obligation to pay rent or lease.
This type of coffee business definitely comes with costs of a truck and its maintenance in addition to coffee making equipment and other necessary costs for running this type of business. Despite this, it is a good way to start a coffee business and is not as financially demanding as running a brick-walled coffee bar.
A coffee truck shop also makes it easy for you to move from one event to another to offer coffee catering services without too many hassles setting up on location.
Another cheap way to start your coffee shop is to provide coffee catering services at events. This will save you the cost of lease or rent and other running costs a coffee business would normally incur.
This approach also allows you the luxury of flexible work hours, and some personal time. It also allows you to bring your coffee products directly to your prospective customers, thereby guaranteeing more sales.
For this kind of business, you will need to invest mainly in coffee equipment which will result in minimal spending. It also has a better potential for generating profits than other coffee business types.
If you opt for this approach, ensure to always have an ear to the ground and sign up to cater to events such as weddings, festivals, birthdays, corporate events. You can also sell your coffee at farmer's markets.
Catering to events will provide you with a means to save up capital to establish your coffee shop in a physical location if that is what you have always wanted.
You can establish a coffee business with little capital. You may decide to start your coffee shop online, collaborate with another business, establish a co-op, operate your coffee shop out of a truck or, cater to events. With good planning, strategic marketing, hard work; and over 500 billion cups of coffee consumed every year, your coffee will always be in demand.
Looking for more information on starting a coffee shop on a budget? Check out another article here.
Frequently Asked Questions
Which is cheaper to establish? A franchise or an independent coffee shop.
Whether a franchise will cost more than an independent coffee business will depend on the type of franchise you decide to go for. The larger and more well-known a franchise is, the more it will probably cost you to establish. The advantage, though, will be a reduction in marketing costs for you. For example, an internationally recognized franchise with an established customer base will cost more to establish but will require little or no marketing costs while a local franchise may cost less to establish but more in marketing costs. The key to deciding between establishing a franchise and an independent coffee shop is to calculate the costs in each case and see which works best for you.
Do I need licenses or permits to start a low-cost coffee shop?
It is important that you obtain the appropriate business licenses and/or permits for your coffee business even if it is a low-cost type. This will keep you from breaking any laws while you focus on the growth of your business. It is also important for tax purposes.

The requirements vary with location. Ensure that you find out what the requirements are from your state or local government.
To learn more on how to start your own coffee shop checkout my startup documents here
Please note: This blog post is for educational purposes only and does not constitute legal advice. Please consult a legal expert to address your specific needs.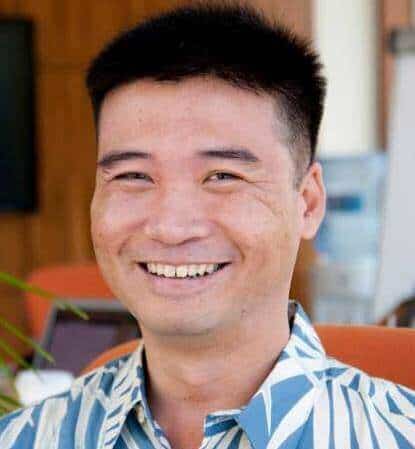 Hi! I'm Shawn Chun
My adventure in coffee began when I first launched my first coffee shop back in the early 2000s. I had to figure out so many things on my own and to make it worse within 2 years of opening two large corporate coffee chains moved in just blocks away from me!
As I saw smaller and even some larger coffee shops in the neighborhood slowly lose customers to these giant coffee chains and slowly close up shop, I knew that I had to start getting creative…or go out of business.
I (like you may be) knew the coffee industry well. I could make the best latte art around and the foam on my caps was the fluffiest you have ever seen. I even had the best state-of-the-art 2 group digital Nuova Simonelli machine money could buy. But I knew that these things alone would not be enough to lure customers away from the name brand established coffee shops.
Eventually, through lots of trial and error as well as perseverance and creativity I did find a way to not only survive but also thrive in the coffee/espresso industry even while those corporate coffee chains stayed put. During those years I learned to adapt and always faced new challenges. It was not always easy, however, in the end, I was the sole survivor independent coffee shop within a 10-mile radius of my location. Just two corporate coffee chains and I were left after that year. All told the corporate coffee chains took down over 15 small independent coffee shops and kiosks and I was the last one standing and thriving.
Along the years I meet others with the same passion for coffee and I quickly learned that it is not only "how good a barista is" that makes a coffee shop successful, but the business side of coffee as well.
Hence why I started this website you are on now. To provide the tools and resources for up and coming coffee shop owners to gain that vital insight and knowledge on how to start a coffee shop successfully.
Stick around, browse through my helpful blog and resources and enjoy your stay! With lots of LATTE LOVE!
Shawn